If you want to increase content production while keeping costs low, then you must invest in content operations.
In the How the F*ck community this week, I invited Gordana Sretenovic to tell us how her team produced 800 pages a month at one point last year for their clients.
They even built a SaaS platform, Workello, to solve one of the most critical problems: how can I quickly hire lots of great writers?
This guide will help you:
Create efficiencies
Keep costs low
Scale content production
Maintain quality
Let's look at what you can expect:
The Content Operation Playbook:
1. The Content Operations Software Stack
⚡ The 8 tools you need in your operation
2. The Writer Hiring Operation
⚡ Where to find writers at scale
⚡ How to qualify great writers
⚡ Write ethics
3. All the Documentation You Must Have
⚡ Documentation you must have to succeed
⚡ How to create great templates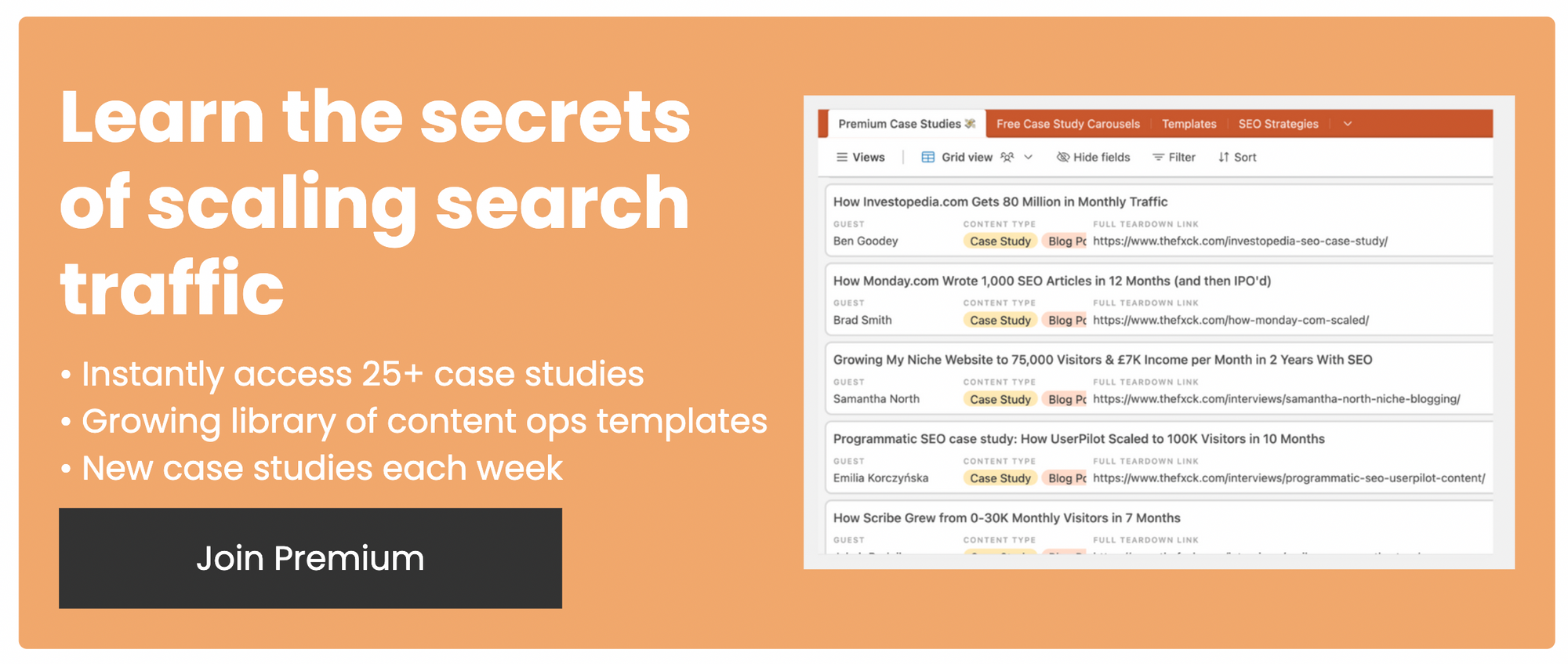 What is Content Operations?
The essentials
What is a "Content Operation"?
Content operations are the processes you build to enable the efficient production of quality content.
One person, with all the right inputs, can create a great piece of content. But, can you do it 800 times a month without quality slipping?
With the right procedures in place, the answer is "yes, most of the time".
Your content operations often take the form of guidelines for your team. When it comes to creating large volumes of content in a short amount of time, there are far too many moving parts to not invest in things like clear documentation and enablement technology.
Gordana Sretenovic and her team had 15 editors and 30 writers in it at one point. Each worked with a variety of clients and in total, they produced up to 800 blog posts in one month.
Think of all the questions that might come up in that journey for each writer:
Who should I contact for support about X topic?
What should I write about?
How do I search-optimize each article?
Which internal links should I prioritize?
Where do I get images for this?
And for your team:
How can I make sure to hire great writers?
How do I onboard my new team member?
How can I optimize my workflows?
Answering these questions in a way that creates efficiency?
That's content operations.
Great content operations generally span three areas. People, process, and technology.
You need all of them working together to keep the ship moving in the right direction.
🎧
Definition: A standard operating procedure is a set of step-by-step instructions compiled by an organization to help workers carry out routine operations.
Why Are Content Operations Important?
The most important reason for content operations is quality.
When you're producing 800 blog posts a month, you need strict processes to make sure 100 of them aren't low quality.
It's easy to think if you publish a lot then it must be bad content. And that there's not enough time to do proper quality assurance.
But as Gordana mentioned, the #1 thing you need to think about when scaling up content production is, "How can we scale this but keep the quality levels the same?"
"We're huge nerds, we all studied literature and language, and for us it's not, you know, it doesn't matter how much we publish if it's not good content. That's our primary concern."—Gordana Sretenovic, Workello
And, with good operations, she says anyone can do it. Just don't expect it to go perfectly the first time.
"When we started scaling the whole process, publishing more content, hiring more people to do it, it just became so hard for me. Because I was the one leading the content quality initiative there. It just became incredibly hard and I definitely let some things slip in the beginning before I realized, okay, this is not working."
"You can't do this on your own. You have to document literally all the guidelines, everything that you want, your writers, your editors. There's just no way for one person to create that much content on their own. So yeah, definitely we had some struggles there and it was not easy building that knowledge base."—Gordana Sretenovic, Workello
In short, content operations are critical to driving quality in a scaled-up environment.
Why Should You Scale Content Production to This Extent?
Not everyone should scale their content to 100 blog posts a month in month one.
Starting off with 10-20 blogs/month is important because it allows you to iron out the kinks in your processes. Teach your team how to produce really great content, document exactly how, and then ramp the operation up.
Typically, people who want to scale up their content have one goal: to dominate their niche.