This week's SEO case study is with the world-class SEO & content strategist, Jakub Rudnik.
Safe to say he's been around the block. He was at G2 during the hyper-growth years, on which he notes:
"At G2, the big thing was our big goal of total articles written not the end result. It was the biggest mistake we've made in our career, writing 500 articles that never generated traffic or revenue or anything."
He's also an ex-writer for the Chicago Tribune and a journalism professor, giving him an eye for what grabs the reader's attention—more on that later.
Now leading content at Scribe, I catch up with Jakub to hear how his team grew monthly traffic from 0 to 30,000 in 7 months.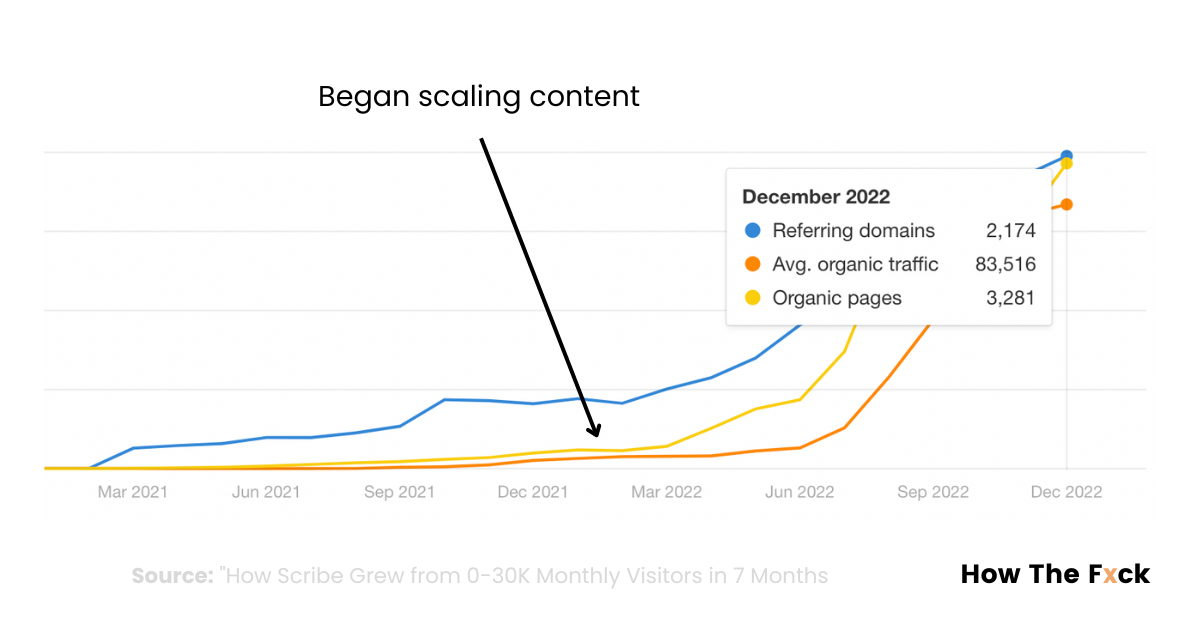 In his time at Scribe, they've grown 40x from 5,000 product installs to 200,000. Blog user signups grew from 0 to 1,900/month.
But, figuring out what content drives signups has been an iterative process.
Whether it's topic types, use cases vs personas keywords, or on-page optimizations, overtime experimentation has allowed them to hone in on revenue-driving content.
Jakub notes that the power of publishing 50-100 articles monthly, is that you have up to 100 new data points to learn from and help reallocate resources every single month.
Expect to learn:
⚡ How to build a world-class content strategy that actually drives revenue.
⚡ How journalism and content marketing overlap (and where they don't).
⚡ How Scribe iterated its content strategy around revenue signals.
⚡ Whether SEO is right for your company, and how to leverage your product in your strategy.
Listen to the episode here.
⭐
Case study update: As of March 3rd 2023 Jakub left the Scribe team. Final metrics were: Site organic traffic (Ahrefs): 2k -> 131k. Site domain authority: 38 -> 72. Blogs published: 10 -> 600. Blog user signups: 0 -> 1,900/month.
How Scribe Grew from 0-30K Monthly Visitors in 7 Months
In this case study, Jakub Rudnik walks us through the first seven months of his role as Head of Content at Scribe.
In three short months, Jakub grew Scribe's organic traffic from 0 to 15,000 monthly visitors. By month 7 they'd hit 30,000.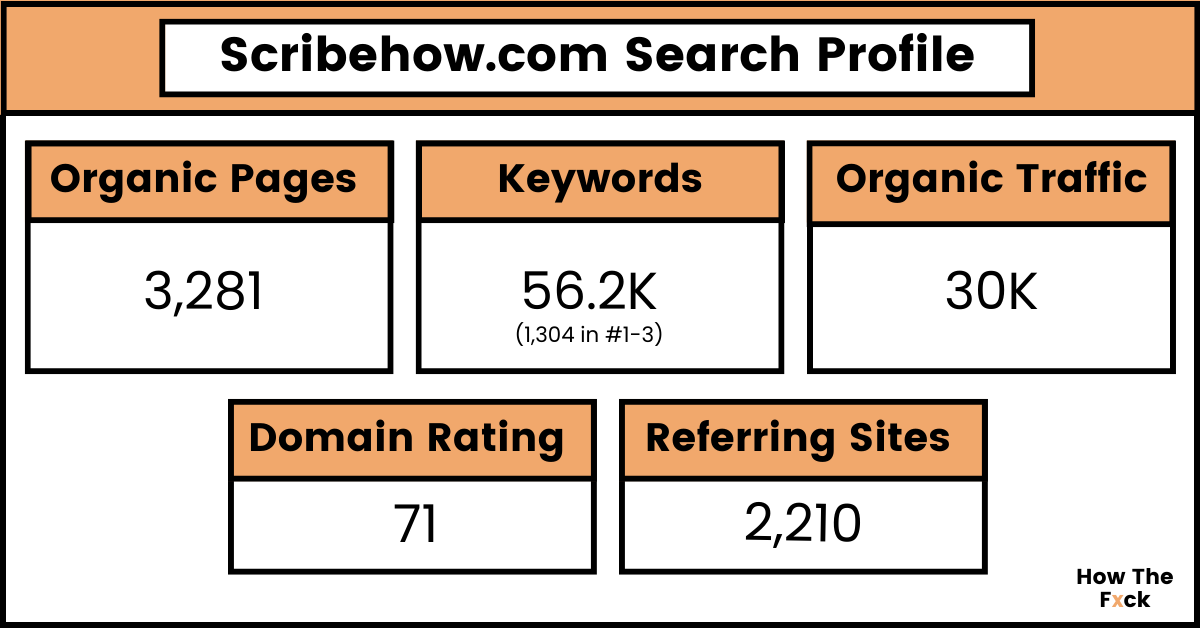 The project drove so much immediate ROI that he unlocked 4x the budget, increasing publishing from 25 to 100 blog posts per month.
Jakub's background in journalism helped Scribe breathe quality into its content. Whereas his experiences with G2 helped him avoid content creation pitfalls and *actually* drive content-led revenue growth.
Before the start of the project
0 organic visitors
500 referring domains
5k product installations
Project inputs
350 blog posts in total over the course of 7 months (20-30 monthly for 3 months, then ramping up to 100 per month)
7 months of publishing
2 in-house marketers + a range of freelance writers
$10k a month new content budget, increased 4x as the strategy started showing results
Average of $400 per article (more if for longer or more impactful articles, less if it's an experimental subject)
Results in December 2022
30k organic blog visitors a month
1800 referring domains
200k Chrome store installations
Let's deep dive into the techniques and frameworks Jakub and his team applied to help Scribe rise to the top of the search results.