This week I welcome Gaetano DiNardi back to the community to talk us through an insanely successful SEO growth story he oversaw.
He's one of the best in SaaS growth, advising the likes of Gong, Cognism, and Alyce on how to generate and capture demand.
In 2022, he joined the digital safety app, Aura, for 9 months. In that time, they shifted from zero content to (close to) 1 million monthly visitors.
In this week's case study, we find out the thought process, strategy, and execution tips behind how they did it.
Expect to learn:
⚡ Why introductionless content is the next big thing in SEO.
⚡ The type of content brands are sleeping on and how it helps with SEO.
⚡ Aura's keyword strategy (and the thing brands often do wrong).
⚡ Aura's blog content: a teardown of why it's so successful.
⚡ Gaetano's backlink-building tricks and tips.
Background
Summary:
Gaetano joined Aura in late 2021. Since then, there have been around 100 additional pages added to the website.
🔥
What is Aura?
Aura is a
digital safety app
that prevents scams and fraud and protects the user online.
Their strategy focused on creating content that closely aligned with their product value. For example, they created 55 blog posts detailing potential scams across different apps and websites—and those blog posts generate over 200,000 hits a month today.
Over the last year, the Aura website gained 1,000s of backlinks. Some organic, through "buzzy" content, some through PR, and some through networking on LinkedIn (more on that later).
Results: With just 20 articles a month, Aura grew rapidly to ~1 million monthly clicks.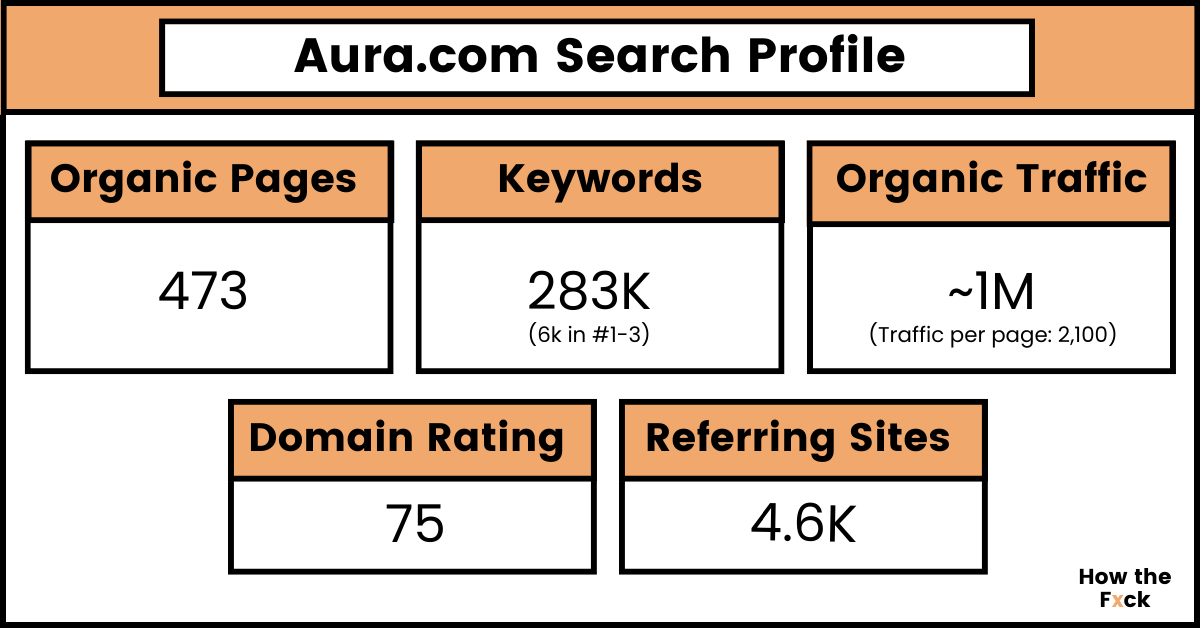 Quick stats:
Starting point:
0 website content, only homepage, pricing, feature, and solutions pages
~0 monthly organic traffic
Content produced:
20 articles per month
Why 20? They were playing catchup. Aura competes against HUGE players in its niche. This volume would also help them ensure good editorial quality for a team of their size.
Results:
Close to 1 million monthly organic visitors in just 12 months!
An outstanding traffic per page of 2,100
Let's take a look at how Gaetano and the Aura team put together this winning content strategy.
Why Aura Chose SEO As Part of Their Growth Mix
I love asking this question to guests. Understanding the "why" behind SEO is a fundamental question people need to ask before investing in it.
Gaetano gave us four reasons Aura needed SEO as one of its major growth channels for several reasons: