Pre-IPO Monday.com dramatically scaled its content production.
I'm talking over 125 new blog posts per month. 1,000 that year.
#moatbuilding paid off.
The traffic growth was stoopid good.
🙌 The headline: 100K to +1.2M monthly organic visitors.
And the story behind the scale is an operational masterpiece.
On the How the F*ck SEO podcast this week, we've got the engineer behind this strategy, Brad Smith, whose team created 1,000 articles for Monday in 12 months.
Brad and his team have mastered content operations and have scaled content for the likes of Robinhood, ActiveCampaign, and FreshWorks, too.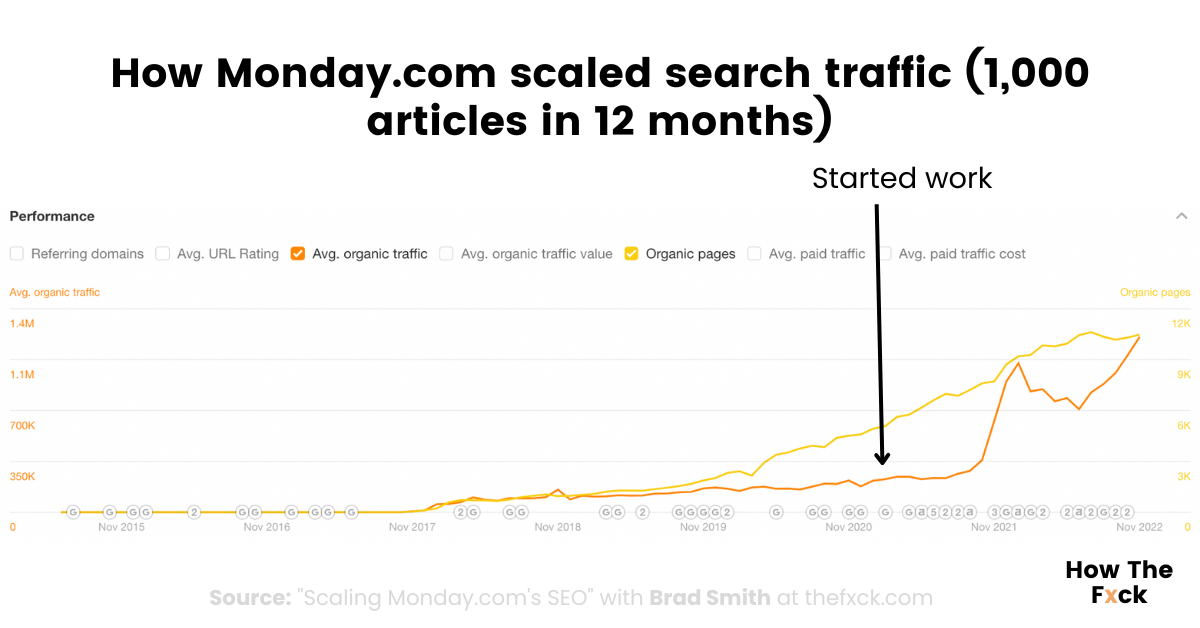 In this week's SEO case study, we deep dive into what it takes to build systems that let you scale the production of quality content.
Expect to learn:
⚡Documentation: What foundational guides are fundamental to scaling content creation? And the ones you must not miss.
⚡Keywords: How to choose those that rank in a short space of time. So you see results now, not in 12 months.
⚡Writer acquisition: How to find enough great writers for 125 articles per month. And filter out the rubbish ones.
⚡Quality: How to write good enough quality for Monday, even on technical topics.
Deep dive into the case study strategy guide by subscribing below.
The Case Study: Scaling Monday.com to 1.2M Traffic in 12 Months
Summary:
Brad worked with Monday.com to scale their organic traffic in the run-up to an IPO. The goal was to heavily invest in brand-building initiatives and new user acquisition to create a defensible moat.
Brad and his team wrote 1,000 articles in 12 months, growing traffic by 1,570% in the first three months and to more than 1,000,000 monthly visitors today.
Challenge:
Our case study focuses on a twofold challenge.
Firstly, what are the content operations that let a small agency create 125 high-quality articles per month? We'll look at writer acquisition, documentation, and templates.
Secondly, how can you select appropriate keywords and plan for your success? We'll look at the Planning Predictor Framework™ that Brad's team uses.
Results:
1,570% in the first three months
1.2M monthly traffic
35,000 position 1-3 keywords
Top 1 for "Project Management Software" (51K Monthly Searches)
Top 3 for "Project Management" (300K Monthly Searches)
🕵️ You know the SEO-attributed conversions be wild.
"If you see something working you should continue to pour gas on the fire until you see diminishing returns. That was Monday's 'why' behind investing in content."—Brad Smith
Background on the content operation
Brad's team worked closely with the Monday.com team early on to get the right documentation in place.
But, they then mostly took the project off their plate entirely.
👋 All their research, planning, topic identification, keyword research, and content brief creation.
(that's how it should be when you're blitzscaling growth)
That being said, Brad notes in the episode that the Monday team was instrumental in coming up with keyword ideas and prioritizing which keywords to tackle first.
For example, in the beginning, they did a whole month on a project management software keyword.
This one article has 18,000 words on the page, which is a mindblowing amount of content. But now they're position 1 for a high-value conversion page with 50,000 monthly searches. 🤯