A rapid influx of authoritative backlinks could be the boost you need to 10x your search volume. PR is one technique every marketer can use to land 100s of backlinks over night.
⚡
New here?
Check out our fast-growing library of
SEO case studies
and strategy teardowns.
Ever wondered how some companies get their name (and link) on famous news websites from around the world?
I'll let you into a little secret...it doesn't take a huge PR budget and insider industry connections.
All it takes is a little creativity and a little persuasive panache.
But, why bother?
Let me show you what can happen to your organic traffic when you build a bunch of organic backlinks: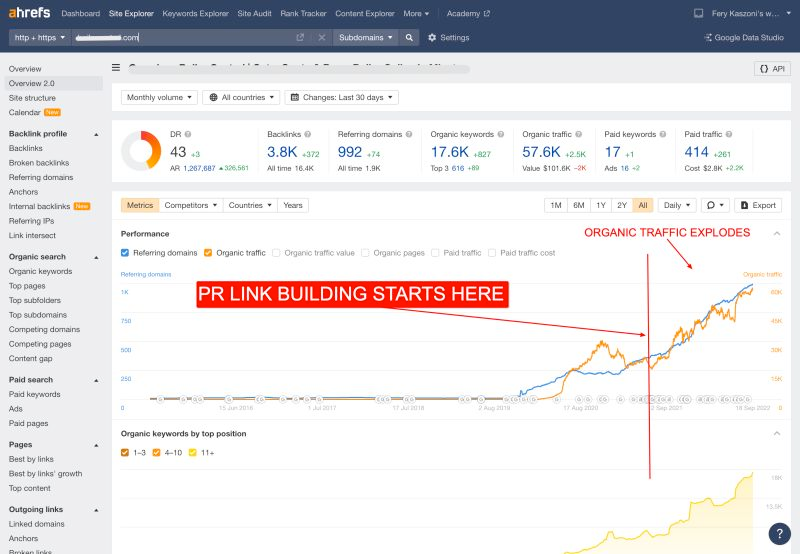 It gives a huge signal of authority to your site, lifting your rankings across the board.
In this playbook, I'll walk you through three PR link-building strategies and illustrate them with real-world examples.
I'll also answer some key questions you might have, and share the real email template used to get 100s of organic backlinks in one weekend.
Why are links important to a marketing strategy?
Links are one of the main pillars of SEO, alongside quality content and technical implementation.
Invest in these three pillars well and you'll win in building your search traffic. The concept is simple but the execution? Not so much.
Links are treated as a vote from other websites to your website. They say this website is an expert, it's important, or they've made a great point that I want to tell my own readers about.
When Google analyses the internet, they look for who is an authority on each subject and where those sites are linking to themselves. That's a fundamental part of who Google chooses to rank—articles being endorsed by topical, high-authority sites are likely winners.
💡
Links work like real-world gossip. If someone highly influential and respected says that you are an expert on a subject, that's a much larger trust signal than if someone is not an expert. Authoritative links are key for improving your search rankings.
Would you prefer one link from the BBC or a respected industry publication on the topic your article is about?
The question I posed here in the interview was to understand whether you'd prefer a website like the BBC (an extremely well-respected news outlet, that isn't an expert in your niche topic) or a website like a trade journal (less respected by the average person, but has deep topical expertise).
The answer is, it depends.
If the BBC is addressing an irrelevant topic, say gardening, and links to your fashion site… that's not a great link. In that case, it'd be better to get a link from Gardening Weekly.
But, if the journalist is an authority in fashion and writes an article for the BBC… you should take the BBC link every day.
The key point here? Experts (authors or websites) that have authority can pass that to you through a link. But they have to be an authority.
How can a PR approach accelerate link-building efforts?
PR is not like every other link-building strategy (e.g. guest posting and blogger outreach).
PR links are different because you don't pay for a link in any way. They are 100% white hat. They're earned links.
Blogger outreach is black hat—if you give anything in exchange for a link, Google considers it officially 'black hat'. That's not to say it doesn't work, it's very effective still.
However, with a PR approach, you can scale it to 1,000 links per month and you'll never get in trouble now or in the future as Google improves.
What's the technique:
Create interesting insights in your industry and turn them into a report, article, or landing page.
Present your company as the expert who commissioned the research.
Send it to relevant journalists.
The result is that journalists who write about those insights will typically say something like:
This link was earned through a PR link-building campaign for the company Forward2me. It was from one of the UK's largest news publishers Metro—in this article.
How to find relevant journalists to reach out to
Fery and his team subscribe to media databases like Roxhill, Muckrack, and Cision to find relevant journalists. With those, you can ask queries like, "find me journalists who talked about X in the last month".