Erin Balsa joined the podcast & community this week.
I've known for a while that Erin shares my aversion to putting out content that's not unique and high quality.
Both of our standards for minimum viable content are pretty damn high.
In Erin's world, quality SEO content is critical.
Her clients are B2B software startups that sell complex, enterprise solutions.
...which is about as far from an impulse purchase as you can get.
B2B enterprise software is an expensive, long-term decision. A lot of trust and authority is needed to push the sale through.
Generic content just won't cut it for an audience like this.
Luckily for us, Erin's also worked as a journalist and built a team of 10 writers that pushed out quality content at scale.
So, who better to teach us to scale quality SEO workflows than Erin?
In this article, you can expect to learn:

Part 1: How to build SEO topic clusters that epitomize quality (a framework that drove 789 leads/month for me in my last role)
Part 2: The "how" behind a research report that drove $680k in closed business for Erin
Part 3: Building thought leadership into a Velocity SEO workflow
Let's dive in.
🎧
As usual, I expand here on the podcast interview to add graphics, stories, insights, and clarifications.
But I recommend you
listen to this week's episode
, too.
E
rin's a real pro and our discussion really gets into it.
Part 1 - Building a Thought Leadership-Led SEO Content Strategy
🔥
What is thought leadership content? Thought leadership content is a type of content marketing produced by subject matter experts intended to provoke new ideas, inspire change, and provide authoritative insight within a specific industry. This content aims to demonstrate an organization's or individual's expertise, build credibility, and position them as an authority in their field.
I asked Erin if she was tracking updates on Helpful Content and E-E-A-T, and this was her response:
"Honestly, I don't worry that much about it because that is at my core what I do. I'm someone who would never just like let an AI writing tool, write a blog post and just do a quick edit and like be like, yeah, that's fine. It's good enough. That's just not how I operate.
So for me, expertise, authority, and trustworthiness is just at my core, what I do and what I demand from my team. Back when I used to manage writers, it wasn't enough just to put out content volume. So I don't personally pay too much attention to that cuz that's just for me, like, no shit. Of course, I'm gonna do that."—Erin Balsa
This is much easier to do when it's your own content, but when you're working on behalf of a client it's easy to let standards slip without a system in place.
When Erin builds a content strategy that includes SEO, she helps her clients strategize systems to inject thought leadership into each piece of keyword-optimized content.
There are a few ways to do that, but one of the best ways is to write a quarterly or annual research report and use the findings as foundations of 6-12 months of SEO content.
This suggestion reminds me of how I structured content in my past role at CustomerGauge.
When I joined, there was a library of quality eBooks that were getting dusty. They were on all sorts of really relevant, meaty topics.
So I built an SEO strategy that covered those same topics. We used the unique data and insights as the foundation of each topic cluster and then used the ebook as the "downloadable" that captured the traffic.
Here's my visualization of that strategy (I'm calling the idea of using one piece of thought leadership to drive unique insights into a whole topic cluster: Thought Leader SEO).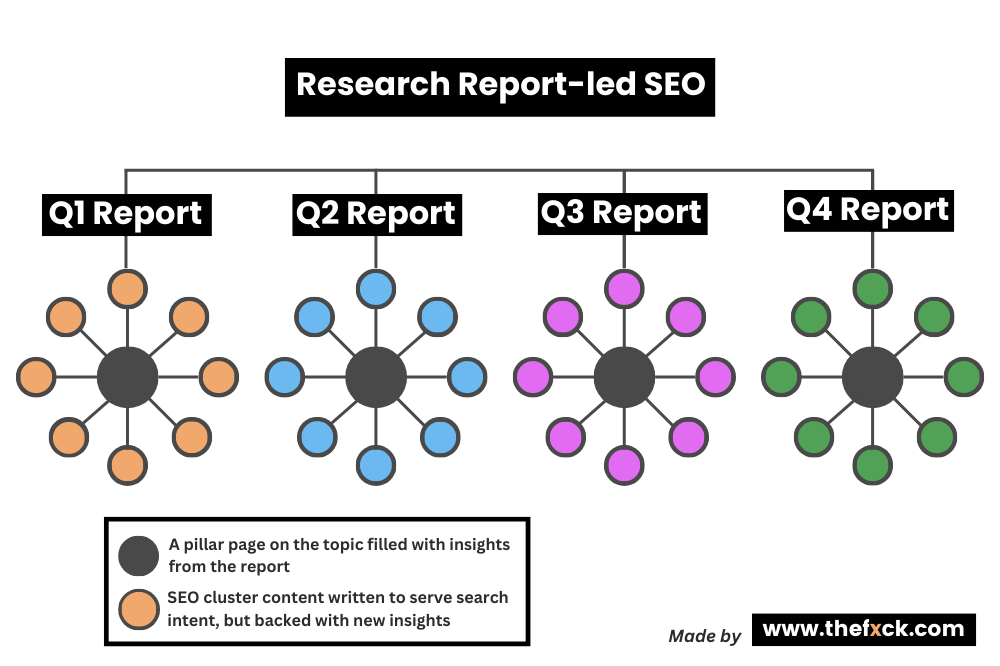 Erin details a similar strategy in the interview, noting that one strong report can be used to "beef up" tons of SEO articles on that topic with insights and data points.
That way every single article is unique and can't be found anywhere else.
"If you're ranking for a keyword and you're putting out the same generic information as everyone else, that's fine. Your blog can rank. I see it happen all the time.
But yeah, who cares about ranking if you're not hitting your numbers? At the end of the day, that's what matters. You can go brag that you've got all these blog posts to rank on page one, I used to do that, but at the end of the day, if none of those page views are leading to conversions or leads for the sales team, or high-quality leads that the sales team can actually close, then what good is the traffic?"—Erin Balsa
To stand out and connect with an enterprise audience in search, every SEO article needs to stand out with data that pushes that reader's knowledge forward.
Part 2 - How to Create a Compelling Research Report
I asked Erin to tell us about a research report she created for Predictive Index in 2020 that helped close 114 opportunities, bringing in a total of $680,000 in revenue.