Investopedia's my go-to site for showing off SEO best practices.
They're particularly impressive because finance is a YMYL space, which must pass strict Google guidelines on trust and authority.
And, yet, they still dominate.

In this article, I'm going to break down five reasons behind their success:
They stay in their lane
Content volume and freshness
Best practice blog templates and site structure
E-A-T signals
Backlink profile
We'll deep dive each of these with additional examples and analyses.
1/ They Stay in Their Lane
Investopedia's focus is incredibly narrow. They write consistently about one topic: financial advice.
This is called topical authority.
💡
Topical Authority: Where a website aims to become the go-to authority on one or more topics, thereby helping search engines understand the website and improve its ability to rank. Ahrefs notes that "topical authority is achieved when a site fully covers a topic as a whole rather than focusing on just individual keywords."
This strategy allows even low-domain authority sites to rank for competitive keywords.
It's simple when you think of it like this. Would you rather read a blog post on snowboarding by Amazon.com or xgames.com? Despite Amazon's high authority, this just isn't their area of expertise. Google knows that.
One further benefit of building topical authority is that it allows for more natural interlinking.
Let's take a quick look at this in action with Investopedia: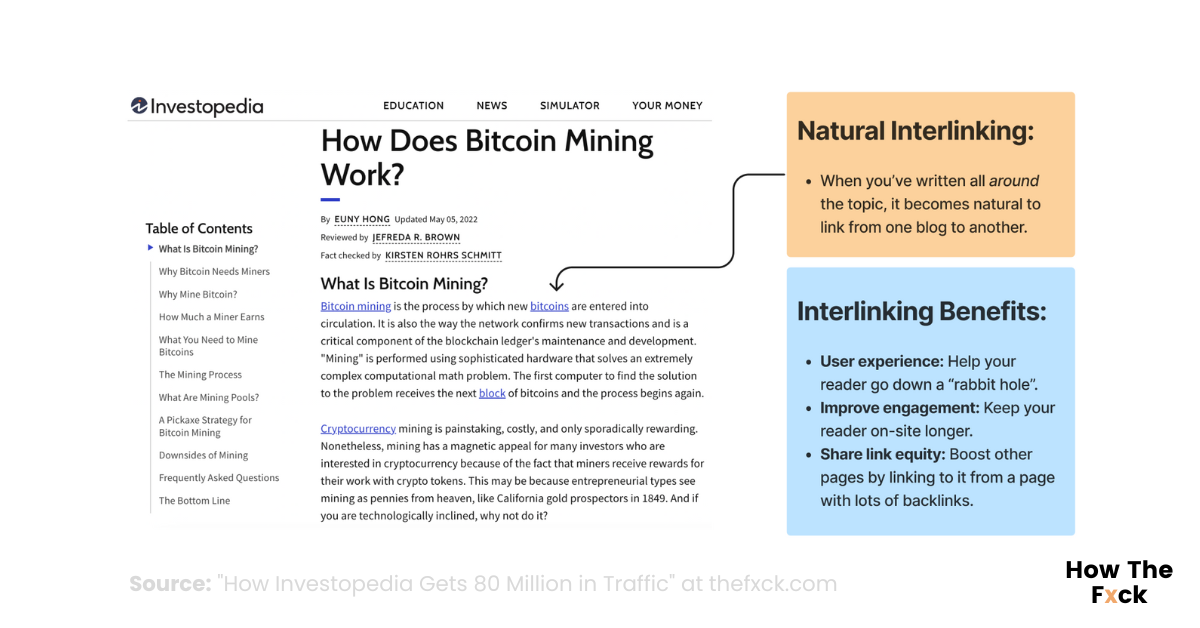 There are several benefits to interlinking, as noted in the image. One further benefit is to improve Google's crawl efficiency.
⚡
Topical authority comes up frequently on the How the F*ck
SEO podcast
. Almost every case study leverages this technique to build focus and authority. Read one
example here
.
Wondering if you've got topical authority?
Kevin Indig recently wrote his method for measuring topical authority. He suggests that a proxy for topical authority is "Topic Share". The most 'authoritative' site for a topic gets the highest share of traffic from that topic's keywords.
"The logic is that the more traffic a site gets from the keywords in a topic, the more authoritative it is for that topic."—Kevin Indig
I tested this methodology out for the parent "Personal Finance", one of Investopedia's target clusters.