Last week, I earned a "Community Top Voices" badge on LinkedIn.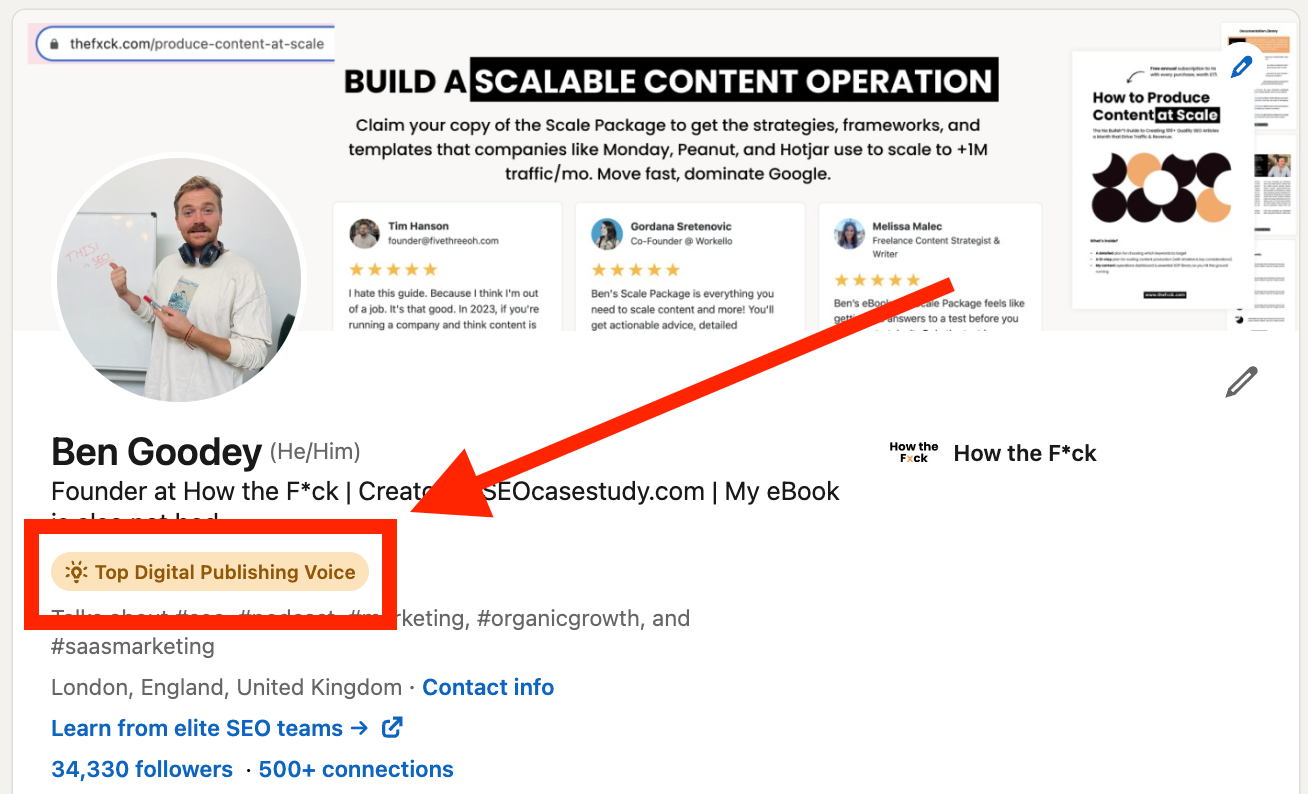 "OMG congrats, well done! Such a thought leader!"
Hmmm...not so much.
They're super easy to get.
It took me 30 minutes.
And if you're trying to:
Build a personal brand
Drive inbound leads
They're quite a credibility boost.
I was quite envious of them for a while...until I figured this out.
So now I'm gonna share the secret with you, too.
Before we dive in, I recommend reading my LinkedIn post from yesterday where I talk about why these badges exist.
It's a genius traffic-driving play by LinkedIn and it's SEO-related so I know you guys will love it.
Now, let's 🤿 in.
Step 1: Find a relevant "collaborative" topic
There's a little more to it, as I'll explain later, but essentially you earn these badges for contributing to LinkedIn's collaborative articles.
The badge you get depends on the umbrella topic of the article. In fact, you can have multiple badges but you have to choose just one to display.
Where are these articles hidden?
I'm going to assume you're in marketing and link you to the "marketing" umbrella topic as a starting point.
From there, you can niche down in a variety of ways to find a topic that suits your expertise.
Niche topics:
Step 2: Find a relevant article to contribute
Scroll through your topic and find an article you like the look of.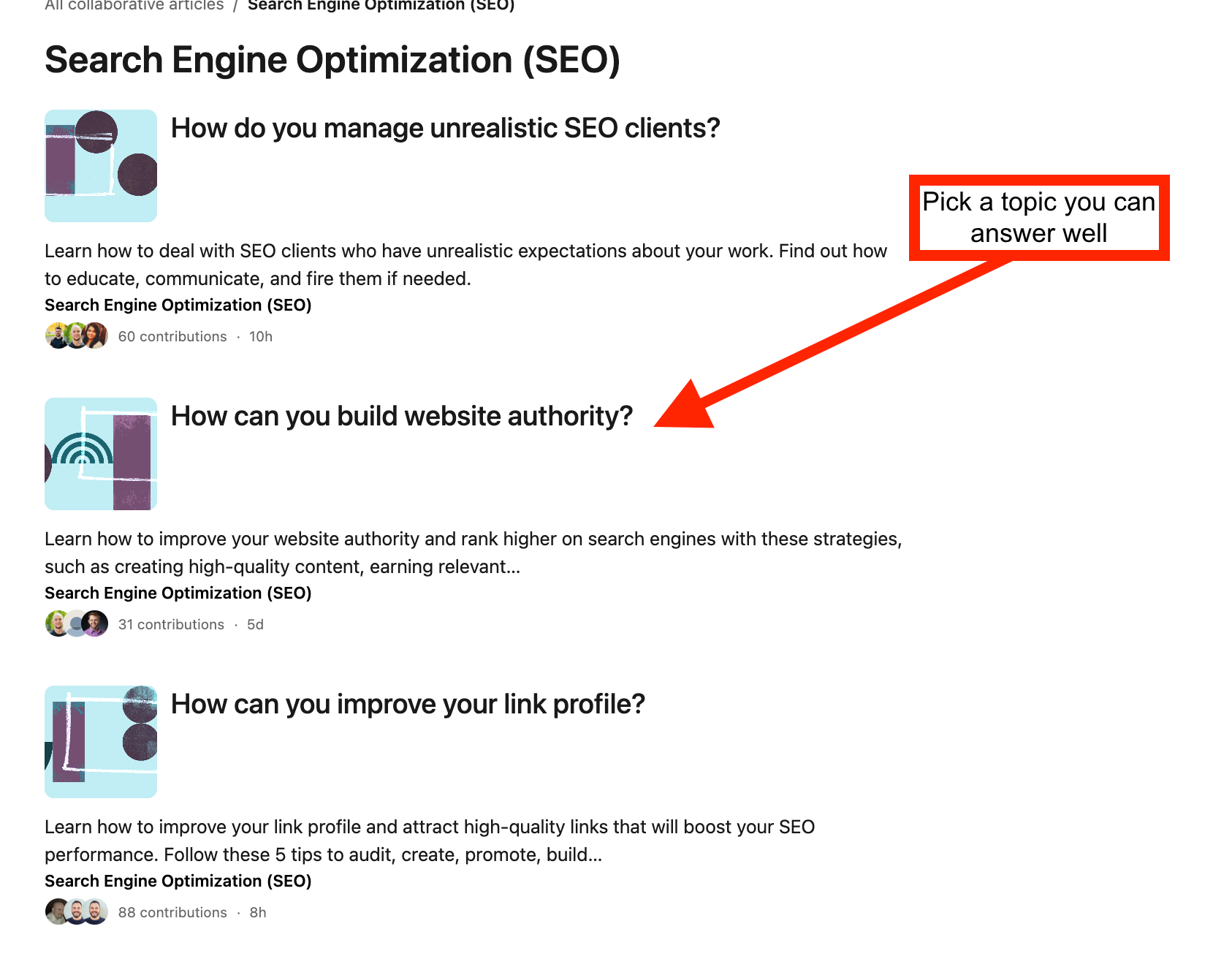 Then, add your perspective. Answer the question as best you can.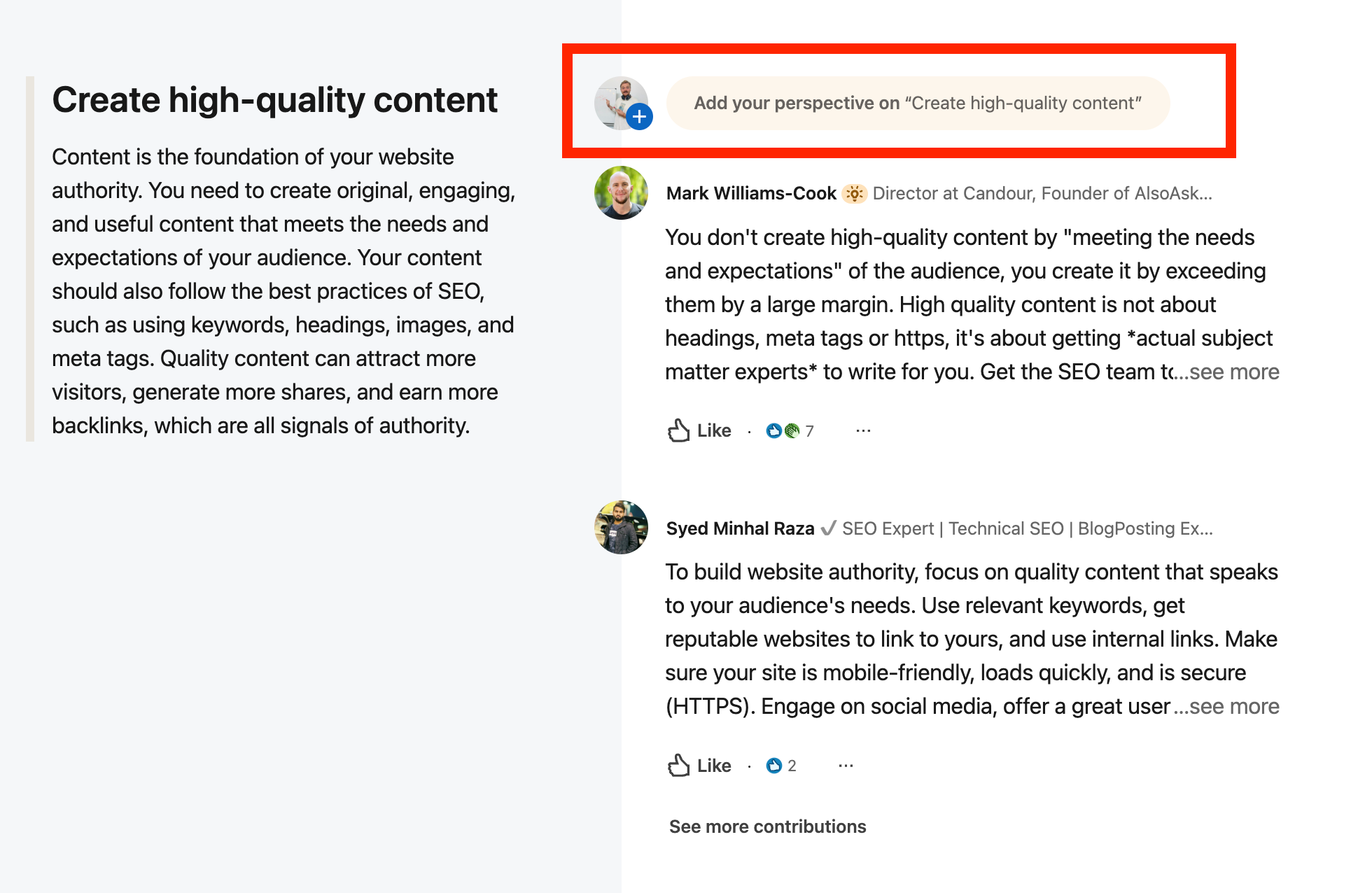 As I mentioned in my LinkedIn post, this is a genius ploy by LinkedIn to generate UGC. The articles are written by AI, but real humans (us) provide expert insight.
This strategy has netted LinkedIn a ridiculously large 1.8M traffic/mo so far via Google Search.
Step 3: Get people to respond 💡
Part of the puzzle here is that LinkedIn wants to reward contributors who offer insightful responses.
You should 100% try to give a unique, helpful answer that people are going to love.
I had 20+ people respond 💡 to mine organically. Full disclosure, I also sent my answer to a peer group and asked them to respond 💡 to get the ball rolling.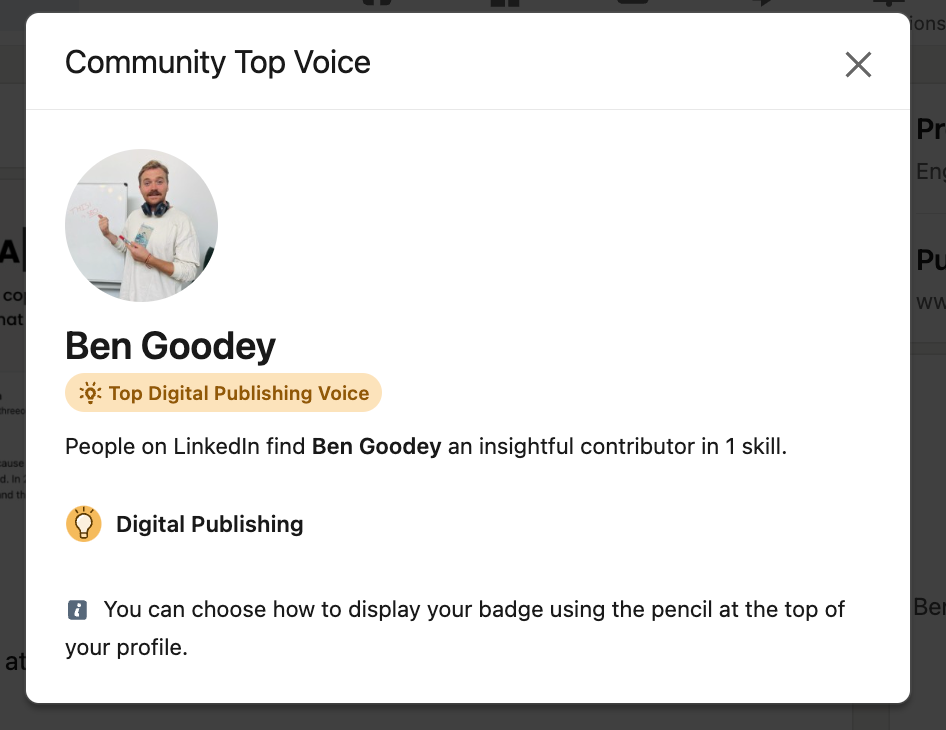 Three days later, I was awarded a "top voice" badge.
I'd recommend not using AI to generate a response or half-arsing these because 1. people need to respond positively to it and 2.
I have a hunch that real humans verify your responses and 'OK' the badge.
Voila!
How I Can Help You Accelerate Your Organic Growth
​1. The Scalable SEO Operation Package: Join 100s of SEOs & Content Leaders inside the Scale Package. This is a comprehensive guide, ops dashboard, and template library for building a scalable content operation that drives real revenue results. I've personally used this system to scale my latest client to 70,000 clicks/month in 5 months—in as little as 2 hours per week of management.
Use code: FRIENDS10 to get a 10% discount.
2. Become a How the F*ck Premium member: Join 247 monthly members who enjoy access to 30+ of the most incredible SEO case studies (and regular new ones). We've heard the inside secrets behind successful growth stories like Hotjar, Typeform, and Monday, as well as incredible niche sites like Living Cozy and Retro Dodo. These stories are how you build a real search-first growth engine.