Niche websites are a great source of passive income. The biggest success stories rake up tens of thousands of dollars a month for their owners.
But it can be difficult to know where to start, or what even to do if you've just decided to create your own niche site.
That's where our list of niche site case studies comes in, to help you understand exactly what works in the SERPs.
In this article:
A quick summary of 5 niche website SEO case studies
The secret sauce behind each one
⚡
Love case studies?
We think they're the best way to learn, so we're building a library of them. You can find 30+
SEO case studies
here. We also
have a podcast
dedicated to them.
5 of the Best Niche Website Case Studies to Learn From
Check out the top niche site examples from our extensive collection of SEO case studies.
1. How Living Cozy Grew to 335K Views/Month
Ash Read, Buffer's Ex-Editorial Director, ventured out on his own to build a niche site dedicated to home & furniture product discovery.
The website now has:
300 blog posts
6.6K position 1-3 keywords
12K position 4-10 keywords
335,000 page views (Jan '23)
Far north of £10K monthly revenue
How did he do it?
I've interviewed 50+ marketers and I've never seen an approach like it.
The playbook:
Find competitor weaknesses
Create extensive topic clusters
Build automated E-E-A-T
Layer expertise
"Whatever you're doing, like whether it's a website or starting an Instagram account, an email newsletter, I think just committing to a number gives you time for it to work. Because if you write one or two blog posts, you're not gonna see traffic and it's very easy to give up."—Ash Read
Read the highlights in my LinkedIn carousel here.
Read/listen to the full case study here.
🔥
Hot tip from the case study: To create content faster, add expertise in layers. It's important these days to differentiate with high-quality content. But your first draft doesn't need to be perfect. Get the content indexed, then add quotes, then add real product reviews, then add expert insight. Layer it on over time.
2. How Alphabetimals got 300,000 in monthly traffic from just 87 pages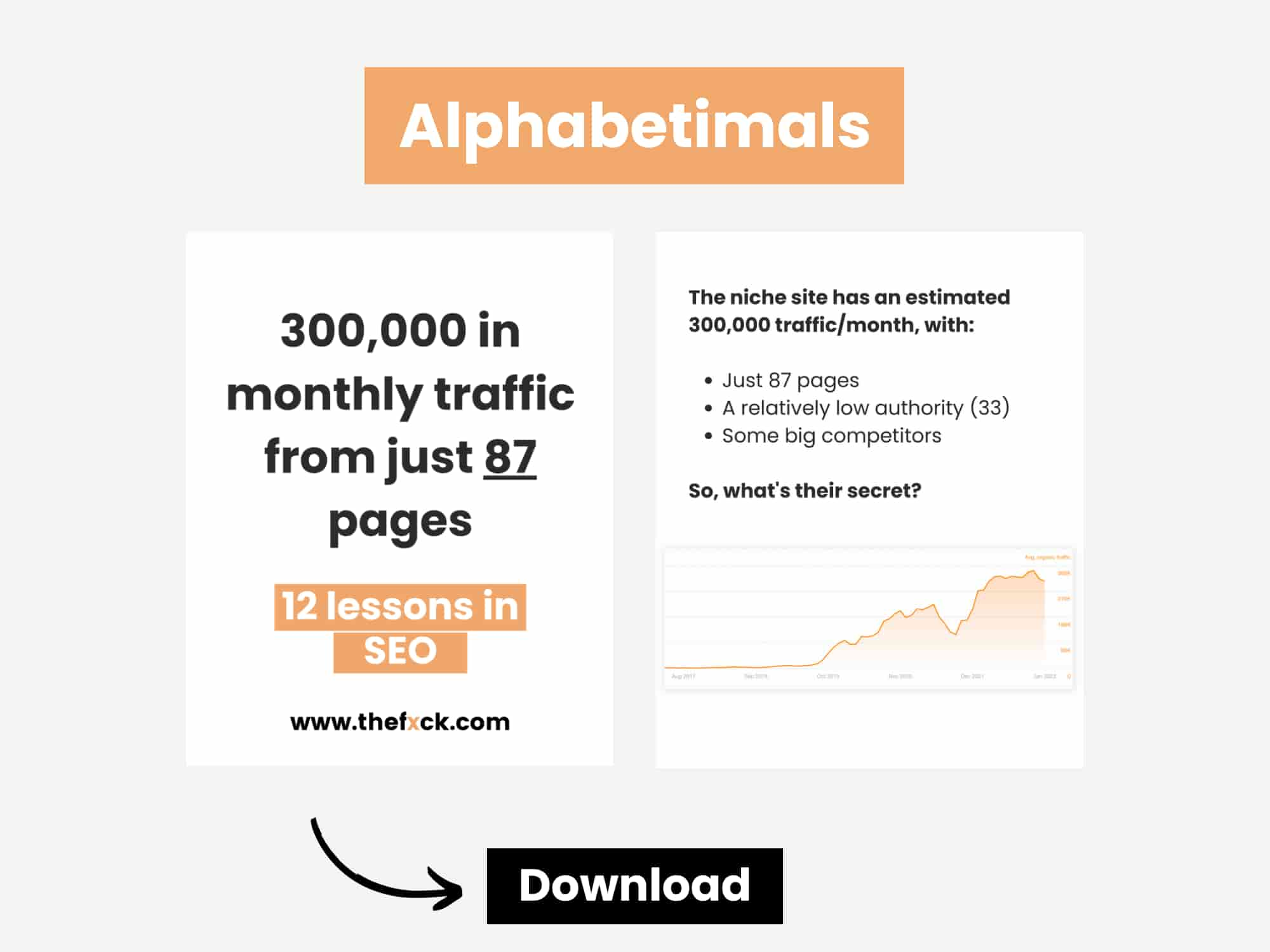 Here's a site that began as a passion project and grew into an SEO beast.
We're talking about 87 pages with an average of < 500 words bringing in over 300K monthly organic visitors. With a DR of (only) 33!
Alphabetimals is, as its name suggests, a directory of animals. It was created by a married couple eager to help youngsters learn the English language.
What is its secret?
Obvious keyword pattern, making it easy to design templates for batch-creating content.
Example of keyword patterns from Alphabetimals.
A strong focus on meeting the search intent, the quality of the user experience, and becoming a complete resource rather than fixating on word count.
Multimedia pages with custom-made images and accompanying YouTube videos.
Several different monetization channels, including an app.
🔥
Hot tip from the case study: Build content holistically. Do not limit yourself to just 'building a blog'. Instead, think bigger - how can you create a useful resource that your users will be coming back to again and again?
3. How This EU Citizenship Blog Earns £7K/Month in 2 Years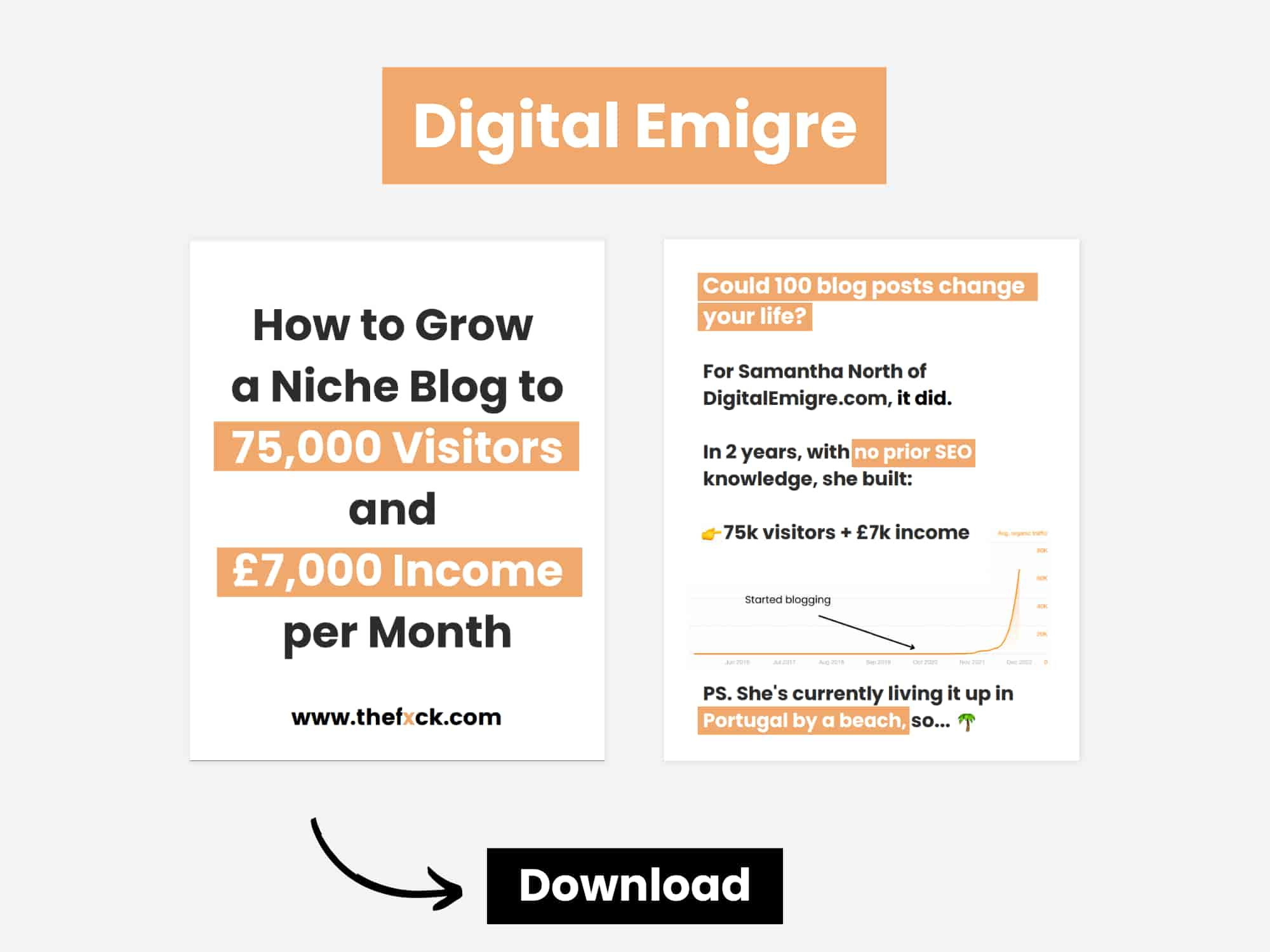 Check out this crazy graph of Digital Émigré, the second in line of our niche website examples:
This EU citizenship blog skyrocketed from 0 to ~75K organic visitors per month.
That's from 0 to £7K per month passive income in just two years (replacing the founder's full-time job!)
Here's how Samantha North, DÉ's creator, did it:
Choosing a niche that was both profitable and that she was incredibly passionate about. Building a niche website is hard work and it's near impossible to pull it off if you're not passionate about its topic.
"Are you going to be interested in this long enough to maintain the pace of all the writing you'll need to do to make this a success, to make this rank?" - Samantha North
Writing about topics that solve the core problems for her target audience.
Implementing the good ol' SEO basics: targeting long-tail keywords, uncovering low KD keywords from analyzing competitors, and creating topic clusters.
Monetizing the blog in many different ways: through ads, referral partnerships, consulting, and affiliate programs.
🔥
Hot tip from the case study: Go hard right from the start. During the building phase of your blog, plan to publish at least one new blog post every day for the first 3 months. Get the first 50 blog posts on your website ASAP. The sooner they're out there, the sooner they start to rank.
4. How Retro Dodo Grew to 1 Million Clicks & $50K Monthly Revenue in 3 Years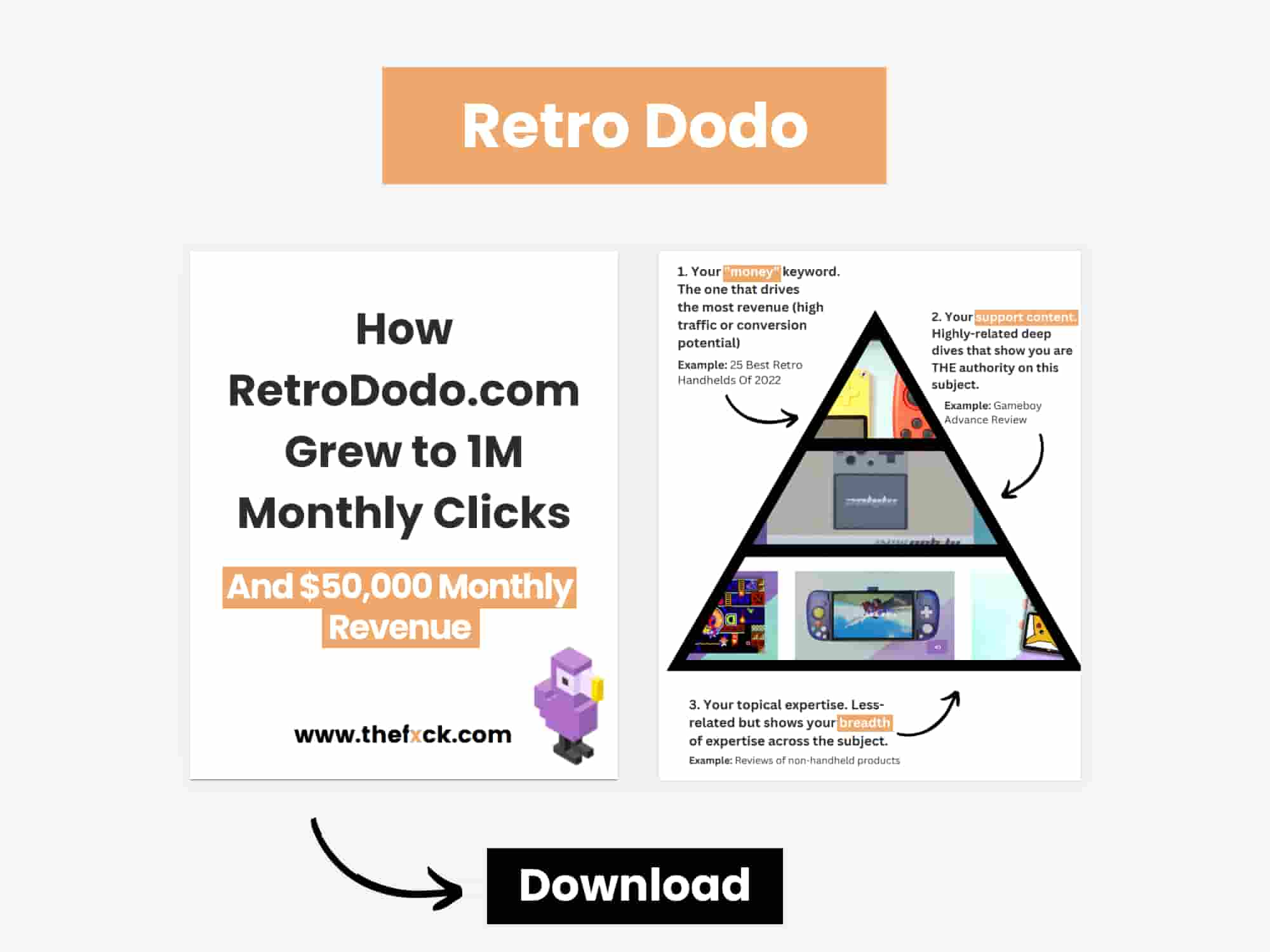 Even though Retro Dodo more than deserves its spot on our list of best niche websites, its creator, Brandon Saltalamacchia, actually didn't set out to build a profitable niche website.
He set out to build a brand.
And with over 1M monthly organic clicks, it's safe to say that he achieved it. Retro Dodo has become the go-to site for anyone looking for retro gaming news and reviews.
The key elements to Retro Dodo's SERP domination are:
Building a loyal fan base through social presence, newsletters, and a YouTube channel.
Becoming algorithm-proof. Brandon went the extra mile through video marketing, creating custom images for his posts, actually testing the products himself, etc.
Example from one of Retro Dodo's revenue-generating articles.
"We built an authority on only a number of very small clusters. That's something a lot of niche site operators need to understand, they can't go all-guns-blazing and build a gaming brand, tech brand or travel brand, they need to really niche down and build out clusters. Once you've got authority, pick something else and eventually you'll have the entire niche."—Brandon Saltalamacchia
🔥
Hot tip from the case study: Don't overlook your internal link structure. With clear and logical internal links, Google can crawl your site more easily, and your pages can share 'link juice' aka PageRank without any problems.
5. How Bike Lock Wiki Earns $12K/Month
James has been an avid cyclist practically his whole life. It made sense for him to start a niche website focused on all things cycling-related.
The fact that his website, Bike Lock Wiki, now earns an (estimated) $12K per month is just an added bonus.
Almost all of his 157 pages indexed in Google are getting some traffic. According to Ahrefs, it's over 140K organic visitors per month.
Here's a short overview of what James did to help his website succeed:
Wrote extremely detailed product reviews. We're talking about over 10 pictures per post showcasing that he actually used the product, lists of pros and cons, multiple seller links, alternatives, and a lot more.
Created an article structure that is incredibly easy to skim and for the reader to get just the information they're looking for.
Internally linked all of his articles in a clear, logical way, and more.
🔥
Hot tip from the case study: Even though James' articles are super detailed and have high word counts, it doesn't mean you should go stuffing your writing with irrelevant sections. Rather, consider what is the lowest number of words you need to present the reader with the clearest, most complete answer or information possible?
There's more!
The truth is, there is no one universal way to build your niche website. What strategies and methods you will use largely depend on your niche, how profitable it is, and how many resources you have at your disposal.
Fortunately, we got you covered in the 'how to do this SEO thing' domain.
Get instant access to our complete library of SEO case studies and find out exactly what works and what doesn't right where the action is.