---
In this week's SEO case study, we revisit a story we released in December 2022: How Monday.com Scaled its SEO (1,000 articles in 12 months).
In part one, we looked at the content operation that underpinned Monday's very first major investment into SEO.
We learned how Monday worked with an agency to make up for lost time.
They created over 100 articles a month, scaling to up to 1 million monthly clicks between late 2020 and late 2021.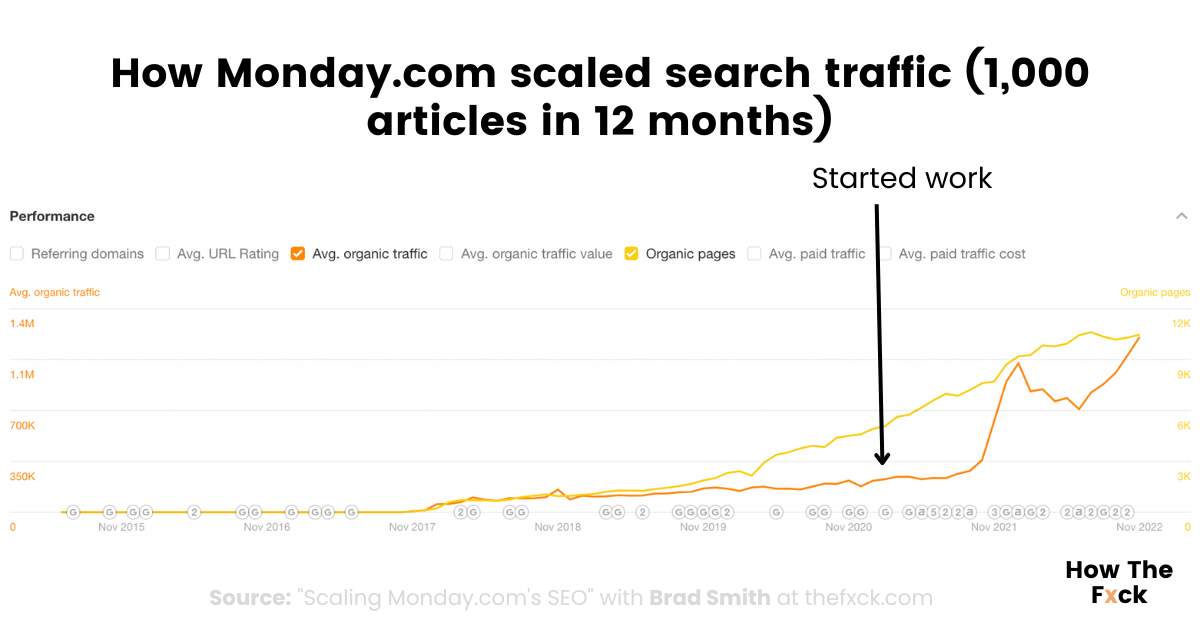 Expect to hear Monday.com insider secrets in this article.
In part two of the story, we heard from two Monday insiders:
Eliana and Zoe told us the logic behind the strategy; the return on investment for Monday; and how they've since iterated their strategy.
"It took some time for SEO to really reap the rewards of that initial investment. But we've been given a lot of internal autonomy as a team and the results have been really amazing. I know content is expensive but when you compare content to bidding and running ads it pales in comparison."—Zoe Averbuch, Senior SEO Manager
Expect to learn:
⚡ Monday's SEO philosophy: Why failing fast, learning, and iterating were all part of the plan.
⚡ Working with the paid acquisition team: How Monday's 8 years of heavy ad spend helped optimize their SEO strategy.
⚡ Why prioritization is everything in SEO. And why this means it's important to ship new content before it's fully edited.
⚡ Return on investment: Was the experiment worth it? How has Monday's SEO strategy iterated from their learnings?
⚡ Moving forward: What were their biggest learnings and how are they continuously maintaining their enormous content library?