The case study I share below is more of a success than many of us can dream.
In three years, from a town just 5 miles from where I live in the Somerset countryside, Brandon Saltalamacchia created a retro gaming magazine that now sits at:
⚡ 1 million monthly clicks from search
⚡ 270,000 YouTube subscribers
⚡ 85,000 social followers
⚡ $50-55K monthly revenue
That's totally life-changing. Mind-blowing. Crazy. All of the above.
Brandon's process is pretty epic. It focuses on developing high-quality video and written product reviews in networks of semantic topic clusters.
In this case study:
⚡ How to build a niche blog site around your passions that *actually* earns traffic and loyal followers.
⚡ How to build an organic content strategy that wins highly monetizable keywords (earning Retro Dodo $50K in monthly revenue!)
⚡ Best practices for interlinking, backlink building, keyword choice, and many more SEO tips.
Listen to the episode here or join How the F*ck Premium to unlock the full case study below. 👇
🤗
Learn from REAL search success stories:
Our library now has 20+
SEO case studies
from companies like Monday, SurveyMonkey, and Cazoo.
How Retro Dodo Grew to 1 Million Clicks & $50K Monthly Revenue in 3 Years
Retro Dodo is an online magazine dedicated to showcasing the world's best retro gaming products. Founder, Brandon Saltalamacchia, began building the site as a side project with the first piece of content going live in June 2019.
He initially published at a rate of one blog post a week, steadily moving up to two, four, and eventually hiring a writer in year two to go "all in" on the content.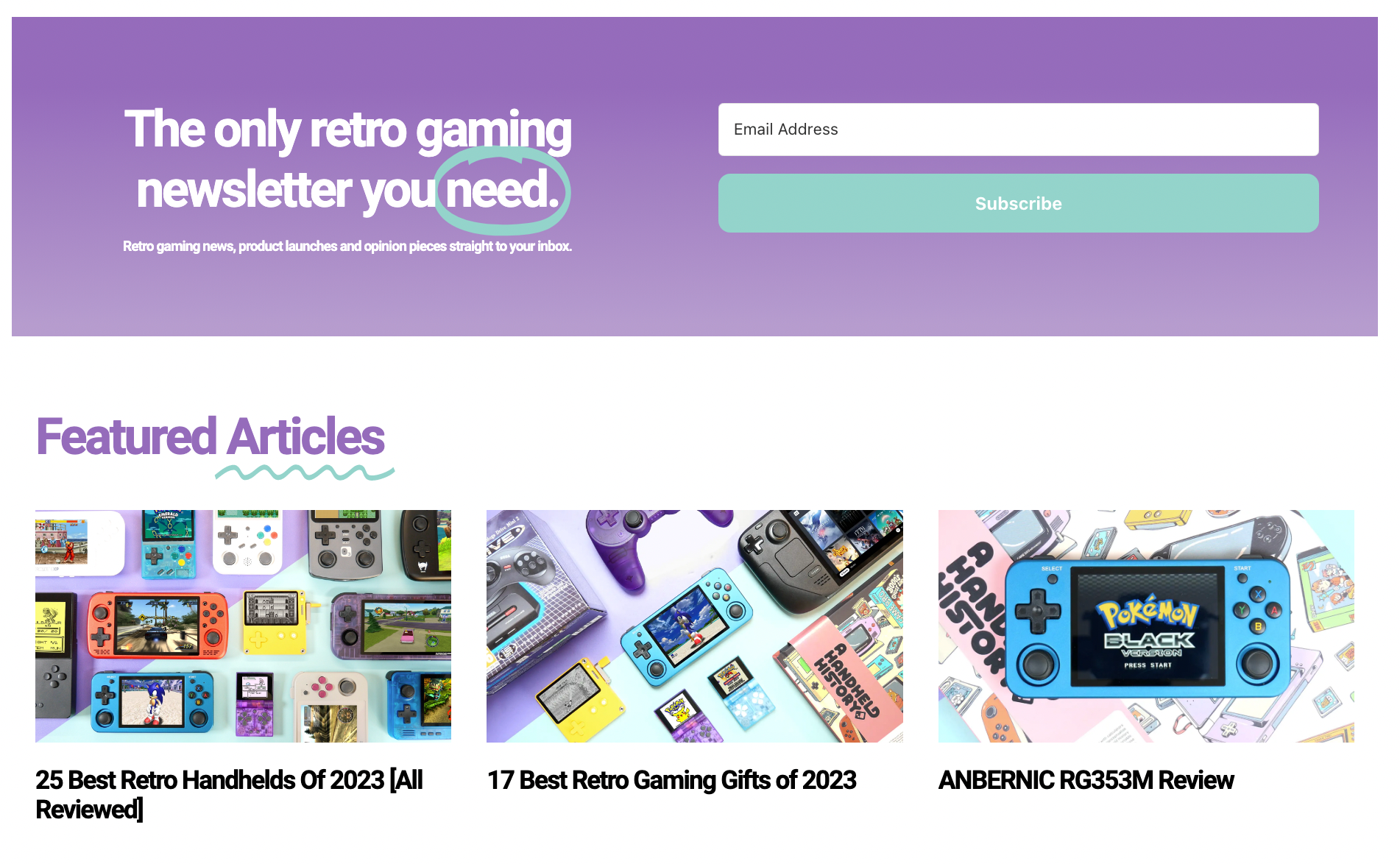 Alongside the blog, Retro Dodo hosts a YouTube channel dedicated to retro console and game reviews.
Three years and 1,000s of bits of content later, Retro Dodo is a retro gaming brand that, in November 2022, pulled in:
1 million clicks from Google
270,000 total YouTube subscribers
$50,000 in revenue
15,000 total Twitter followers
68,000 total Instagram followers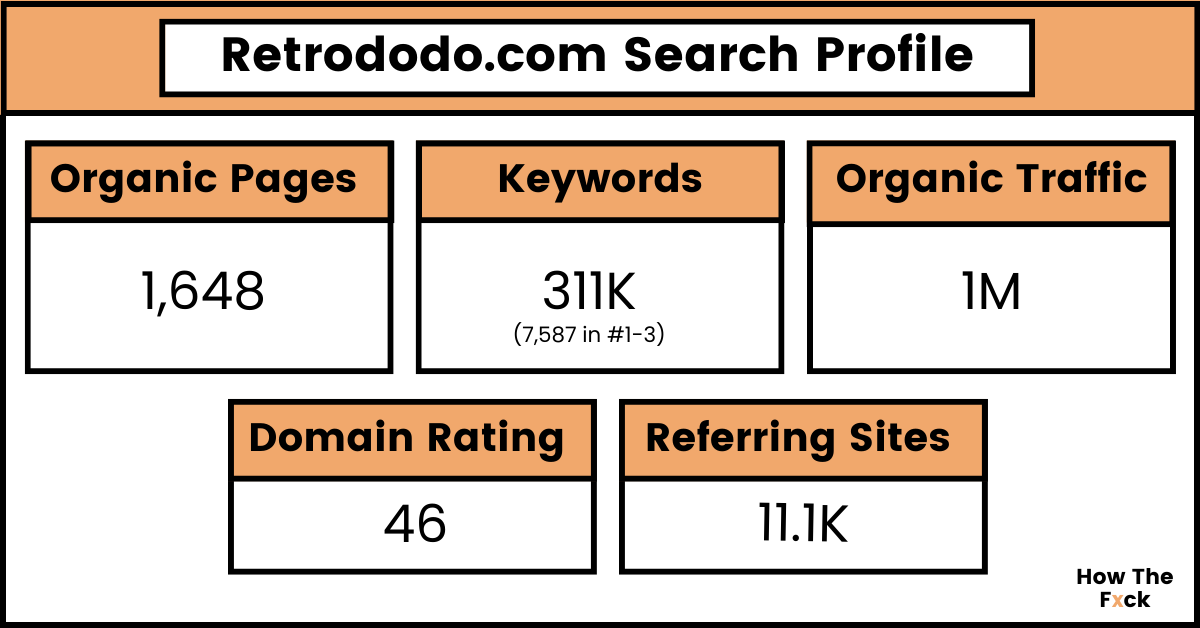 Monetization stats:
$45k through display advertising
$8k through affiliates
$2-3k through YouTube ad revenue
About the Creator (Background)
Brandon has been in the niche blogging sphere for over 10 years, and like many, blogged for years without knowledge of SEO as a distribution channel. He worked at Future, a publishing company with 220 brands like GamesRadar, TechRadar, PCGamer, most of which got most of their revenue from search.
He worked in the video production team—which explains his high-quality YouTube channel for Retro Dodo but learned Search alongside the content teams at Future.
Prior to Retro Dodo, he sold a niche blog for £100,000 which focused on Van Life (campervan living and automotive) which had 50,000 YT subscribers and 250,000 Facebook followers.
"I started something I'm genuinely interested in, which is Retro Dodo, and I went in with that to create a hybrid of video and SEO. That's my personal key to success and how I've got a different route to many niche sites. Now, here we are 3 years later with a million clicks and $50k a month in revenue"—Brandon Saltalamacchia
Why Building a Brand is Better Than Building a Traffic-Focused Niche Site
Retro Dodo set out to be a brand, not just a traffic-generating website. Brands have an organic strategy that extends beyond search traffic. They have a focus, a "feel", and a customer in mind.
This is something that instantly hit me as a unique differentiator for Retro Dodo. The site spans a successful Youtube (YT) channel, a blog, a newsletter, and multiple social media accounts. It has the feel of a media company, not a build-and-flip website.
While spreading focus across multiple channels may slow growth in the short term, there are a few seriously strong advantages to this approach in the long term:
1/ Capturing your reader
Niche sites that simply focus on traffic, never capture their reader. The reader gets their information and bounces away.
However, a brand with social accounts, newsletters, and a YT channel is able to build a loyal fanbase. Capturing a reader and building them into an audience means being able to monetize them into a resilient business.
For example, if you have 1 million visitors a month and 1% of them click an affiliate link, that's 10,000 potential affiliate leads. If another 0.5% subscribe to your newsletter and another 0.5% subscribe to your YouTube channel, that adds a further 10,000 retained fans that are an opportunity for your business.