Hey friend,
monday.com is well-known for its explosive and unignorable advertising campaigns.
And yep, paid ads were their focus for lead acquisition for 7+ years.
That was until late 2019/2020 when their acquisitions team decided to take their "go hard or go home" approach to a new channel: Organic Search.
In just 12 months, monday.com plugged its content gap with over 1,000 articles.
They targeted keywords across the entire funnel, from "project management tools" to "business risk mitigation strategies" and everything in between.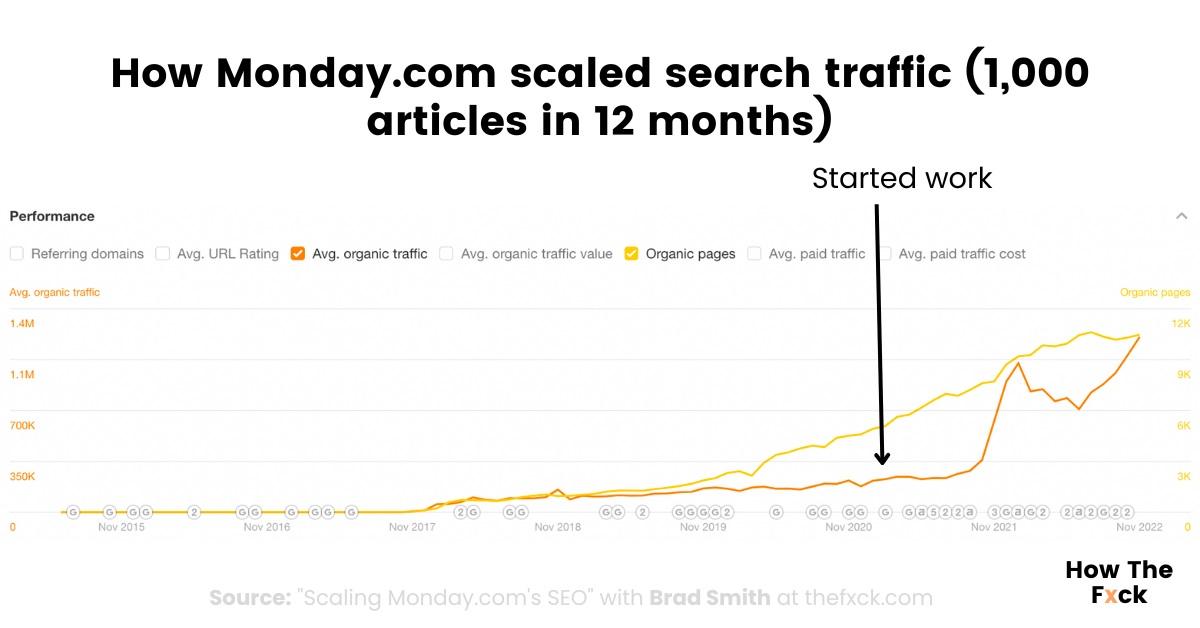 Long-time How the F*ck members will know, I had the pleasure of interviewing various people to dig into the secrets behind monday.com's explosive scale-up:
We got two different perspectives from these interviews.
Interview #1: focused on the groundwork, initial strategy, and operations.
Interview #2: gave us insight into the results, ROI, and how the strategy has since iterated.
In this week's newsletter, I want to focus on the question of ROI and value.
1,000 articles is obviously not cheap.
But, was it worth it?
1M visitors every month is cool...
But, is it something that's driving results for monday?
You know I love tough questions.
So when I talked with the monday.com team I flat-out asked both of these questions.
And...good news.
Their answers were very revealing.
In this newsletter:
How big brands like monday think about marketing investments and ROI
4 arguments for investing in SEO to add to your repertoire
This should be useful for in-house teams and agencies looking to sell SEO to those with the budget.
👋🏼
This is a free article. If you enjoy it, please help me grow by recommending the newsletter to a friend or colleague. Let's dive in.