I used to undervalue backlink building.
I saw people getting stratospheric results from content production alone and thought…backlinks must be over-rated.
But then I talked to people.
People I trust. Experts in the SEO game.
People like Sean Potter from Hotjar.
People like Jake Stainer from Typeform.
People like Gaetano DiNardi from Aura.
And they showed me the impact of just one quality backlink on rank.
I also tested them myself on my projects.
And I realized that people who don't build links don't maximize the full potential of their content.
You spend all this time crafting quality, optimized content. But it just doesn't hit.
You think you've created something that lacks something. But that's just not true.
It's just how Google works: Content and Links.
Both are important.
But link building is HARD. Right?
I did a consulting call just last week with a team who had built hundreds of backlinks, but nothing was working.
I looked at the links, what did I see? Trash. TechBullion!? That site has literally been milked.
Backlinks only have a huge impact if they:
Come from authoritative sites (well-respected, not just heavily backlinked)
Come from niche-relevant content (an article on "X" to and your article on "X")
According to my LinkedIn DMs, every man and his dog are selling access to the same 20-100 websites.
If everyone can buy access: you do not want access.
Trust me. Those kinda links are devalued. And easy to replicate.
The backlinks that are valuable and give you a competitive advantage are EARNED.
Sadly, they're earned the hard way.
The most consistent and repeatable way to build backlinks?
Guest blogging:
Build relationships with the people who run top websites in your niche
Allocate 10% of your content budget to guest blogging
Offer content they actually want
People are actually always open to a guest blog.
But you need to stop your guest blogging outreach from being ignorable.
If you've been ignored 100s of times, it's probably because:
You haven't leveraged your personal brand
You're pitching ideas that don't suit the target audience
Your content is below the quality that the site is happy to publish
These are three things you can fix easily:
1/ Leveraging your personal brand:
By this, I mean to leverage the fact that you're a real human, not someone sending 300 automated emails and hoping for the best.
You don't need a big following or anything like that. Literally, just reach out on LinkedIn or email with a (genuinely) personalized message.
Personalization isn't fake either. That's SO easy to spot.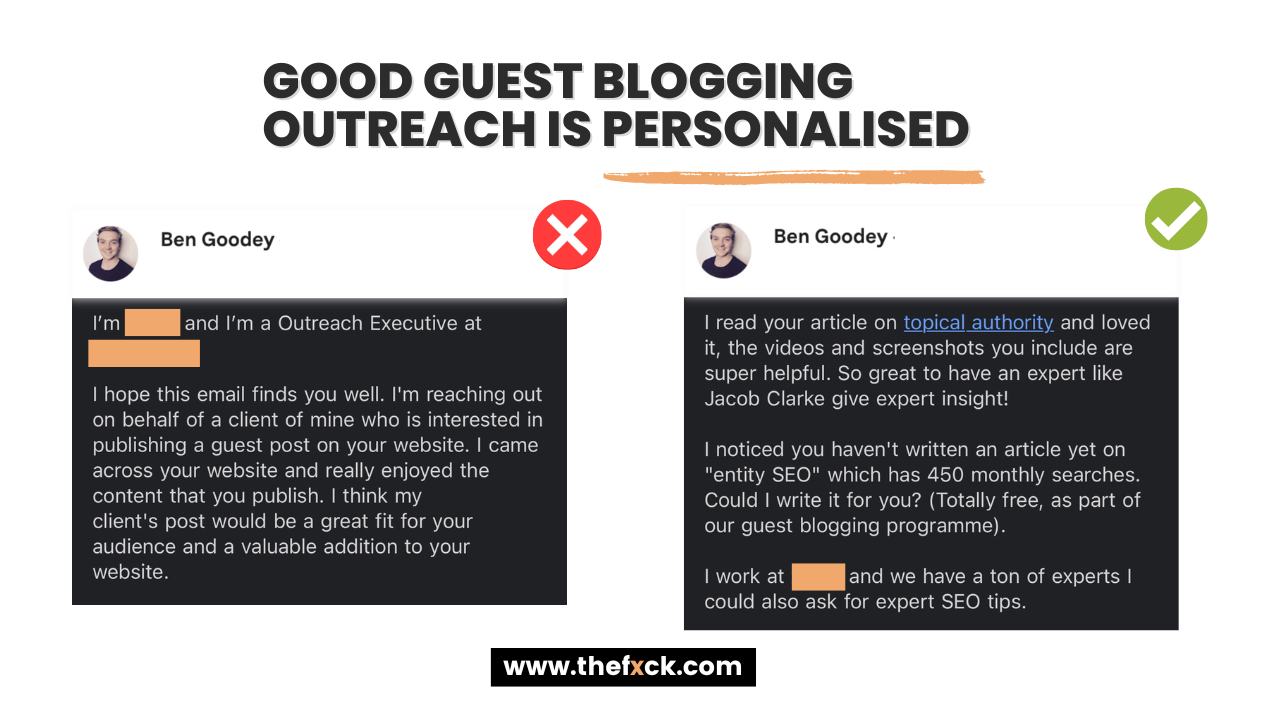 2/ Pitching ideas that suit the audience
I get a lot of guest blog "pitches" that offer content that is nothing to do with SEO.
Anyone who read my site would know it's all about SEO. So, I know for a fact these people are not worth my time.
If they can't be bothered to identify my target audience and what they're interested in, what does that say about the quality of the content they're planning to write
Instead, included in your email pitch:
A description of the target audience
5 article ideas that this audience would love
There's actually a really simple technique for finding article ideas that always get you a guest blog opportunity.
Steve Toth calls this "Jealous Link Building". The idea is simple:
Find 5 websites that compete with your target site
Do a content gap analysis to find what content they have that your target site is missing
Pitch those headlines
If your pitch says "Hey, I saw that three of your biggest competitors have an article on [X subject] and you don't, can I write it for you?" then I guarantee you they'll respond to your email.
3/ Content quality below their usual standards
I know you don't want to write your best stuff on someone elses blog, but you should honestly try to.
Think about it.
If you write a quality guest blog, you'll typically be able to include 2-3 backlinks to your articles on your site.
If the guest post:
Gets traffic
Earns backlinks
It's way more valuable to you, too.
The more backlinks it gets, the more "juice" authority is passed to your blog posts.
The more traffic it gets, the more that funnels to your site.
To squeeze the most out of guest blogging, every post you do for another site should actually aim to be buzz-worthy and linkable.
Instead, we do the opposite: write blogs that are as short as possible.
5 [More] Tips for Effective Guest Blogging
If I was building a guest posting function from scratch, here's 5 things I'd build into its fabric.
1/ Insert Original Data
Original data earns backlinks naturally.
Your company has likely done original research and found some new insights.
Find ways to include those insights in your guest blogs.
Of course, link to your website as the source. Which, in turn, increases the likelihood other content writers will find that data and link to you as a source.
This way your backlink-building efforts are propagated through the web and build momentum.
2/ Repurposing
For every article you write on your own website, find a way to repackage it into 1-2 guest posts.
You've done the hard work.
So reuse it. Repackage it in a new angle or to target a long-tail keyword.
Not only does this give a natural opportunity backlink to your original article, but the topic of the new article is hyper-relevant, too.
Whilst working at CustomerGauge, we did this several times.
For example, we wrote an article on NPS Detractors [link] which contained unique insight and original research.
We repackaged that into a guest post for an influencer in the customer experience space, [X], and backlinked to several of our pages.
[Check] Niche relevant site
[Check] Niche relevant blog post
3/ Reverse engineer "buzzy" topics
Some content earns tons of backlinks. There's just something about them.
Reverse engineer those into a guest post to improve the chances it will earn backlinks and pass more "juice" onto you.
Follow this process:
Find 5 SERP competitors to the site you're guest posting for
Filter for their top content by links
Take topics from there that your target site doesn't yet have
Analyze why they earned links
Create that article as a guest blog
You may as well squeeze the most juice out of every guest blog. This helps you do that.
4/ Offer internal link opportunities
One thing I never hear guest bloggers do is to offer up internal link options.
As SEOs, we know that both internal links and backlinks pass authority, right?
So, therefore, if we do a guest post, it will pack more punch if it gets more intenral links from other pages on that site.
Once you've finished a guest blog, simply find 5 other articles on their site where an internal link makes sense. Suggest the content manager adds them to boost the post.
5/ Write topics that sit in the same topic cluster as articles with lots of backlinks
This follows from tip 4.
If you want to be really smart about guest blogging, follow this process:
Identify which blog posts on the target site has the most backlinks (aka the most "juice" power).
Pitch 3-5 really relevant articles on similar topics. Perhaps even take a talking point from the article and expand on it.
Write that article.
Ask for an internal link from their top linked article to your new one (it's relevant after all)
Backlink to your own site—passing authority from their top linked blog to all of yours.
I call this the "juice thief" guest blogging method.
———
If you found this post helpful, please help me grow by sharing this article on social media or recommending the newsletter to a colleague.
Lots of love,
Ben