SEO is getting more competitive every day:
More brands are investing in it
Google keeps releasing traffic-eroding features (like generative AI).
AI has reduced the time it takes to make content (it's more important than ever to invest in more costly, quality content)
To win traffic (and lots of it, fast, as we like to in this community) we need to stay nimble. We need zig when others zag.
And, sometimes, we need to tear up the rule book completely.
In this week's SEO case study, we learned how copy.ai, the AI copywriting tool, did just that.
When copy.ai started investing in SEO, keywords tools showed ~0 search volume for the keywords they desired most.
Within a year, for the exact same keywords, they showed an opportunity of 100,000s of monthly searches:
They predicted (and encouraged) an emerging trend, which meant they were able to spend a full 12 months creating and optimizing content and building backlinks before competitors came along.
In fact, they received 1 million clicks in 5 months across zero-volume keywords.
The case study got me thinking about best practices in this area.
So, this week's newsletter is dedicated to helping YOU win traffic from emerging topics before anyone else even knows about them.
4 Ways to Find Trending Topics to Target in SEO
Some topics trend for a short time (e.g. "When is King Charles getting coronated?"). Those are typically won by news sites, and that's a whole can of worms that we can ignore for now.
We don't want to win tons of traffic for one week. We want to identify evergreen traffic, and topics that are emerging and will grow to be a strong asset to our monthly traffic stats.
Here are four methods to do that:
1. Track news sites in your industry
The news becomes awash with a buzzing topic all the time. But you want to look for paradigm-shifting stories.
We had a great example recently when Google held its I/O 2023 conference. During the conference, they announced some important new features that lit up the world of SEO:
At the time, the keyword "Google I/O" was trending. But that hype died down.
But the new features announced were paradigm shifting. The keywords "Google Perspectives" and "Google Generative AI" are brand-new topics that will endure as long as those features do.
It's also highly likely that keyword volume for topics containing those keywords will rise as the features are released and more people discover them.
This works for every industry.
If something in the news is trending about your industry, as yourself: is this a "flash" topic or a topic people will always be interested in?
Capitalize on the evergreen topics and when the trend becomes the norm, you'll be happy you did.
✍🏻
Tip: Look out for fundamental changes to things that matter to everyone. For example, careers (working from home), technology (ways of working like ChatGPT), transport (ride-sharing, Uber), food (delivery, on-demand), and communications (video conferencing).
2. Track social media buzz for a topic
In our industry, there are two things everyone is constantly talking about and it doesn't seem to be going away.
AI-generated content (images and writing)
ChatGPT for SEO
LinkedIn is ablaze with this topic and it does represent a fundamental shift for our industry (and every industry).
If everyone is talking about it and it seems long-term, then that's a telltale sign this topic is worth writing about.
If it's not happening publicly on social media, try talking to your customers, what is it they can't stop talking about? Is that here to stay?
3. Think about second-order effects

As interest in a topic rises, it will likely break into subtopics and questions about that topic.
We know well that keywords follow similar patterns.
In B2B for example, almost every topic has keywords that cover the top-of-funnel to the high-converting, lower funnel:
What is [X topic]?
How to do [X subtopic]?
How to improve [X topic]?
Best [X topic] tools
[X topic] alternatives
This is likely to apply to emerging keyword topics, too.
For Google Perspectives, I bet within 12 months, there will be search volume for:
What is Google Perspectives?
How to win Google Perspectives?
Google Perspectives case studies
How will Google Perspectives impact SEO?
And so on
You can start writing the full topic cluster right away, which will help you build a topical authority moat that others will struggle to copy (when they eventually catch up).
P.S. This is exactly what copy.ai did, creating tons of pages around AI copywriting use cases they now dominate.
4. Use Google Search Console to guide you
Google Search Console has the most up-to-date keyword search data you'll find.
Use your knowledge of news and social media topic trends to filter through Search Console and look for underserved keywords.
For example, from my own Search Console, I searched for "AI" and in the past few months I got 1 click from the keyword "is AI content good for SEO?"

I don't have an article on this topic, but I have one that's related.
This keyword is zero volume according to Ahrefs, but now I know it's not.
And thinking about what I've seen on LinkedIn a lot recently, this topic is gonna rise dramatically in demand in the next 1-3 years (and plenty of sites have jumped on it already, see below).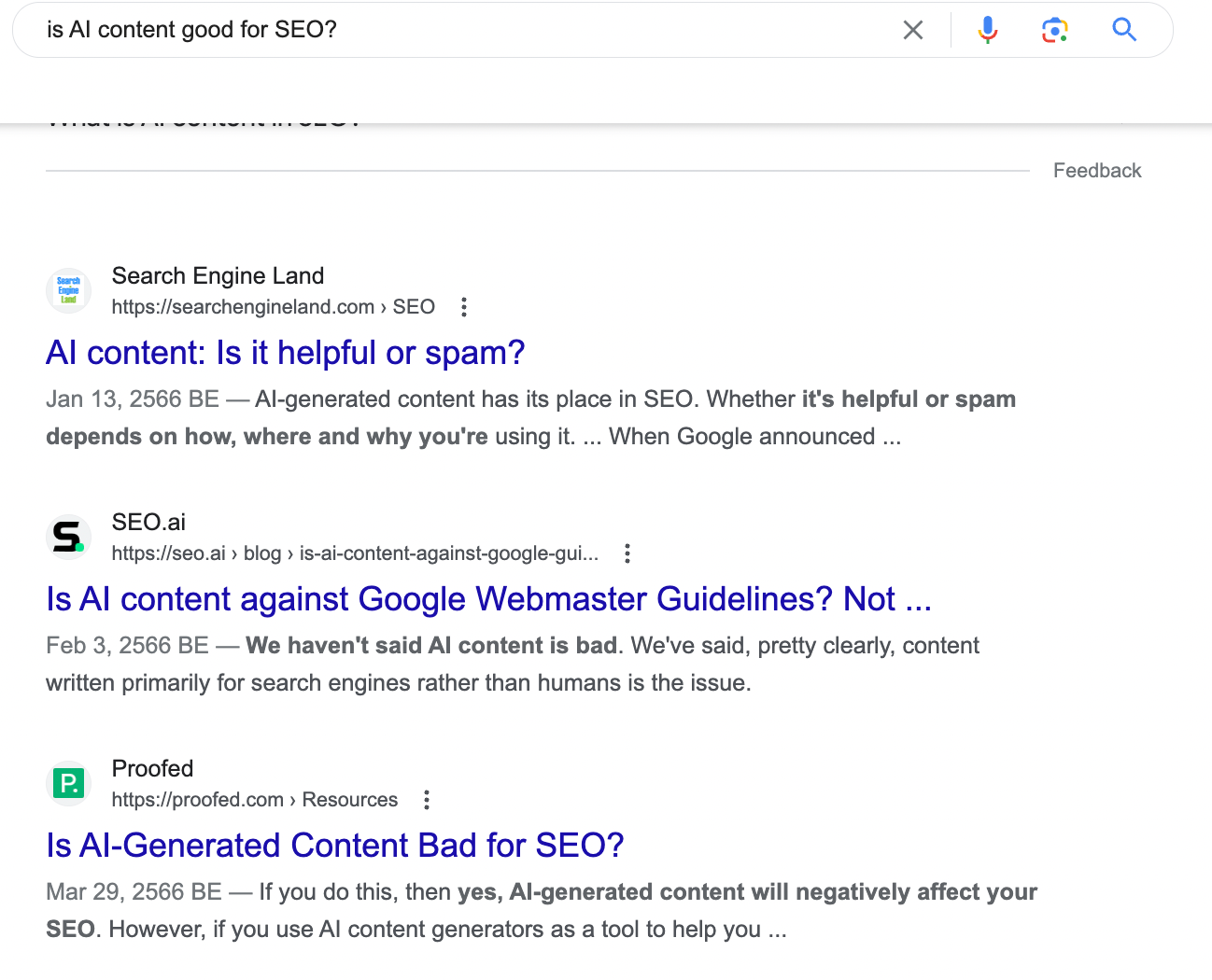 This is still an opportunity for SEO-focused sites. Competition is low with only 4-5 articles targeting this specific topic.
—
There are also tools which help a bit but I don't personally use them. If you want to check them out:
Google Trends (free)
SimilarWeb (not free)
Exploding Topics (not free)
BuzzSumo (not free)
How to Win an Emerging Keyword Topic with SEO
With an emerging keyword topic, you don't know what the exact keywords will be and you don't know for sure what content will best serve the intent.
So, what do you do to make sure you win?
1. Look at the language everyone is using
Your only option is to predict the keywords people will use.
A head term is typically short like "generative ai" or "Google perspectives". So look out for the patterns in how people speak about an emerging topic and boil them down to these head terms.
If you don't already, it's wise to follow influencers in your space and see the language they are using. Their phrasings are likely to pass down across the industry over time.
2. Think about search intent
We're lucky that search intent follows patterns.
For example, when someone searches for a head term like "email marketing" you'll almost always see a "what is email marketing" article at the top: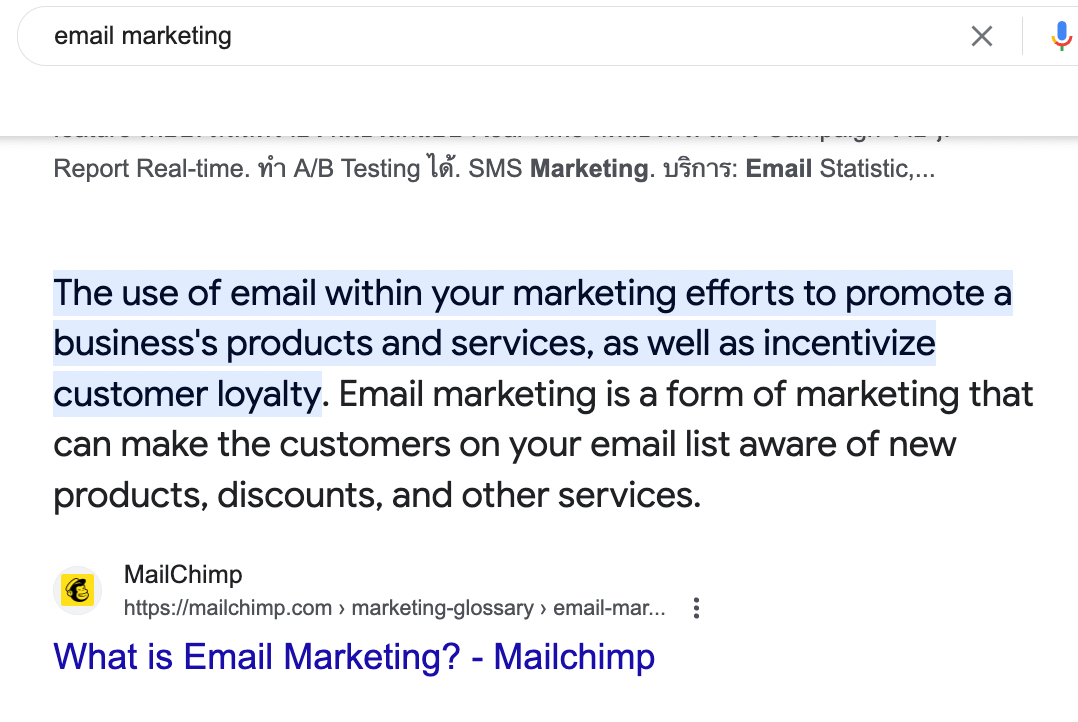 The intent for a keyword like this is educational. The audience is typically uneducated. And the content is usually a helpful definition.
At this stage, the easiest thing is to predict an emerging topic will follow the same search intent pattern.
3. Track search volume in Search Console and quickly update keywords
Monitoring, tracking, and updating content is more important than ever with emerging trend SEO.
Luckily, Google Search Console shows you the real keywords people use even if the volume is 3 impressions per month.
Monitor what keywords your article gets impressions for and optimize your content around them, continuously.
If search volume rises dramatically for a keyword variation, consider whether your article serves the search intent or if a new article would be better suited.
–
If you found this post helpful, please help me grow by sharing this article on social media or recommending the newsletter to a colleague.
Lots of love,
Ben