In case you hadn't heard, Google is changing.
In this week's newsletter, I've curated the most useful content I've seen about how Google's Search Generative Experience will impact the world of SEO.
Expect:
Hot Takes & Opinion
News & Updates
Please note: We have a new "comments" section on the site. Feel free to add your thoughts, opinions, and questions for the community to discuss. To find it, scroll to the bottom of the page and use your email to log in.
10 Ways Generative AI Will Impact SEO
1. Helpful Content Will Become More Important
We've seen plenty of companies investing in AI content over the last few months.
The draw of fast, cheap content was enticing, but this means people are pumping out significant volumes with a focus on traffic capture, not a genuine, satisfying, reader experience.
I believe Google needs to respond to this, and that the new Helpful Content System update will be significant.
Google made it explicit in the recent announcement: we are figuring out how to detect real experience and expertise AND are improving how they rank results to focus on it.
Google's own generative AI will be as good, if not better, than a generic, low-quality blog post that answers the question.
If that's the case, why would a reader choose your AI-generated article?
To adapt, I'm working with my clients to create content that:
Focuses on information gain (and less on copying competitors)
Has an opinion (and doesn't just summarize fact)
Quotes experts and tell stories that show first-hand subject knowledge
I'm finding that this can be done with relative ease and low cost across all types of content.
2. Human Experience Will Be Where Brands Win
Let's face it, people are already sick of "SEO content"...especially when ALL the search results repeat the same thing.
Over time, poorly-created AI content will make this feeling worse, which means Google's users will become increasingly unhappy and they will fix the issue.
I believe these things will, therefore, become important:
Social signals: Readers will trust the content and spend more time on page if there are "shares" and "likes" on the page.
Comments: Genuine discourse in blog comments will indicate an alive and thriving audience. Could these be picked up by the new Google Perspectives tab?
Graphic and web design: Delivering content experiences not just blog posts.
Brands beyond search: People will increasingly want to click on brands they know already (and therefore trust)
3. Keywords That Require Expertise Will Not Be Affected
Jeremy Moser and I discuss that generative AI is not likely to hit B2B business as hard. Decision-makers in B2B are savvy and want real experience and expertise, something that AI might not do that well given its training on generic SEO content.
This is already prevalent in marketing strategy topics, where "best practices" change all the time because as soon as something becomes "best practice" it becomes outdated.
4. Google Needs Content Creators
Andrew Holland points out that "good information" is not just written, it's curated from "Data, research, imagery, words, videos, stories, insights." He notes that AI isn't great at bringing these things together in a way that satisfies humans—which is where marketers must focus.
5. SEO skills are even MORE in demand in an AI world
Right now, anyone and everyone can take an SEO course and call themselves an "SEO expert". In this article from Eli Schwartz, he says this is changing thanks to generative AI: "Generative AI results will upend the standard playbook of "write content on popular keywords" to create SEO visibility."
6. CTR Optimisation Will Become Even MORE Important
Daniel Foley Carter notes several key considerations for SEOs, all of which are sound advice. In particular, he notes that traffic will reduce due to "Above the fold SERP noise" and we will need to improve CTRs to ensure we "hoover up traffic crumbs".
7. Longtail Queries Are Going Away
One of the most effective strategies for small brands to get a foothold in SEO is to target low-competition, long-tail keywords. These are niche questions, that only a handful of people ask each month and were, therefore, underserved by publishers on Google.
Generative AI excels at answering nuanced queries like "What's better X, Y or Z and I have a family of 4 with a dog". As people become used to this new way of searching, it's likely that these queries will become so nuanced that:
It will be hard for keyword tools like Ahrefs to pick up on them
Targeting those keywords will be unattractive, none will have a significant volume
Kevin Indig reiterates this point in his article "What Google I/O Reveals about the Future of SEO".
8. A Major SEO Opportunity for eCommerce Retailers
Brodie Clark notes that Generative AI will suggest products that suit the searcher's needs. SEO will likely become about optimizing for this free product listing.
9. We'll Have to Learn to Optimize for Generative AI
It's important to note that Google's generative AI widget will suggest websites for the searcher to "deep dive" the topic further.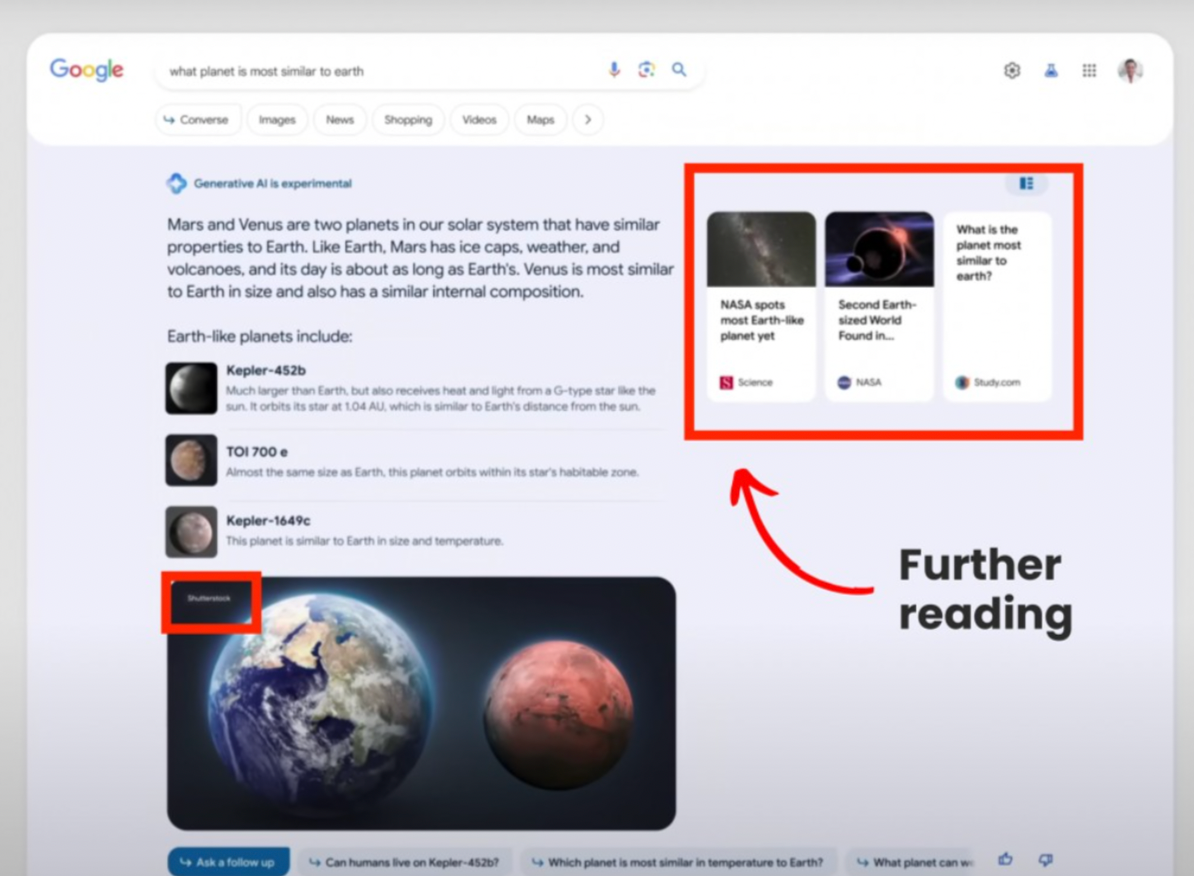 No doubt, these links will be to:
Relevant blog posts
Niche relevant websites
Ranking in position 1-5 for key topics will still be vital if you want to show up in this widget. As a community, we've figured out how to win Featured Snippets. We will do it again for generative AI.
My advice for SEO strategy hasn't changed in that respect: pick a niche, build strong authority (on and off-site), and build a brand that loves the reader not just traffic.
10. People Will Switch Off Generative AI — Adoption Isn't Guaranteed Across All Industries & Query Types
Dr. Marie Haynes pointed out several interesting features in Google's new SGE. One of which was the ability to turn it off. I think this will reduce the impact on search volumes, as many search users will turn SGE off—especially if it sucks.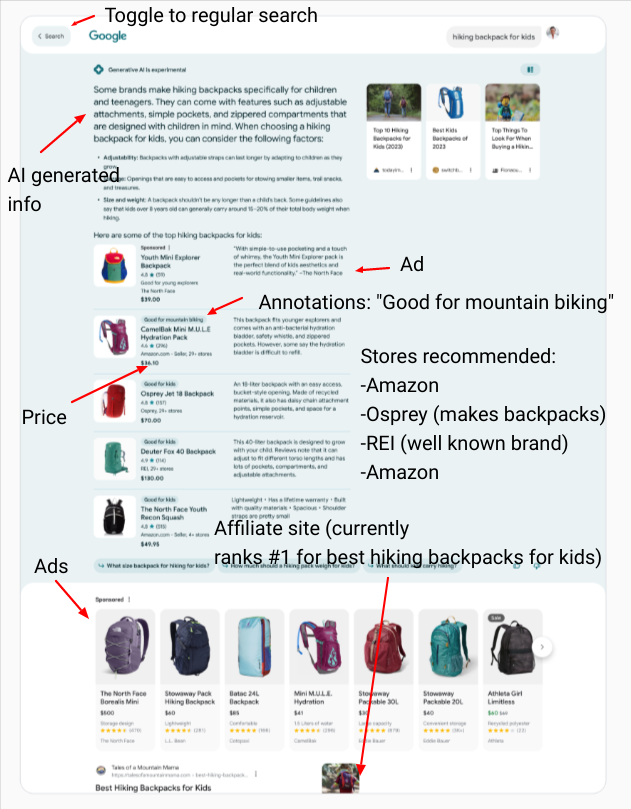 More Must Reads
Google is offering a bunch of free courses on generative AI
The world is underestimating how much of an apocalypse Google's new experience will be. LinkedIn post
4 AI in SEO case studies (Using AI-generated content)
Google confirmed topical authority is real for news sites. This is not a new system, but the first time Google confirmed this is how they work.
61 AI tools - Not Google, but interesting to see innovation in this space nonetheless
AI content writers that are dirt cheap (don't use these blindly)
Summari. Just discovered this tool and it seems like a great value-add for readers. When you link to another URL within an article, your reader can hover over that link and it's summarized nicely.
---
Thanks so much for reading. If you don't already know, How the F*ck is a podcast, newsletter, and blog dedicated to helping you scale search traffic while maintaining quality and getting real business results.
As the impact of AI in SEO unfolds, we'll be monitoring it closely and releasing more SEO case studies to help everyone stay on top of the latest best practices.
Ben ✌️