Maze is a SaaS platform that helps product teams collect and use user insights for product development.
In 2021, Maze raised $15 million in a Series A funding round to accelerate growth, having increased monthly recurring revenue by 600% in the previous 12 months.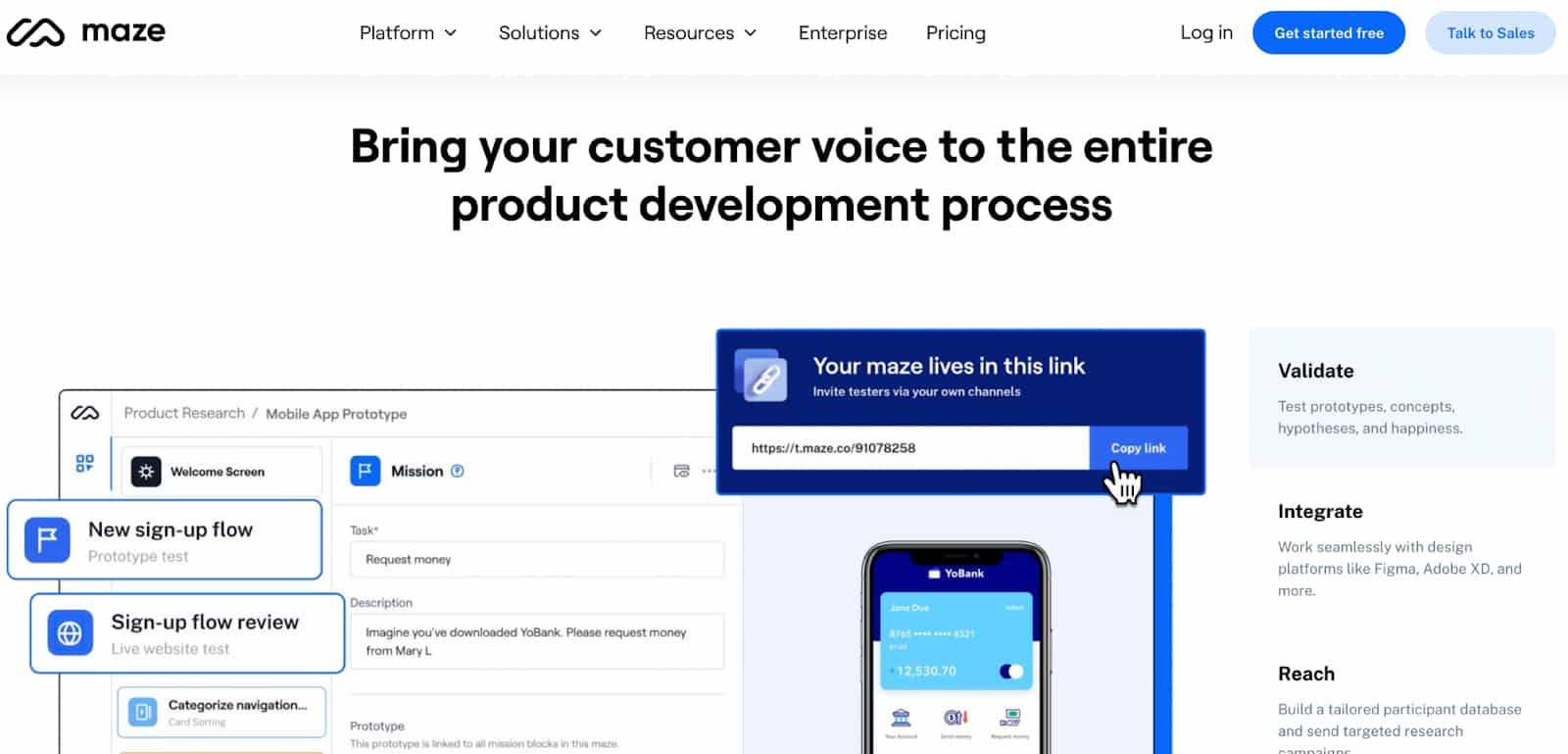 In 2020, just before the Series A round, the Maze team approached Jake Stainer and his SaaS SEO agency, Skale, for a project with one goal: "help us decide if SEO can be an ROI-positive channel."
These two companies have worked together ever since, as Jake and his team have developed their offering around building SEO revenue engines for SaaS brands.
This case study is about an underdog website. A new company, launching into a competitive niche and winning some of those most difficult keywords.
Maze broke through on topics like "UX Design" and "UX Design Tools" by focusing on:
Thorough, well-crafted content
Superior UI/UX designs
Scalable link building
CRO techniques
These are the core tenants of the SEO revenue engine that has allowed Maze to fuel its growth via search.
Things You'll Learn
The SEO engine top brands have under the hood, and how they drive revenue results.
The tricks behind pioneering a new category. Winning growth despite a lack of demand to capture.
The simple 3-step process for capturing and converting web visitors. Most don't do it this way.
A powerful technique for backlink building that will put you AHEAD of your competitors in no time.
Case Study Results:
Non-Branded Traffic: 0 to 35,000 Monthly
Non-Branded Sign-Ups: 0 to 900 New Monthly
#1 rank for UX Design Tools, UX Research Tools, Usability Testing Tools and more
But most importantly, they built a well-oiled SEO funnel that converts traffic into paying customers.
Let's hear how Jake and the Skale.so team build SEO revenue engines.
💌
Hey 👋 If don't already subscribe, we send a weekly newsletter with tips & case studies to help you scale SEO.
Subscribe here
. Deep dives like this one are usually part of the premium membership—access our library of epic
SEO case studies
here.
Validating SEO as a Growth Channel
Understanding the Competitive Playing Field
When Jake and his team started working with Maze, they undertook a competitor analysis to understand if SEO could be a viable channel.
Anything too competitive would take significant investment to win—reducing the ROI of the channel.
At the time, one established SERP competitor was InVision, who had built a seemingly unsurmountable moat of 21,000 referring domains: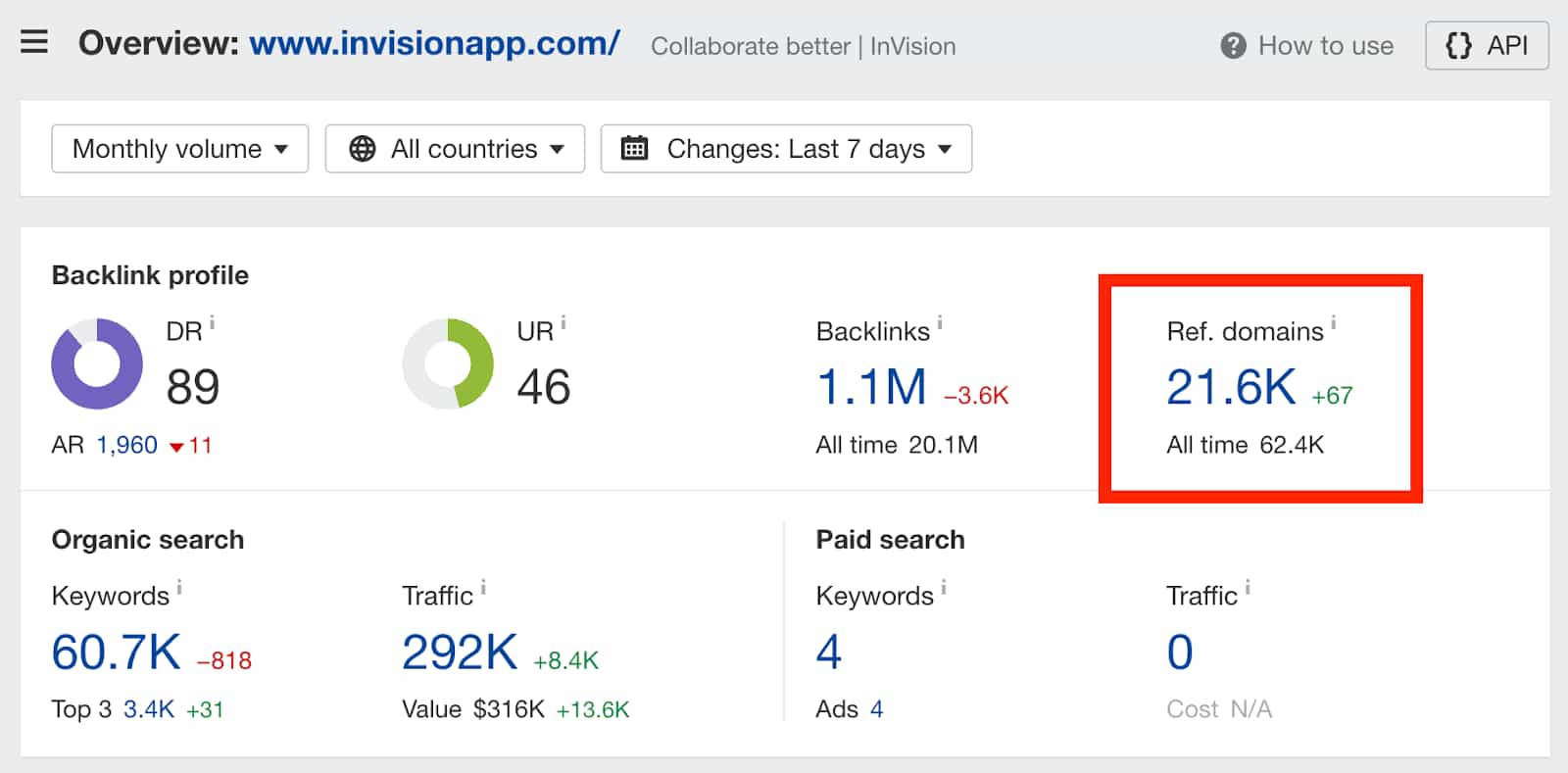 Jake's analysis showed InVision had backlinks coming from three areas:
A link growth loop: 33% of links were to InVision projects (people shared links to their own projects on their design portfolios)
25% of tools were freebies and graphic design tools
42% were to roundup articles (e.g. Top UI Design Tools)
A strong competitor backlink profile means beating their rankings will be harder and more costly to do.
"You have to compare it to the lifetime value of your SaaS and work out, is it worth the effort? Because if it's high effort, you need the big lifetime value to recuperate that investment and make the investment worthwhile."—Jake Stainer, Co-Founder at Skale SEO Agency
Despite the competitive environment, the Maze team decided the best time to start building their own SEO moat was now.
They kicked off with the two core areas of an SEO revenue engine:
Creating content
Building backlinks
The goal was to validate the channel as one that could actually drive real revenue results.
"They were creating content internally. We were doing links because we knew we needed a ton of links to actually make things rank. Over six months, we proved we can create impact together. The links we secured were actually ranking pages in a competitive space. We were obviously giving them advice at the same time and after that we partnered up on a bigger basis across strategy, technical and content. But it began with a validation project to make sure it's working, and I think that's really important."—Jake Stainer, Co-Founder at Skale SEO Agency
To do this, they initially targeted product sign-ups and then later tracked those sign-ups to assess whether they became paying customers.
Jake notes that you can't understand what content, types, and keywords will drive revenue for your company without first driving signups and looking at the data.
Pioneering a New Category - Creating Demand with Topic Stacking
How to Build Topic Clusters That Create Demand
Maze pioneered its product category, Continuous Product Discovery, meaning core bottom-of-funnel search terms didn't yet exist.
"Maze is interesting in the sense that, in the beginning, they were building a new category and no one was looking for what they did. No one was looking for 'prototyping platform' or 'testing platform', so in the beginning, it was more of a 'how can we create demand', than capture demand."—Jake Stainer, Co-Founder at Skale SEO Agency
Therefore, instead of focusing on in-market buyers right away, Jake and his team focused on attracting the right audience (their "ICP") to the Maze website—even if they were entirely unaware of the problem (let alone solutions).
After conducting thorough customer and keyword research (view Jake's guide to SaaS keyword research here), they built out clusters of content that targeted these "problem-unaware" searchers.
The content was integrated with psychology conversion rate optimization (CRO) techniques to create a logical path that draws the reader from "unaware" to "problem aware" to "solution aware".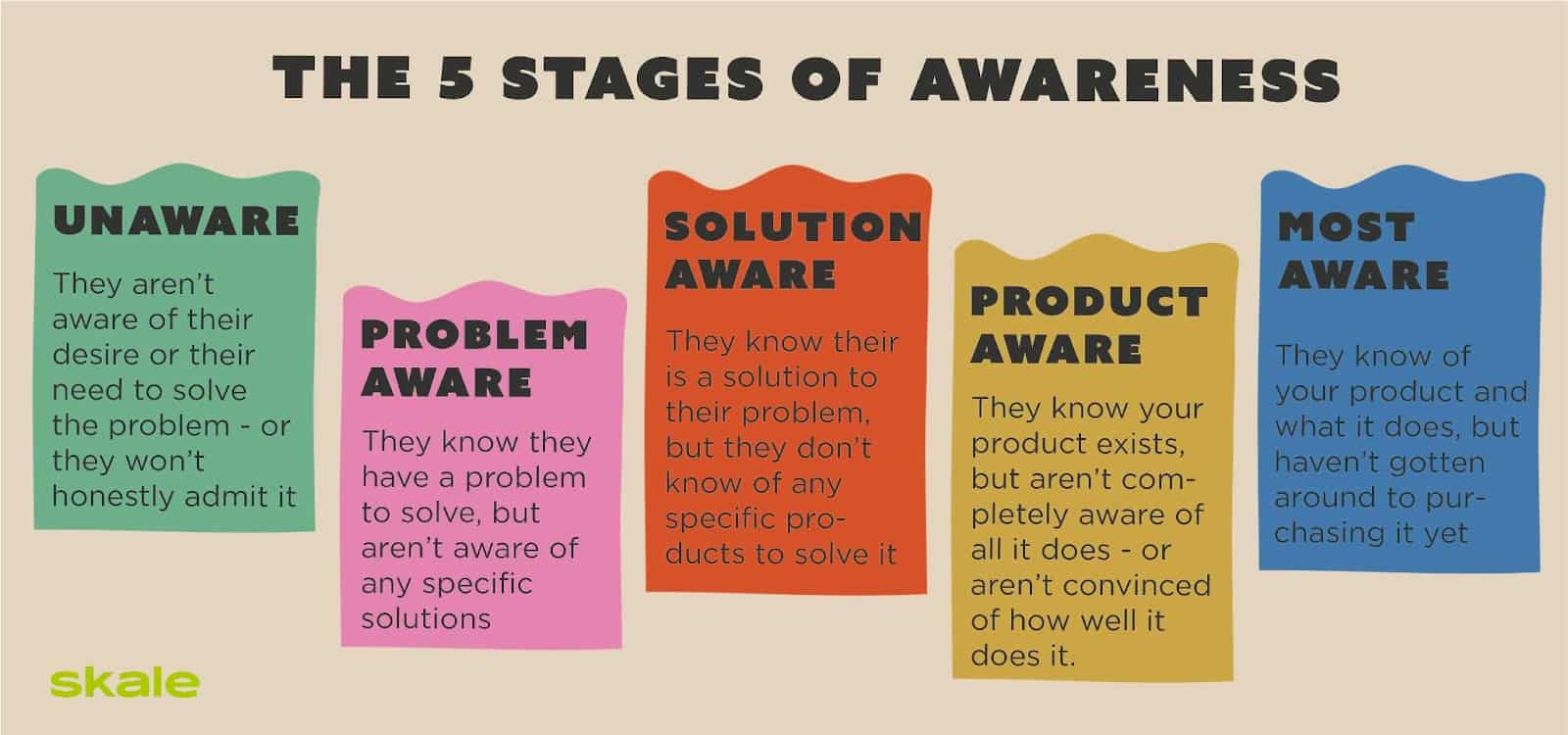 You can see two topic clusters below. Note how the full-funnel approach that's built into the content and design:
Example: Maze's Usability Testing Guide - UI & Topic Clustering In Action
The design of Maze's "guides" reminds me of those created by the Hotjar team, who carefully built their user interface to pull the reader onwards from article to article, down the funnel.
Maze's custom-designed guides are crafted like a manual or book on the subject. Each article in the cluster/hub is a "chapter" and with each chapter, the reader becomes more educated, more problem aware, and closer to the bottom-of-funnel article.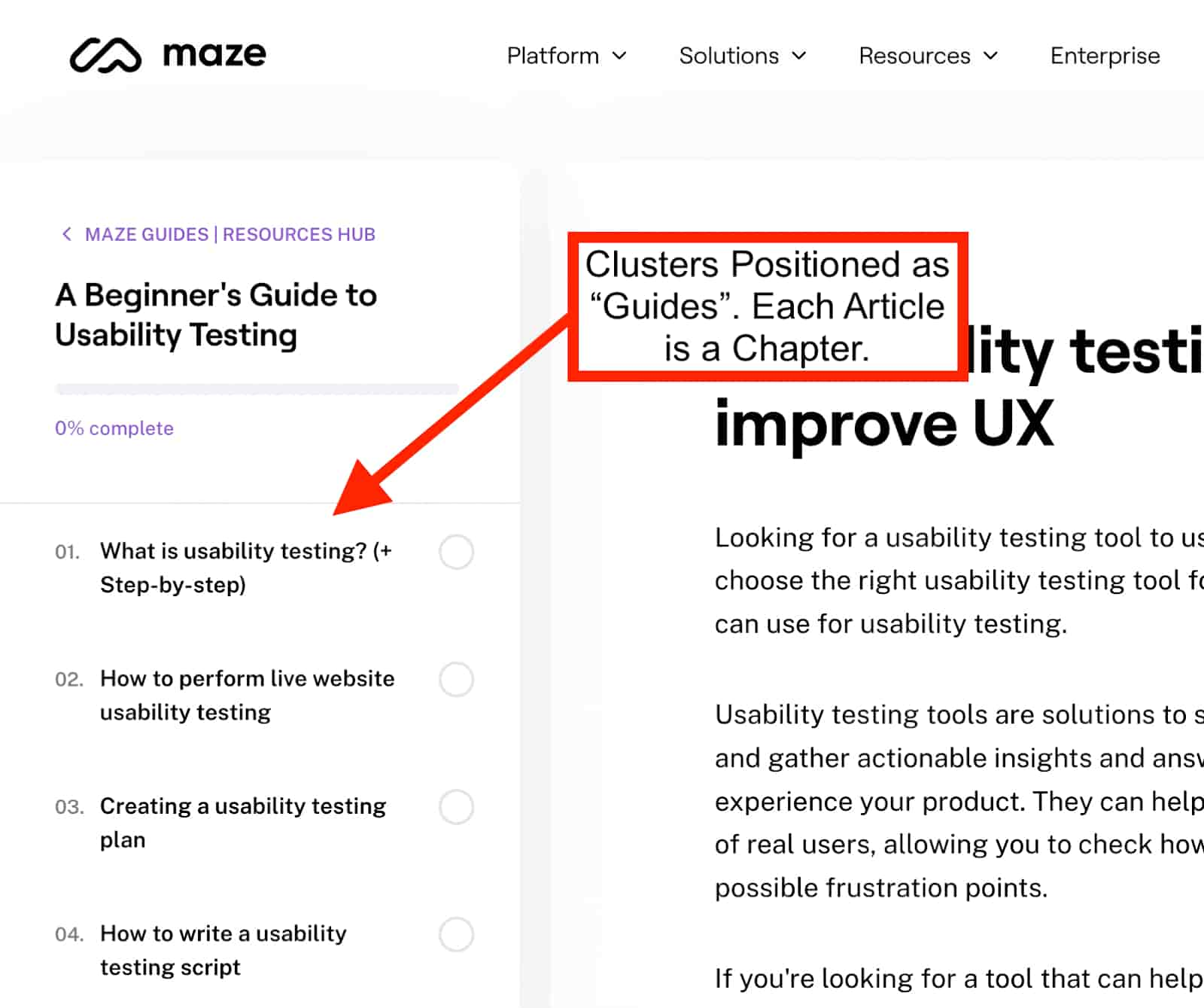 These clusters targeted the very top of the funnel, "What is UX Research?"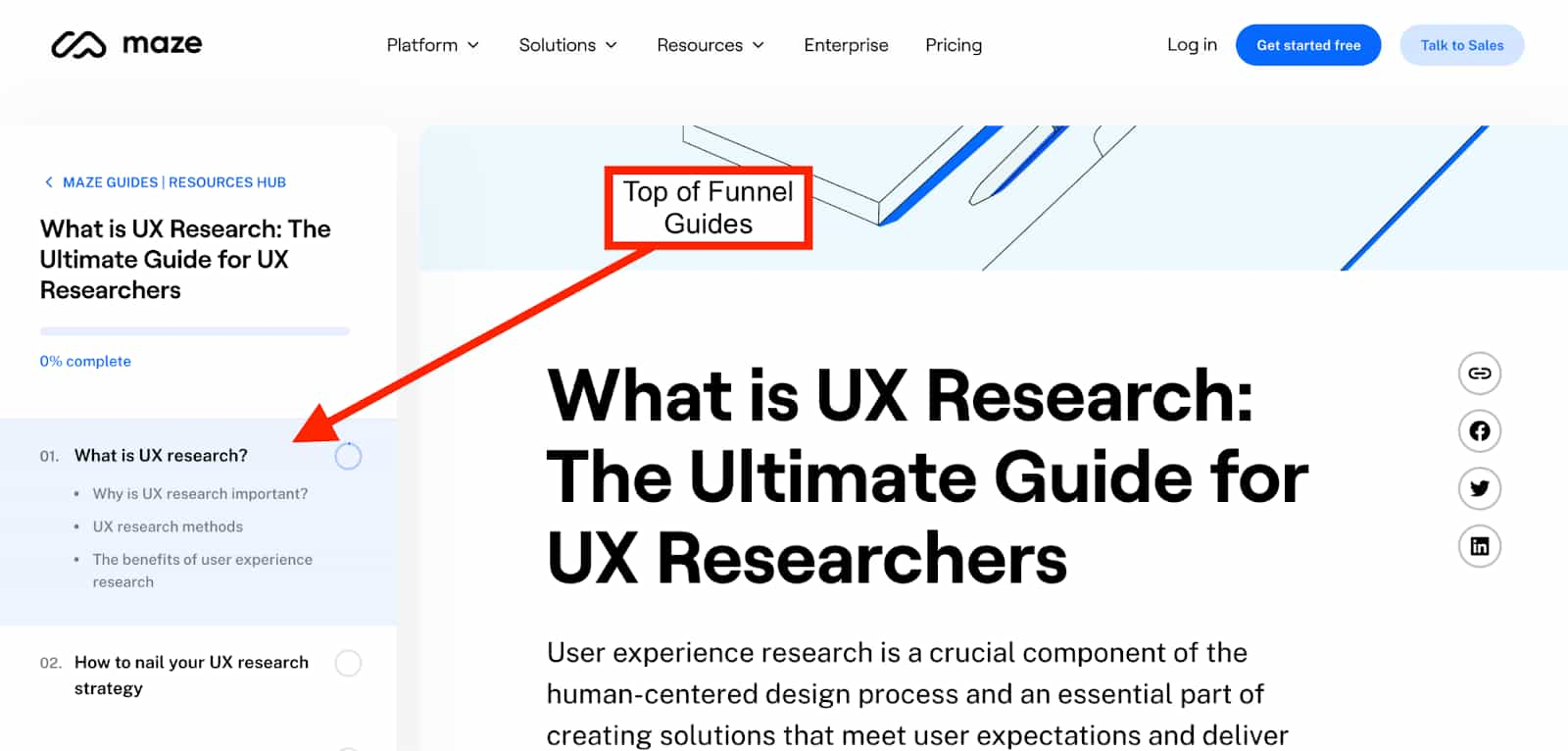 All the way to the bottom of the funnel, which ends with a "best tools roundup".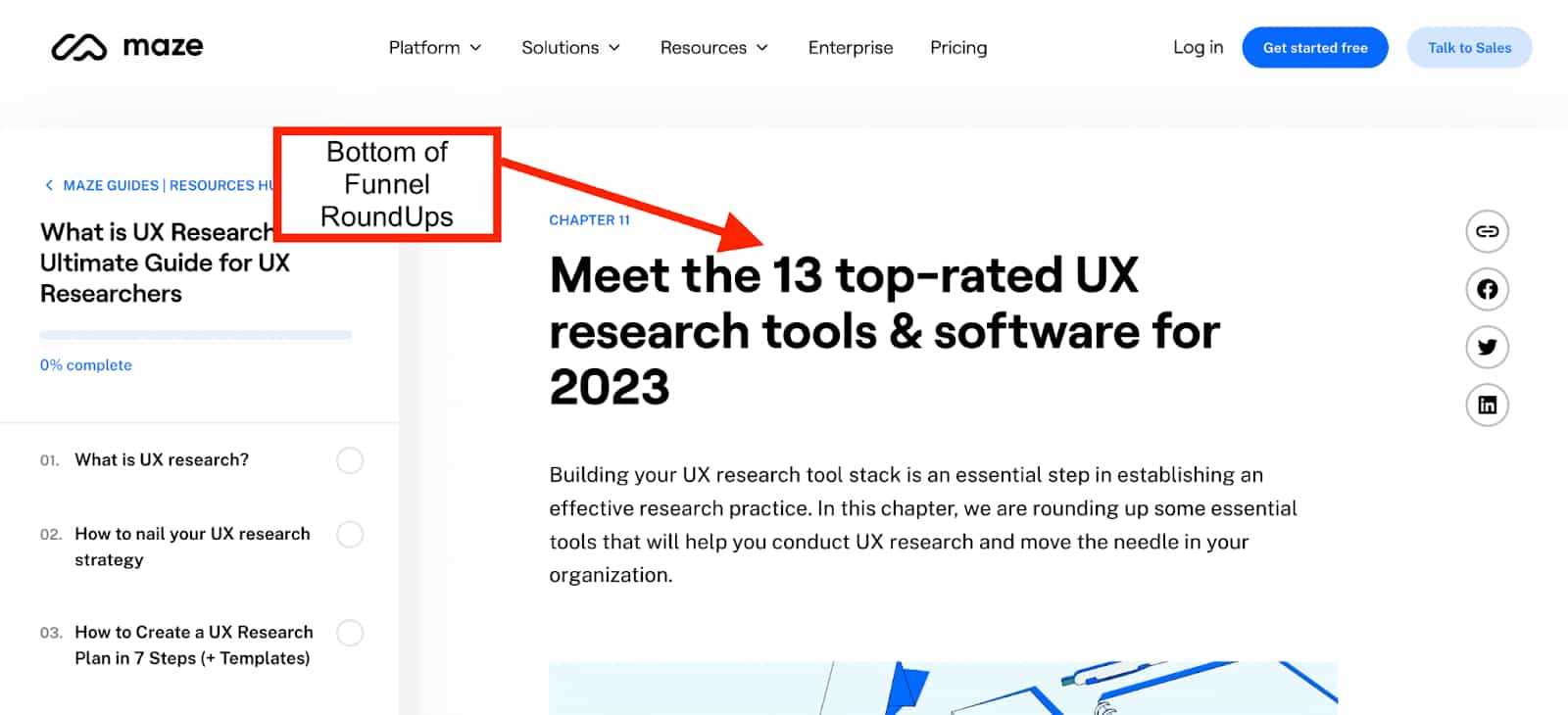 "If you really want to win at SEO, you can't just do middle of the funnel content, you have to do the whole funnel and build up those clusters one at a time sequentially."—Jake Stainer, Co-Founder at Skale SEO Agency
In the interview, Jake strongly encourages the listener to avoid building "random content". To get real revenue results you need to focus on what he calls "topic stacking".
Topic stacking is creating content in tight clusters that interlink with each other (the classic pillar/cluster model), but doing sequentially, building topical authority by completing one topic thoroughly before moving on to the next.
"That's how you drive growth versus doing random stuff. That was the old way of doing SEO. Before, you would do your keyword research, order by difficulty and just pick off the top ones. But now you have to add in the clustering layer, cluster them, and then do them sequentially based on which one has the best effort versus reward."—Jake Stainer, Co-Founder at Skale SEO Agency
Content and backlink building, combined with a love of user experience, is what helped Maze break into such a competitive space. But crafting content in topic clusters that cover the full funnel is what's helping them drive results.
"Another reason why we were able to break into such competitive market is because we did prioritize the UX of the user. We didn't just simply create SEO content. It was more content marketing focused that also ranked and that was key."—Jake Stainer, Co-Founder at Skale SEO Agency
One of the things I love about how Skale and Maze approached their content, is it is a differentiated experience that focused on revenue growth. Without the attention to detail on quality and experience—it would never have achieved such good sign-up results.
With the advent of ChatGPT content, it's never been more important that new traffic to your site trusts the content and gets that 'wow' feeling quickly.
Driving high volumes of traffic to poorly written content might drive some negative brand recognition, but it'll mostly likely just have zero impact on growth and be a wasted investment.
💡
Learn how Hotjar uses UX/UI
to encourage readers down the awareness funnel
in our interview
with Sean Potter, Senior Content Strategist at Hotjar.
You've Got Traffic, Now What?
Lessons in Conversion Rate Optimization
"When we design content at Skale, we've always got the next logical step in mind."—Jake Stainer, Co-Founder at Skale SEO Agency
We mentioned already how Skale uses the product awareness funnel to understand who they're creating content for. They also use the framework to identify a "logical next step" for the reader.
The next step is an action you encourage the reader to do once they've read your blog post and answered their query. A "logical" one closely matches the needs or desires that come up after reading and therefore compels action and conversion.
Here's how you can do the same:
1. Tag all your content
Tag every single page on your site with where it is in the product awareness funnel.

Examples:
A blog post titled "What is product design" targets a (most likely) problem-unaware reader.
A landing page title "product design software" targets a reader who is solution aware.
2. Identify the next step in the funnel and link to that
If your web page is "unaware", then linking the reader primarily to a page that is "problem aware" is the logical next step.
This could include:
A thought leadership article discuss the problem and the negative impacts of it
An eBook showing the benefits of solving this problem
Your goal is to educate the reader and pass them to the next stage of the funnel in a way that's natural and authentic.
3. Avoid sidebar CTAs, do in-line CTAs instead
Jake notes that his experiments with clients show that sidebar CTAs don't really work. Whereas, mid-content CTAs get the most clicks.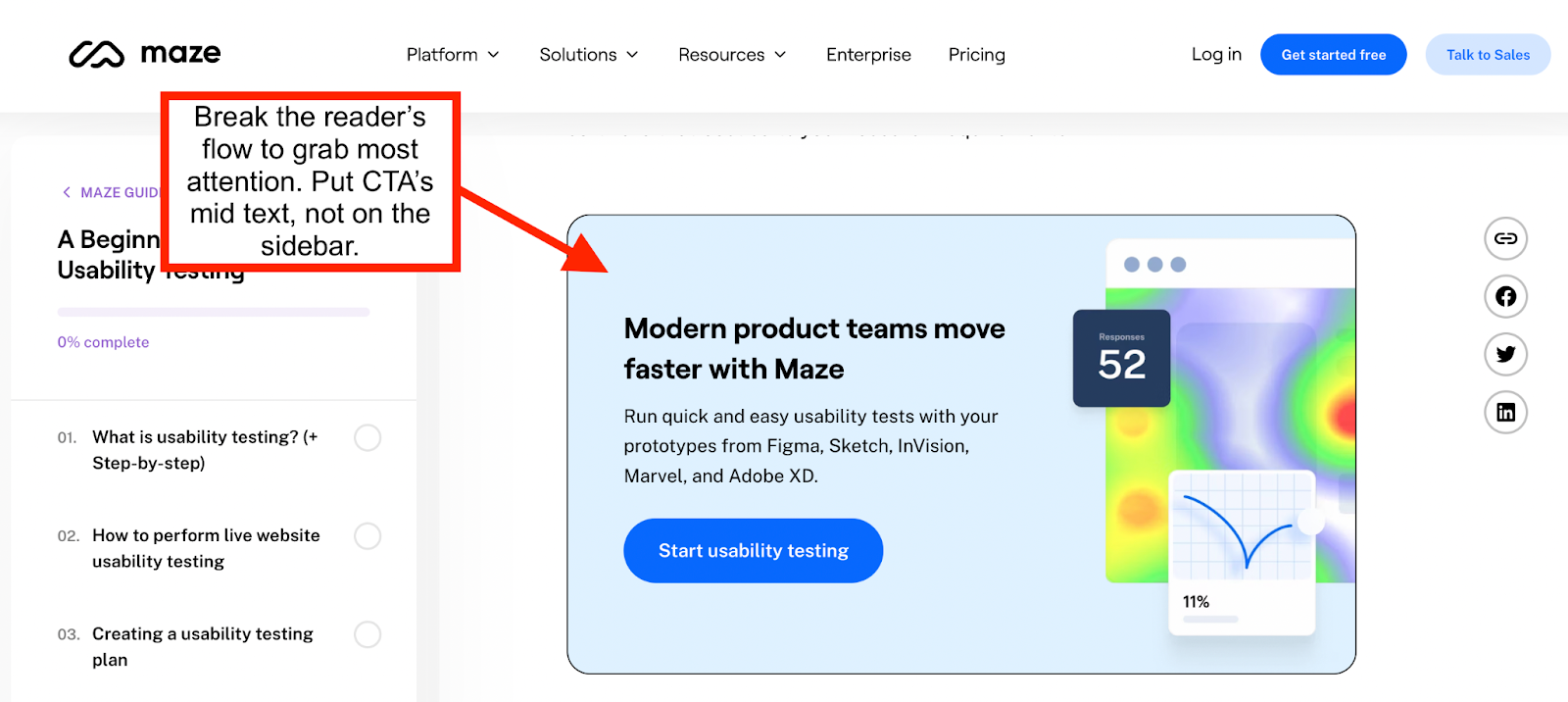 💡
Use unignorable CTAs mid-content to push the reader to the next awareness stage.
Importantly, think about your CTA, design, and next steps during the content creation process. Don't make it an afterthought.
"Then you personalize [your CTA] against the motivation of the person. So you have to really get into mindset of why they're searching for this keyword, what are they after, and how can you push them to the next step. It's really important to personalize it and not enough people really think about that, they have a generic CTA and don't get in the psychology of the reader."—Jake Stainer
How Maze Built Backlinks
Getting to DR 76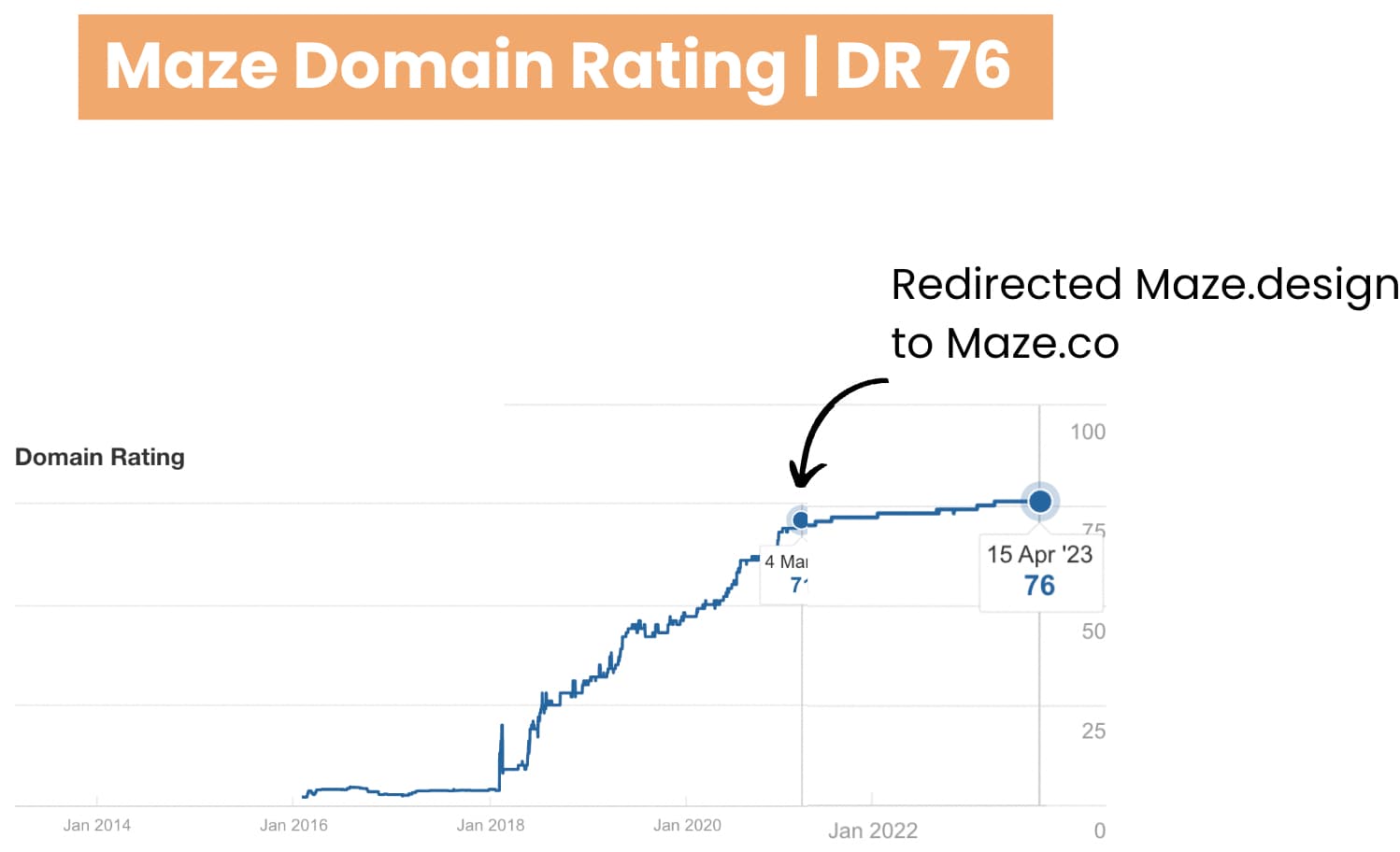 From the two interviews I've done with Jake, I know he and his team are hot on backlink building. Backlinks are still core to Google's ranking algorithm, and they're especially important in competitive niches where it's hard to stand out with content alone.
I had to ask Jake for his best practices for this super painful part of SEO.
"I like that you said it's painful and I think that's how you can build a competitive advantage because so many brands find it painful. If you are the one doing link building more than your competitors, that's how you gain the advantage."—Jake Stainer
If you want to benchmark yourself and beat competitors, Jake recommends that you start by assessing competitor link velocity.
Head to a tool like Semrush or Ahrefs and look specifically at new referring domains in the past 30 days from good-quality websites. In theory, if you can acquire quality links faster than your competitors, then over time you'll compound backlinks and build a stronger authority profile.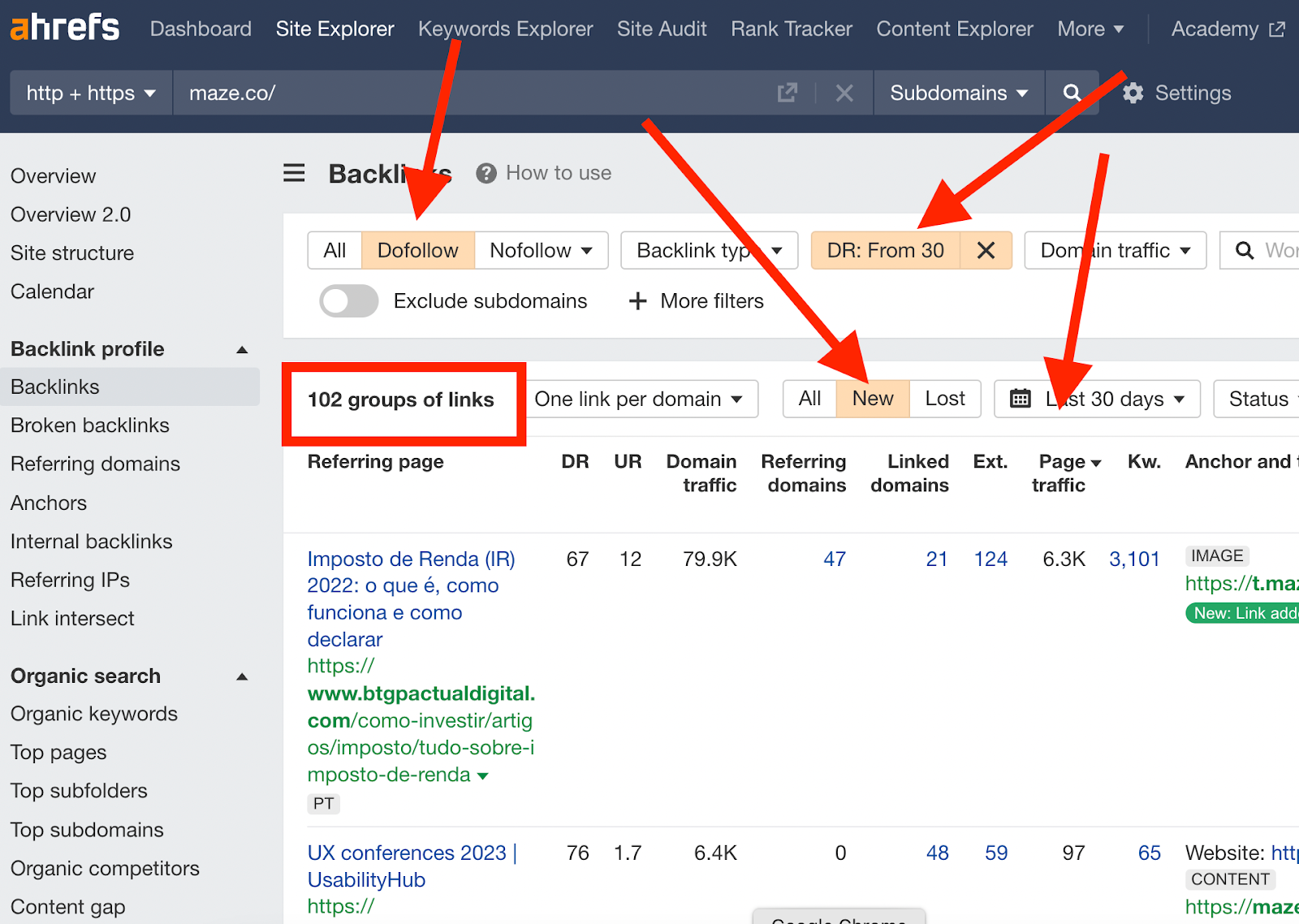 I asked Jake for specific tactics for link building and he gave me two options.
a quick, non-scalable win
a steady, yet scalable one
1. Non-scalable Backlink Tactic: Integration Partners
Most SaaS brands have plenty of integration partners, most of which have a marketplace, directory, or dedicated web page for their partners.
These can be a quick win:
"One missed opportunity for SaaS brands is contacting or looking at your integration partners. Are you on their website or on their directory? And if you are, one link is in there. Maybe it's just a homepage. Could you add some contextual links to different product pages? Use case pages. That's a quick win to get links."—Jake
You can also create an integrations hub page yourself, and ask for a link from your competitor in return for being featured.
2. Scalable tactic: Content Collaboration
Also known as relationship-based link building, this link-building strategy focuses on forming close collaborative relationships with legitimate, quality websites.
When Jake and his team do it, they build a network of high-quality (and high relevancy) websites in your niche and offer them really "top-end" content for free. In return, they embed several backlinks to client pages.
This is a mutually beneficial way of earning a contextual backlink in relevant blog posts, and the scale of it depends on the number of inputs (i.e. writers) you can afford.
💡
Your goal when link building should be backlinks from contextually relevant websites and blog posts. Jake notes "You could have a DR 20 link or DR 30 link on a very contextually relevant website and that will pass more authority than on a DR 90 website that has nothing to do with the topic."
This strategy does take a lot of effort. You have to find the sites, vet the sites, do outreach, and create the content, but if you build links to content that makes you money, it's all worth it.
Jake notes that building backlinks can be mathematical—you can estimate exactly how many backlink it'll take to rank you content in the number one spot on Google—which helps you build a growth model and an ROI case for SEO (we discussed this in the first interview I did with Jake).
Final Thoughts on Maze's SEO Strategy
A repeatable new customer acquisition channel that brings 900 new customers a month is an enviable position to be in.
If we assume:
10% conversion from sign-up to customer
$75 a month per average sign-up
12-month retention
900 sign ups
Then we can estimate that SEO at Maze brings in $81,000 in lifetime value created every single month. And that's without the continued acquisition costs.
They did this by focusing on the three pillars of an SEO revenue engine: well-crafted content strategy, backlink building, and user experience.