It took UserPilot three years to get its first 25,000 monthly organic visitors.
And, just 10 months to get to 100,000.
Whaaaat?! Triple the growth rate. 🤯
How on earth did they...
Well, in short, they:
Learned how to build efficient content operations (scaling from 4 monthly blogs to 40)
Leveraged programmatic SEO to scale production even further
All without a drop in quality. Interesting. 🤔
This week, I talk to UserPilot's Head of Marketing, Emilia Korczyńska to hear her story.
It wasn't an easy journey. They made mistakes along the way.
But from the flames of challenge, efficient operations were born.
UserPilot is now capable of producing 29 long-form blog posts per hour.
Per. F*ucking. Hour.
In this week's write-up, I deep dive exactly how they use programmatic SEO to do this without losing quality, and explain how you can do the same.
Expect to learn:
⚡ How to build systems that overcome your reliance on any one individual, so your content production never slows.
⚡ How to leverage keyword patterns across content types to exponentially scale production.
⚡ The templates and databases required to do programmatic SEO yourself (Spoiler: It's not that hard, even I have done it using Webflow + Sheets alone)
The most poignant part of this episode, for me, is hearing Emilia's journey as a marketing leader. Shifting from throwing strategies at the wall to figuring out a process that scales is a core key part of that leadership role.
Listen to the episode here.
How UserPilot Scaled Content Production With Programmatic Ops & Automations
In the early days of 2021, UserPilot's marketing team was spread thin. Webinars, Quora, podcasting, writing blogs, the lot. Like many early-stage companies, their marketing strategy was "a bit of everything".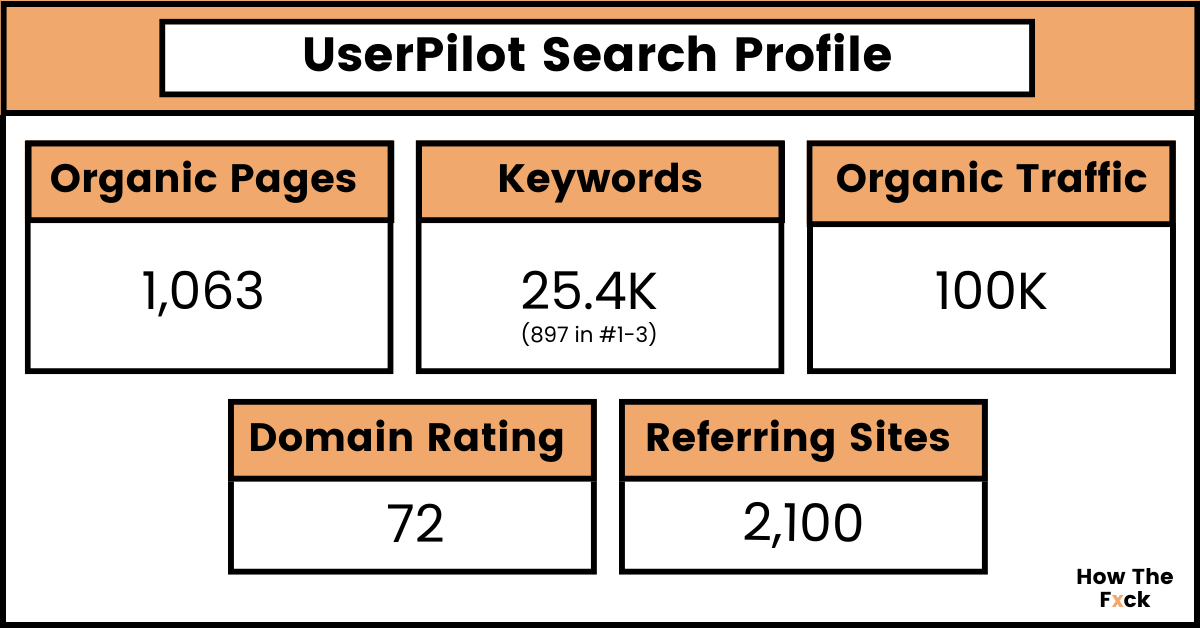 But, when a fractional VP of marketing came on board, they pointed out the obvious.
80% of leads are coming from the blog. Yet, by writing one blog post per week, they were spending a disproportionate amount of time on it.
In the following months, Emilia and the UserPilot team decided to go all in on content. They 10x'd their output from 4 to 40 blog posts per month and grew their writing team with four new writers.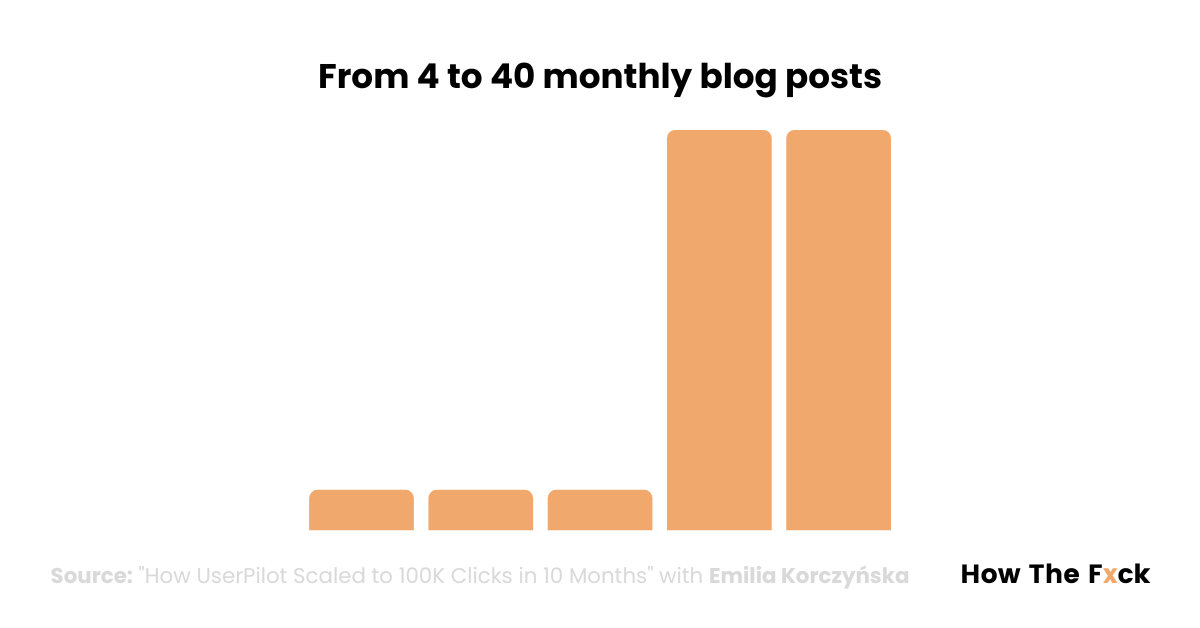 In an unfortunate series of events, three of the new writers quit within three months.
But this experience forced Emilia to rethink how they scaled content production.
She reached out to multiple content teams to ask them how they did it and "Frankenstein'd" her own process.
Editors and writers would now write with focus. Building whole content clusters at a time.
With 20 blog posts to write on one topic, their knowledge could compound with each article. They could link between them and holistically design content pieces.
40 blog posts quickly became manageable. And their processes meant they could outsource the entire process to freelancers. (Read Emilia's book on content ops here).
Successes in inbound revenue meant UserPilot could double down again. They began leveraging programmatic SEO to both efficiently and exponentially produce content.
Let's look at the processes behind this SEO case study in more detail:
Part 1: Operational Improvements—Patterns & Templates
The UserPilot team attempts to find keywords with patterns. When content has a lot of similarities, it's easy to build templates that writers can follow.
How UserPilot Chooses Topics & Keywords
UserPilot follows the pain point SEO strategy.
"Essentially we focused on the pain points that our product is solving for our customers"—Emilia
They start by mapping their product's use cases. The ones that make their current customers love their product.  
Keyword research aims to find search terms that show the searcher currently has those pain points, or is currently in-market for a software solution.
In priority, Emilia and her team covered all the "tools" and "vs" keywords across products that are competitors or competitive complements.
Here are some examples of bottom-of-funnel keyword modifiers that apply to every software industry:
Use case (ie. Customer segment + pain point)
Industry (ie. X + industry)
Role (ie. X + job titles)
Business Type (ie. X + for business type)
Solution (ie. tool, software, platform, solution)
Competitors (ie. X vs Y or X alternatives)
One good thing about bottom-of-funnel keywords is they're formulaic. You can create a template with ease.
How to Use Templates to Scale Content Production
In my recent case study with Monday.com, the SEO team created templates for every content type.
Everyone who's been in SEO a while will have noticed the patterns. Writing a template for each "pattern" helps anyone write it in a consistent way.
UserPilot uses a similar strategy.
Emilia and her team also create thorough briefs (and SOPs for how to create briefs, which are outsourced to editors).
Their briefs are both cluster-specific and content-type-specific, including things like:
Link repository
A swipe file of images for this category
How to create an outline—providing added value, not just scraping top SERPs
How to be mindful of the product
How to be mindful of your target customer
Not only does this create efficiency, but it ensures that UserPilot as an organization is not reliant on any one individual to keep the engine moving.
If a writer or editor is sick, or leaves the company, SOPs and templates ensures anyone can pick of the reigns and produce 40 articles every month.
💡
Top Tip: Instead of relying on one or two writers for all their content, UserPilot assigned one freelance writer to each topic cluster. This prevents there from being a single point of failure, where if one writer is off sick the whole system grinds to a halt.
Part Two: Leveraging Programmatic SEO to Scale
Emilia and her team took scaling their content operations one step further by building a database that could auto-fill their templates.
That involves identifying keyword patterns, using templates, and reusing content in multiple articles where possible.
Let's deep dive exactly how they do it below: