Getting new SEO clients is tough. Building a steady pipeline of prospective leads is even tougher.
When you've just gone out alone, or you've got a team to sustain...You. Need. Pipeline.
Have you ever pitchslapped your backlink services to a new LinkedIn connection and felt silently screamed at?
Then this article is for you.
We want to help you skip the queue and fill your pipeline without having to do spammy practices that annoy 99.9% of the people you talk to.
In a nutshell, here are our tactics and techniques for finding new SEO clients to work with you:
Tell everyone you know what you do (especially old colleagues)
Approach local businesses with your offer
Clearly define your audience and offer before moving on
Turn up daily where your ideal SEO clients are (a mini-guide to LinkedIn)
Share your wins regularly (really, all of them)
Share bigger case studies
Create educational content marketing and retarget visitors
Appear on industry podcasts
Firstly, let's address those first two. For people who are just going out alone and are feeling intimidated by SEO client work—these might just be a great place to start:
🤗
About the authors
: This article is co-created by
Tim Hanson
,
Milica Radovanovic
, and
Ben Goodey
. Collectively we have 20+ years of SEO and content marketing strategy experience—agency and in-house—and have built steady streams of inbound SEO clients. We're still on this journey, but we've figured out a few things that work. Here they are.
Getting SEO Clients When You Have Zero Freelance Experience
If you are just starting out in your freelance career and need more hands-on experience, there are two tried and true methods you can land your first SEO client:
Method 1: Tell everyone you know what you do
Method 2: Approach local businesses with your offer
Method 1: Tell everyone you know what you do.
Literally, tell everyone who will listen to you.
Your family, immediate and extended, your friends, your coworkers (or former coworkers), your neighbors…if there's an opening, let them know that you're starting to SEO freelance business.
Someone somewhere is likely to give you an opportunity to work on their website, even if it's for their passion project or side gig.
An important thing to keep in mind here is that while you're building your portfolio of SEO case studies, your most frequent opportunities may be pro bono at first.
However, Tim recommends creating a results-based agreement. If the business starts making money or getting traffic thanks to your work, you'll take your cut.
"I landed two SEO clients from previous tech startups I worked for. If you did good work for them in the past, then they should trust you over a new freelancer. They should even place a higher value on your services because you already understand their target audience, product and tone of voice."—Ben Goodey
Method 2: Find local businesses to help.
(This is the only time we'll recommend cold outreach in this article, later on, we'll explicitly recommend against it)
Smaller local businesses typically haven't invested much in their local SEO yet, they likely don't have the time or knowledge to even know it's an opportunity.
Tim recounts his early days in local SEO, he would approach local businesses on page two of the search results and offer to get them onto the first page.
Trying searching for local shops in your town and see if they have a search presence. If not, perhaps they'd be interested in some keyword optimization services to raise their visibility.
Due to the lower competition, local SEO can provide quick wins for businesses in your communities. Simply applying SEO fundamentals and getting the client set up with Google My Business could be a huge win for them—and help you gain your first local SEO client experience.
📚
Interested in local SEO?
Here's a
Local SEO case study
by Tim Hanson. You'll find out exactly how he helped grow a daycare to £13m in revenue with local SEO best practices.
Before You Set Out to Find New, Bigger SEO Clients, Do This 👇
When you've established your skillset as an SEO freelancer and you're ready to grow your revenue.
Before you start looking for SEO clients you need to do three fundamental things.
Define your ideal customer
Develop an offer
Identify where your ideal customers hang out
1. Define your ideal customer
Defining who you want to work with—your ideal companies, industries, and people—is a critical first step to winning them.
Ask yourself these questions:
What kind of business do they have? B2B? B2C?
What industry are they in? IT, healthcare, manufacturing, lifestyle coaching, beauty, auto, or an entirely different one?
What kind of revenue do they need to have for them to be able to afford what you're charging?
Do they have a content team for you to nurture or do you want to find writers for them?
What problems do they have? What are their pain points?
Play to your strengths here.
Everyone wants the SEO client paying $10k a month for four blog posts, but it's unlikely without a solid reputation for quality and fast growth you'll win that client.
However, if you've got prior experience in an industry, have achieved wins with similar-sized businesses in the past, or are able to market your abilities well—aim high and charge more than you think.
2. Develop your offer
Once you know who your ideal SEO clients are, and understand their common pain points, you can develop your offer.
You'll likely win more clients if you offer monthly SEO packages with clear outcomes. Clients want to get value for money and they want to actually achieve something with their monthly search engine optimization spend.
Here are a few examples of SEO packages:
Keyword research for one topic cluster of 10 articles, designed to help you rank for a particular bottom-of-funnel keyword.
Full technical audit with the outcome being a prioritized to-do list that will help you pass Core Web Vitals.
Develop all the documentation and templates that will help you scale content production with the help of a freelance team.
A PR backlink SEO campaign that guarantees 5-20 backlinks from major news sites for their existing content.
Depending on where your client is at in their journey, your package should be flexible around whether they need strategy help, authority building, content optimization, or fully managed SEO growth.
3. Identify where your ideal clients hang out
Once you know who you're looking for, and what you might offer them, it's time to find out where they spend their time each day.
Tim gives a nice example here:
"If I did SEO for people that ran life coaching businesses, my 'turning up daily' place is Facebook. Beause that's where they are." - Tim Hanson
Maybe your potential clients don't go on Facebook regularly (or at all). If you're targeting B2B software companies, they likely prefer Linkedin or Twitter.
Your goal is to find the platform your audience is on (or whatever corner of the Internet they're hiding) and start showing up daily on it and showing off your expertise.
A quick tip: Use a tool like SparkToro to find out what your customers care about. Below is an example of the social accounts that SEOs follow most, but you can also find popular podcasts and blogs.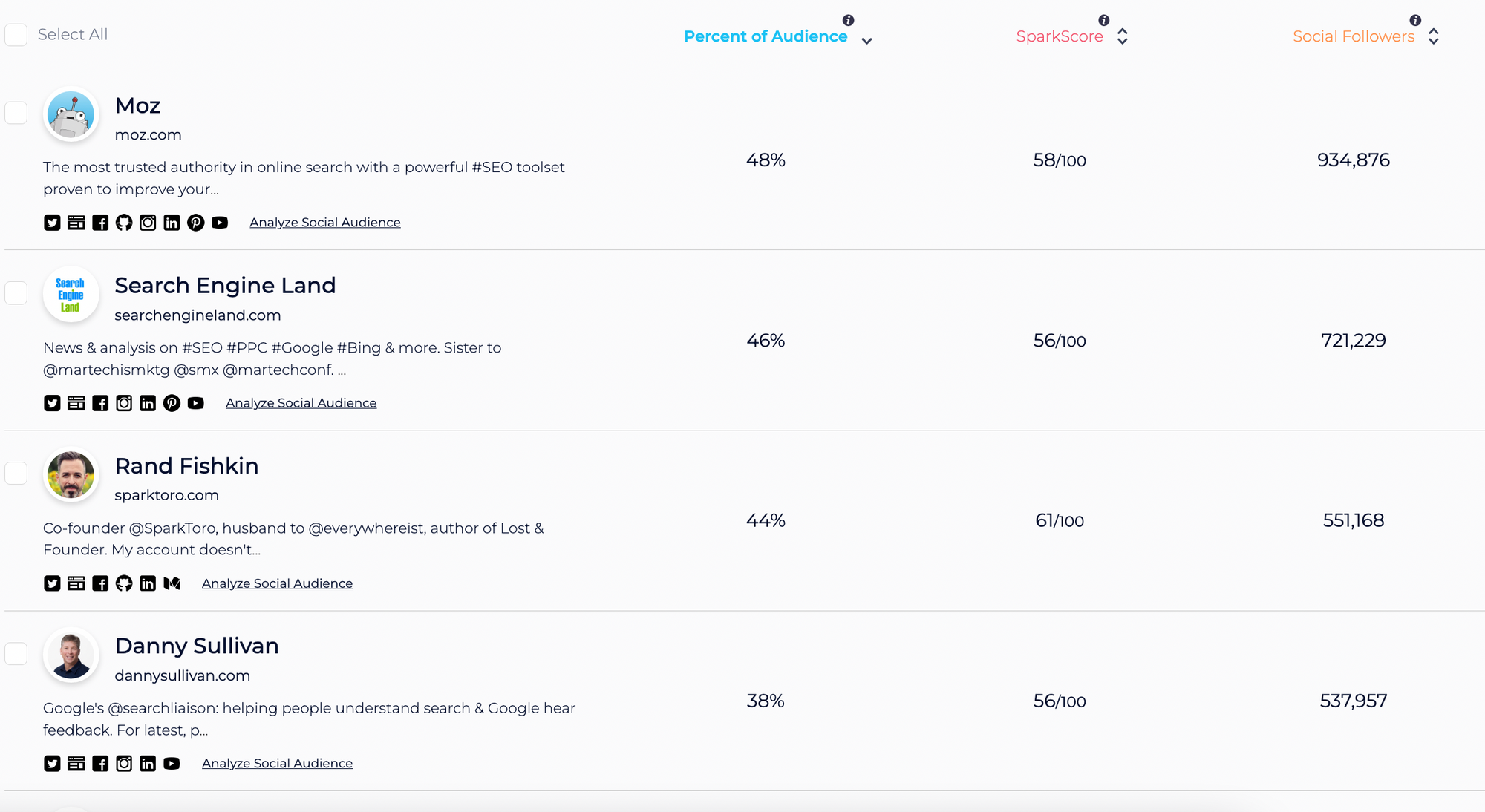 Now you're ready. Let's look at the tactics Tim and Ben use to get their ideal SEO clients to come inbound to them. 👇
5 Tips for Getting SEO Leads to Come to You
In a nutshell, here are five tips we've seen work:
Turn up daily where your ideal clients are (a mini-guide to LinkedIn)
Share your wins regularly
Share bigger case studies
Create educational content and retarget with case studies
Appear on industry podcasts
Tip 1: Turn up daily where your prospective clients are
So you're on the platform where your target audience is.
You've created an account, maybe even followed some people, and liked a few posts.
Now what?
What kinds of posts should you write to attract a potential customer?
Put simply: the more knowledge you give away, the more you will be seen as an authority on the topic.
Start talking (and posting) about:
What you learned on the job
What strategies work and what don't
Your opinions and predictions on the SEO industry
Provide your target audience with:
Checklists you use (or used to use)
Playbooks
Breakdowns
Recommendations
Advice
Examples
Everything in between
It may seem counterintuitive at first: if you're giving away all that information for free, who will want to pay for your SEO services?
The truth is, no matter how hard you try, you will actually never be able to give away 100% of your SEO expertise for free for everyone to use and benefit from.
Here's how Tim frames it:
"I know what the dots are. But the order in which those dots apply to your specific situation is the reason why you employ me." —Tim Hanson
Every business is different. Every website is different.
"So many people understand the fundamentals and the rules and the kind of basics of it, but their actual application of it is like, in some instances, insanely different. Even though they are doing the same thing, the application of it and the implementation of those strategies is vastly different."—Tim Hanson
Most (if not all) of your clients won't know how to apply the knowledge you're giving away to their situation.
But thanks to your posts and obvious experience and expertise in the matter, they will be more than happy to hire you to do it for them.
How to Get SEO Clients on LinkedIn
LinkedIn has been life-changing for both Tim and Ben when it comes to getting new clients. Both post-SEO and content strategy tips daily and invest a lot of time there commenting and networking.
👋🏽
A note from Ben: My philosophy is very clear on this: be overwhelmingly generous with what you know. Remember: the better the tips you share, the more expert you seem. So, invest heavily in your own education to make sure you are ahead of the curve with your advice. And, don't underestimate what you already know. It's likely that your clients will not be SEO experts. However trivial or simple advice may seem to you, to them it might be brand-new and exciting strategy advice.
Not only does posting daily show your expertise to the world, but it builds familiarity with your followers and ensures you're top of mind when they're in need of services like yours.
Here are a few more tips from Ben, who has been posting on LinkedIn for 2-3 years:
5 Tips for Getting SEO Clients on LinkedIn
Audience-building can be slow at the start. Accelerate yours by connecting with a few of your ideal customers each day.
Prioritize connecting with people who you see commenting and liking other people's posts. They're non-lurkers and are more likely to engage with your content when you publish, too.
Never "pitchslap" people. If you connect with someone and they're kind enough to accept, one sure way to kill the vibe is to immediately tell them about your services. Instead, let them organically discover what you do through the expertise in your posts. Or, slowly get introduced via genuine conversation.
Stop sending blank connection requests. Seriously, many people (like me) are getting >20 blank connection requests per day—you have to give a reason to connect and show you're not just another link builder about to pitchslap your new connection.
Focus on relationship building. Your posts, your comments, your DMs should all be focused on adding value and connecting more closely with other people. That's how you win long-term.
Don't underestimate the power of networking
Just posting on the platform of your choice is not enough - you also need to interact with people.
Leave likes, comments, send DMs, and reply to comments on your own posts. Be friendly, and supportive, and build relationships with people in your circle. You never know when a kind message may lead to a potential client.
Here's Milica Radovanovic's experience winning clients on LinkedIn
"I knew Linkedin was the place to go for more writing clients, but I had yet to post a single thing. I was mostly lurking, commenting, and reacting to other people's posts. I also sent a few DMs admiring other people's work - and one of them led to a long-term paying client!"—Milica Radovanovic
💣
Don't forget to optimize your profile: LinkedIn has an option that allows you to declare which services you're providing to clients. Don't skip this part of your Linkedin profile. It will help prospective clients find you in search and know they can turn to you for SEO help.
Tip 2: Share your wins
Always post your recent wins and success stories.
They don't even have to be groundbreaking wins. Even growing a website from 0 to a few hundred monthly visitors is a win.
Did you create a topical cluster that's ranking for dozens (or hundreds) of high-value keywords?
Did you get your client's website to rank in the top spot for their most high-converting keyword?
Did your blog UX efforts result in an increase in conversions and/or traffic?
All of these are achievements that you can (and should) share with your audience. It builds up your credibility and demonstrates that your knowledge and methods are driving meaningful results.
"I could post 5x a week about SEO. That helped me grow an interested audience. But it was always when I posted about a result I achieved that a new inbound request came along."—Ben Goodey
⚠️ A couple of things to keep in mind when sharing your wins:
Don't reveal the client's company name and website unless you have explicit permission from them to do so.
Share screenshots from Google Search Console, not an SEO tool such as Ahrefs. In theory, anyone could pop a website into Ahrefs and claim they made some arbitrary accomplishment happen. But only the actual professionals who worked on the website have access to its GSC.
Sharing your wins and a couple of screenshots on the platform where your potential clients hang out is a great first step for building case studies.
Tip 3: Share your case studies
Technically, case studies are also considered wins.
But the main difference is that case studies are more in-depth, with plenty of details on how exactly you achieved the results you're proud of.
Typically, SEO case studies are not a single post on social media, but a lengthy blog post with frameworks, techniques, images, and charts, and step-by-step processes on how you got a new client website from point A to point B.
They're an excellent way to showcase why you're great at something while also providing a teaching moment for anyone interested in SEO.
A crucial thing to keep in mind when putting together a case study is that the winner of the case study should not be the brand that provides the service (in this case, your business), but the person who needs the solution.
In other words, ask yourself: how can I make the customer look like a hero in this story?
"It should always be done in that like, We were the guide that facilitated change, not We're the hero of the story, if you don't use us, you lose. No, the hero of the story is [the client] because they got through this problem and got to a solution and are in a much better place for it. We just facilitated change." - Tim Hanson
🌞
At
How the F*ck
, we create SEO case studies from our podcast episodes and share them on social media (example here for
Monday.com
). We don't get paid by the guest, so we have no vested interest in winning them, clients. But by telling their stories in an interesting and unique way, a by-product is that all our guests tell us they get lots of inbound leads from appearing on the show. The lesson? We prioritize genuinely giving away value and telling the full success story. That's how you should approach your case studies, too
Tip 4: Combine content marketing with retargeting
You should also use your case studies in a paid retargeting campaign.
For example, you may want to write educational articles about SEO and content marketing. 95% of your readers will likely leave your site without subscribing or reaching out for an exploratory call.
With a small-spend retargeting campaign, you can leverage your case studies to show up on their LinkedIn feed for the next couple of weeks after they visited your website.
That keeps your brand name fresh in their mind, and your results might bring them back for more.
Tip 5: Be a guest on podcasts
Podcasts are not a new medium, but they have exploded in popularity in the last few years.
According to research, in 2023, over 464 million users worldwide will listen to at least one podcast episode per month.
Marketing, content writing, and SEO podcasts are also on the rise, with new ones coming up and old ones growing their audiences at record rates. (In fact, the entire How The Fxck brand started with a podcast.)
As you grow your audience and expand your reach on your platform, you will doubtlessly come in contact with podcast hosts and creators.
If an opportunity presents itself to appear on a podcast, take it!
Podcast interviews are an excellent way to connect with more people from the industry, to share your knowledge and expertise, and gain leverage.
Here's Ben's best tip for getting on podcasts:
🌞
How to appear on SEO podcasts? I get 2-3 requests a week from people wanting to appear on the How the F*ck podcast. They all have one thing in common: none of them seem to have done an inch of research into what the show is about. So, my advice to you: research the show, listen to a few episodes, and create a tailor-made pitch of your story.
Anti-Tip: Why cold emailing doesn't work
Most businesses, whether they are single-person businesses or have entire teams dedicated to finding clients, rely on some form of cold emailing (or cold messaging).
You know the drill:
You find a person or a business who could potentially use your services.
You dig around to find their email address.
You send them an email, working hard to format it in a way that gets it opened and, more importantly, replied to.
Tim notes that he spent years going through these exact three steps day after day, week after week, month after month.
His targets were businesses on the second page of Google (RIP Google pages) who could use his SEO expertise to get ahead of the competition and land on the first page for keywords related to their business.
"It takes so much time to scrape all those emails, to find all of those websites, to get in touch with people, to send that many emails - I was sending like, two or three hundred emails a day at one point." - Tim Hanson
Did this work?
Yes, to an extent. He would get clients this way, there was no doubt about it.
But was it worth it?
Heck no.
When you're a solopreneur, sending cold emails is soul-crushing work for two main reasons:
It takes up a lot of time. A lot.
It typically leads to prospects who don't know anything about SEO and are incredibly difficult to sell to.
We recommend that you don't bother working with someone who doesn't understand the value of what you do.
Pitching SEO services to those who have never heard of SEO, don't understand why they should use it, and are doing pretty well without it is just not worth your time or energy.
Anti-Tip: Why targeting SEO-related keywords doesn't work
If you're an SEO, you may think that having a blog on your business website that targets SEO-related keywords is a good way to get new clients.
But seasoned SEO experts know that's not a good idea. Ryan Law, the VP of Content at Animalz, built their entire content strategy on not targeting typical SEO-focused keywords.
Why?
He mentions in his interview with How the F*ck that their target audience (Directors of Marketing, Heads of Content, and Heads of SEO at large tech brands), are not searching for answers to common SEO questions.
Ask yourself: what is your ideal client searching for on Google?
Do they search for the keyword "How to do keyword research?" Or are they more likely to be looking for solutions to other problems?
SEO-related keywords are highly competitive and it would take too much time and resources to create content to rank for them.
What you should do instead is learn the exact pain points of your potential clients and create content that solves those problems, and distribute it where those clients are most likely to be.
Conclusion: Show up and keep showing up
There's no denying that running a business is challenging, in any industry.
Client acquisition takes time, dedication, and smart decision-making.
Define who your client is, find where they are, and start showing up.
It will be difficult at first. You might not get as much attention as you'd hope for before you hit your stride.
But don't give up. Whatever you do, don't quit. Because perseverance and consistency are what matters here.
We promise it'll be worth it in the long run.
PS. Start posting on LinkedIn and add value every day. We promise you won't regret it.