How does Hotjar consistently win the most difficult search terms?
How did monday.com get to 1M monthly visitors in less than two years?
How did Typeform earn $3M per year from SEO?
You're about to find out.
The SaaS SEO case studies below are real-world, real stories, based on real interviews with the marketer in charge.
Each one shows that millions in traffic growth, in time periods as short as 12 months, is possible with the right team, SEO strategy, and budget.
The bonus? These are more than stories. You can read exactly how they did it, play-by-play, by joining the How the F*ck community.
In this article:
A whirlwind tour of 8 SaaS SEO case studies
The secret sauce behind each one
⚡
Learn to scale search
traffic like monday.com, Typeform, Hotjar, Investopedia and more.
Click right here.
8 SaaS SEO Case Studies [Build a SaaS SEO Strategy Like Them]
In no particular order, here are some of the most popular SaaS SEO case studies from our library.
1. How Monday.com Wrote 1,000 SEO Articles in 12 Months (and then IPO'd)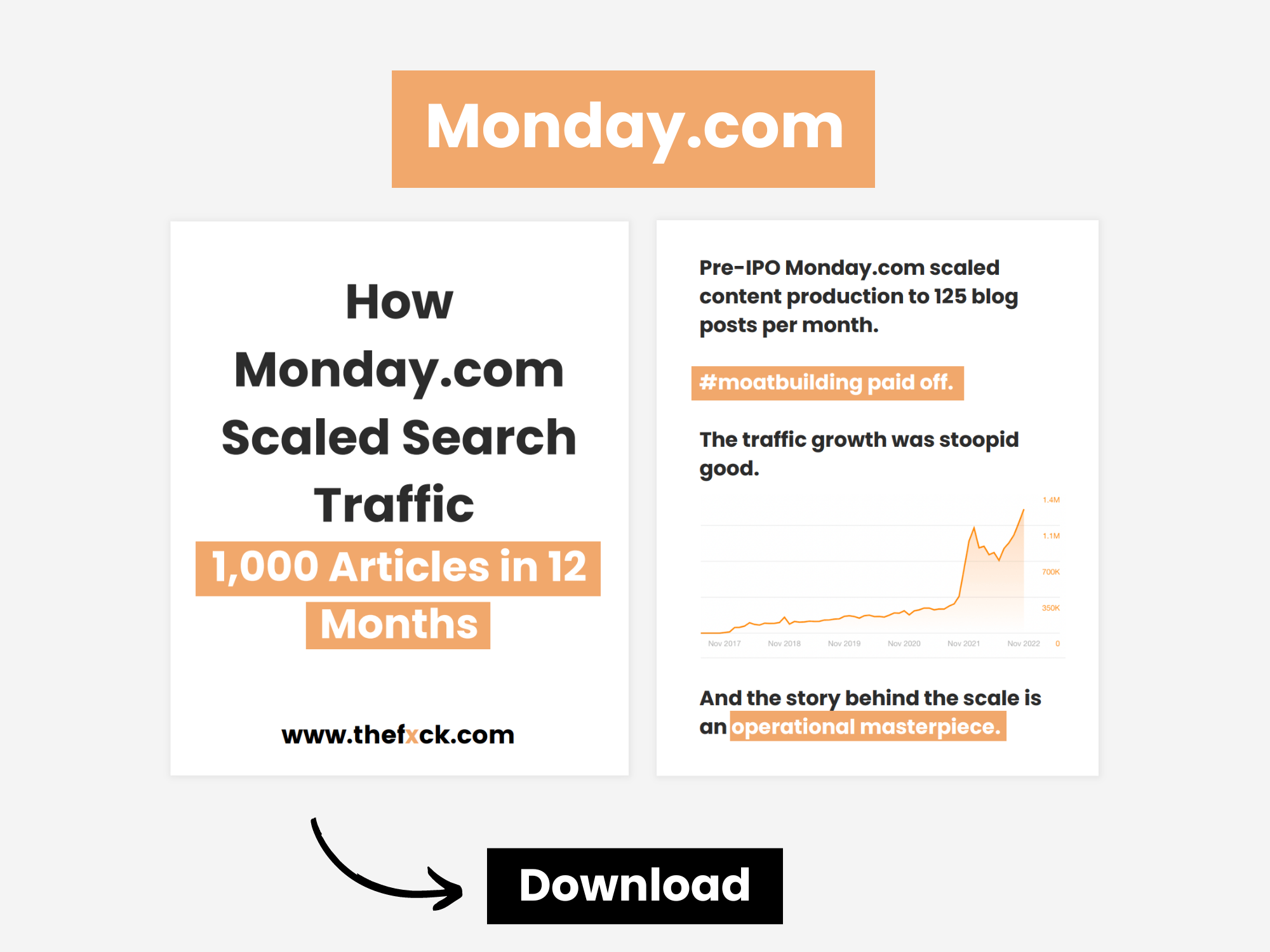 The project management SaaS tool, Monday.com, did something few others have achieved - they've produced 1,000 new blog posts in only a year.
That's 125 high-quality, keyword-hitting blog posts per month, under the watchful guidance of Brad Smith.
Here's what scaling their content operations to these dizzying heights required:
15 writers - they looked at over 1500 applicants to narrow it down to those who met their quality standards.
"​​The best way I've found to reliably find good writers is just to look at a lot of writers constantly." - Brad Smith, Monday.com case study
Consistent editors, who know how to polish a piece of writing without overhauling it completely, are key to fast scaling.
Extensive documentation - Everything Brad's team thought was good and should be repeated was documented. Yes, everything.
Scaling their content operations was not unlike the way typical franchise businesses are built (such as McDonald's).
The goal was that anyone, anywhere would be able to pick up the Monday.com content creation handbook and achieve the same results they had.
Check out what this handbook required in the graph below:
It wasn't about individuals being masterful in their craft. It was about creating a system that worked no matter who was in it.
"If all this relied on us just being brilliant, that would be bad. I'd probably still be broke." - Brad Smith
🔥
Hot tip from the case study: Your team should never be able to produce just barely at capacity - for example, if you need a team to produce 100 articles per month, build one that can actually produce 125-150 articles per month. That way, your operations don't suffer in the face of the unexpected.
📚
Whaaaat?
There's
even a part two
. Where we interview the
real
Monday.com team to get their insider insights on this strategy.
2. Typeform's $3M Annual LTV SEO Strategy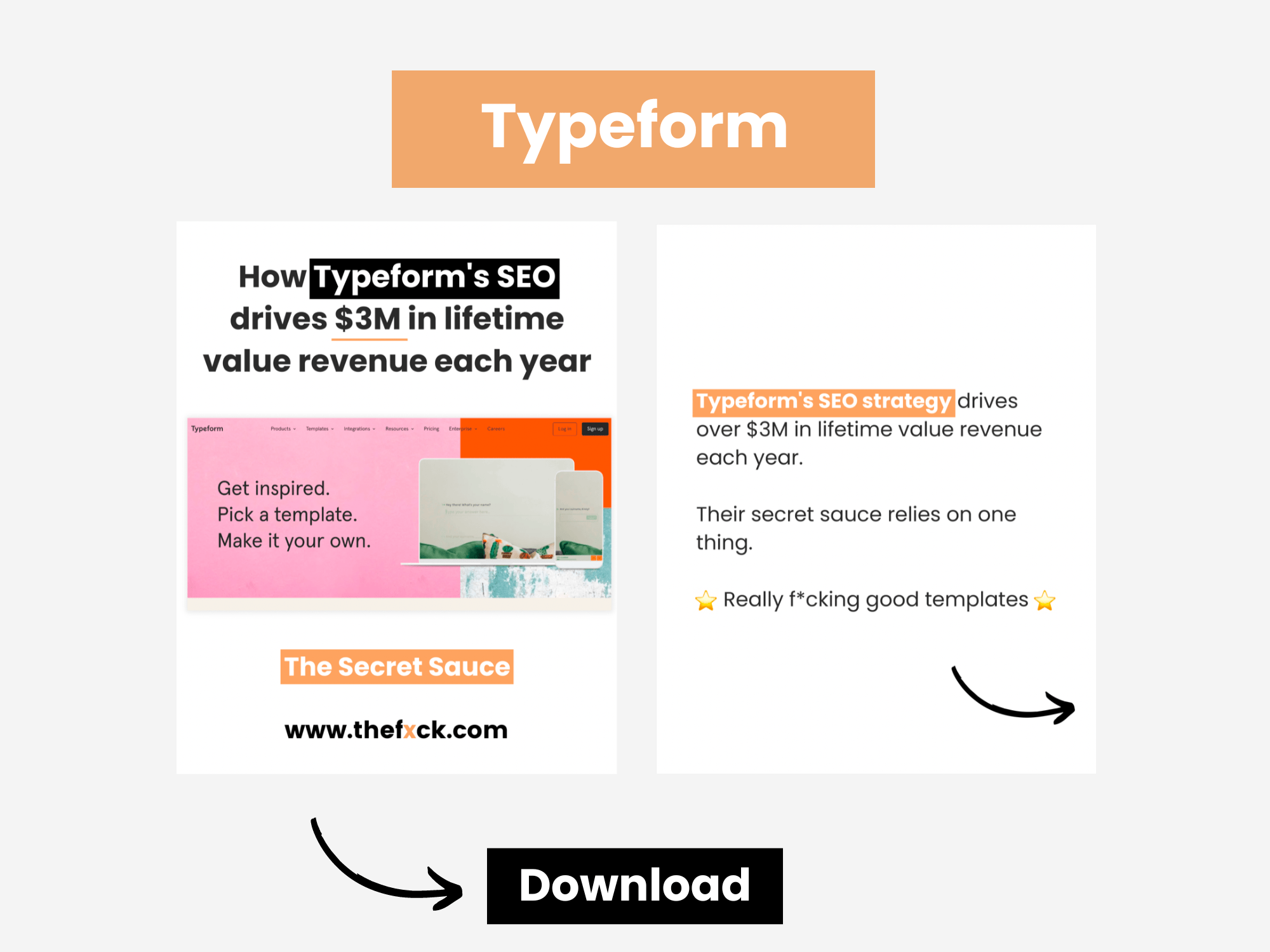 Here's an example of the power of good SEO: Typeform went from 0 to a crazy $3M in annual lifetime revenue (new customers + lifetime value) from product-led content alone.
Their growth strategy, spearheaded by Jake Stainer, was highly optimized for driving revenue, not traffic.
"I guess the trick is how can you relate your SEO to your product as closely as possible and not start creating like just educational content. How can you sort product to inform your SEO strategy." - Jake Stainer, Co-Founder of Skale, Ex-Typeform Head of Growth
Because of the nature of their product, Typeform zeroed in on BOFU template-related keywords and created thousands of templates their readers could use.
They created a highly successful backlink-building strategy, where a backlink was added to any website that would embed a Typeform form.
Internal links were also important - for every new page or blog post they published, Typeform ensured to have at least 10 internal links to it in other blog posts right away.
🔥
Hot tip from the case study: Create content around your product's use cases. Typeform had 1,000s of use cases, most of which were related to templates their users could take advantage of. What are the use cases for your product? How can you create content around that?
3. How UserPilot Scaled to 100K Visitors in 10 Months with Programmatic SEO
Remember Monday.com's insane content production of 125 posts per month?
Well, hold onto your hats, because UserPilot can produce 29 blog posts per hour.
Yes, you read that right. Per hour.
No, the answer isn't ChatGPT.
It's programmatic SEO.
"Programmatic SEO is essentially building content at scale from templates. Typically it's content that follows certain patterns, for example, a formulaic keyword with an interchangeable variable." -  Emilia Korczyńska, Head of Marketing at UserPilot
Here's how Userpilot leveraged it:
Carefully choosing keywords to build templates for. Most BOFU keywords for the SaaS industry are formulaic (x vs y, x alternatives, x + job role, x + business type, etc.), making them the perfect choice for this.
Building a template for each keyword type.
Creating a database of content that can easily be changed with the slightest keyword tweak.
Example of UserPilot's template in Google Sheets for the keyword Best [use case] tools.
So did the programmatic SEO strategy pan out?
In just 10 months, UserPilot went from 25,000 to 100,000 monthly organic visitors. Previously, it took them 3 years to get to those first 25,000 visitors.
Yes, it's safe to say that programmatic SEO works.  
🔥
Hot tip from the case study: If you are going to use any type of generative tools for content writing, whether programmatic SEO or AI, make sure that you have human editors at the ready to go over the content. Anything generated by an algorithm will sound way too robotic if there isn't a human to add the final touches to the content.
4. How Scribe Grew from 0-30K Monthly Visitors in 7 Months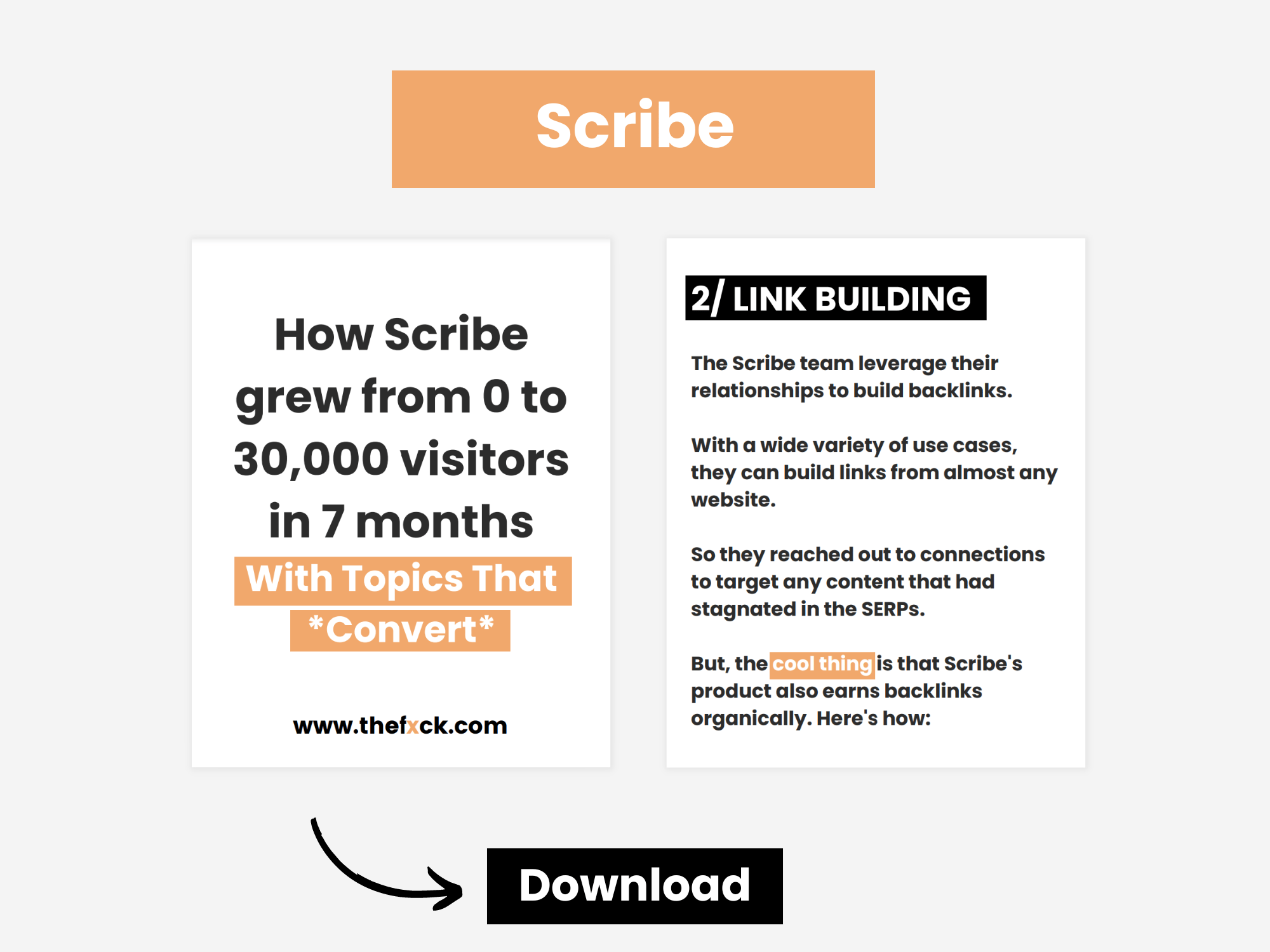 Over the course of 7 months, Scribe's marketing team published around 350 blog posts, getting their website from 0 to over 30K organic monthly visitors.
How did they do it?
They focused on content centered around the specific problems their product could solve.
They used the exact language of their users to uncover new keywords to target and topics to write about.
"I get these founders that DM me like, What is it? What is it that you're like, doing differently? It's like, we're not doing that much differently, we're just literally listening to people and then showing them how our product solves what they need help with." - Jakub Rudnik, ex-Scribe
A neat bonus was the nature of the product itself - each page the tool generated was like a mini 'how-to' guide indexable by Google. Some of these mini-guides were easy to rank high in SERPs.
🔥
Hot tip from the case study: Always be monitoring. The content you publish represents a great dataset to help you learn what drives signups and revenue. Double down on the topics and content types that are bringing in more users and $$$.
5. Hotjar's Traffic Explosion: 47% Increase in 2 Years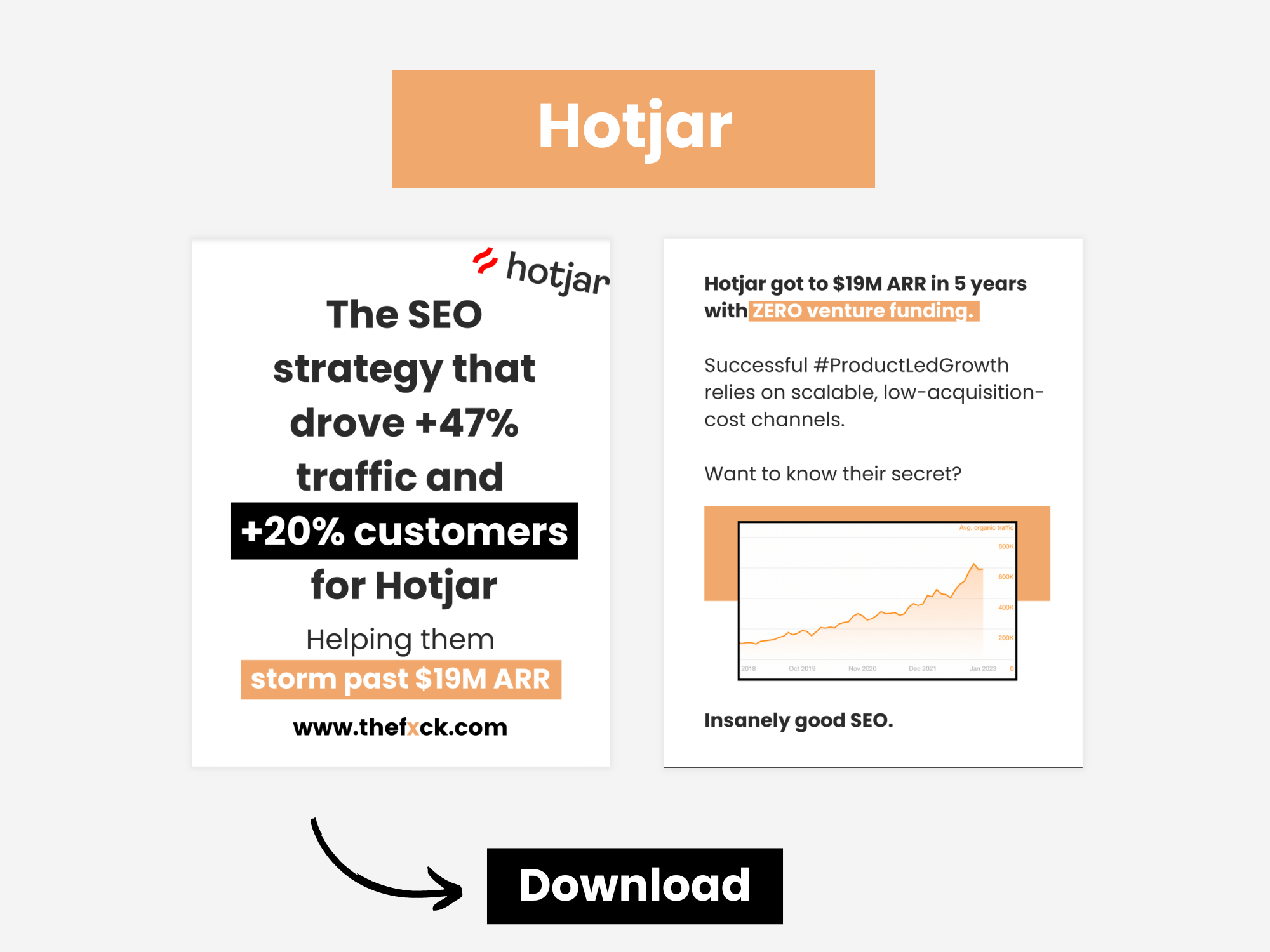 Hotjar didn't only increase its organic traffic by 47% in two years. In that same time frame, product signups increased by 20% as well.
The key to Hotjar's strategy were topic clusters.
They chose topics for their clusters based on conversations with their customers and prospects, not based solely on SEO tool metrics.
"It stops the "I'm gonna create x content piece because I can see it has good search volume", but actually like when you speak to a customer [they say] "I've got no interest in this, why have you created this piece of content?", that's just one example." - Sean Potter, Senior Content Strategist at Hotjar
They created topic clusters that covered the full funnel. An example is their Website Tracking cluster covering keywords like what is website tracking (TOFU), website tracking comparisons (MOFU) and best website tracking tools (BOFU):
They sealed their strategy with website UX design that drove user action and engagement.
🔥
Hot tip from the case study: Customer research and qualitative insights from them should be your number one priority when looking for topics to write about. Keyword research tools should only come in second, as a method for fine-tuning the topics you already got from your customers.
6. Aura's Rise to ~1 Million Monthly Visitors in 12 Months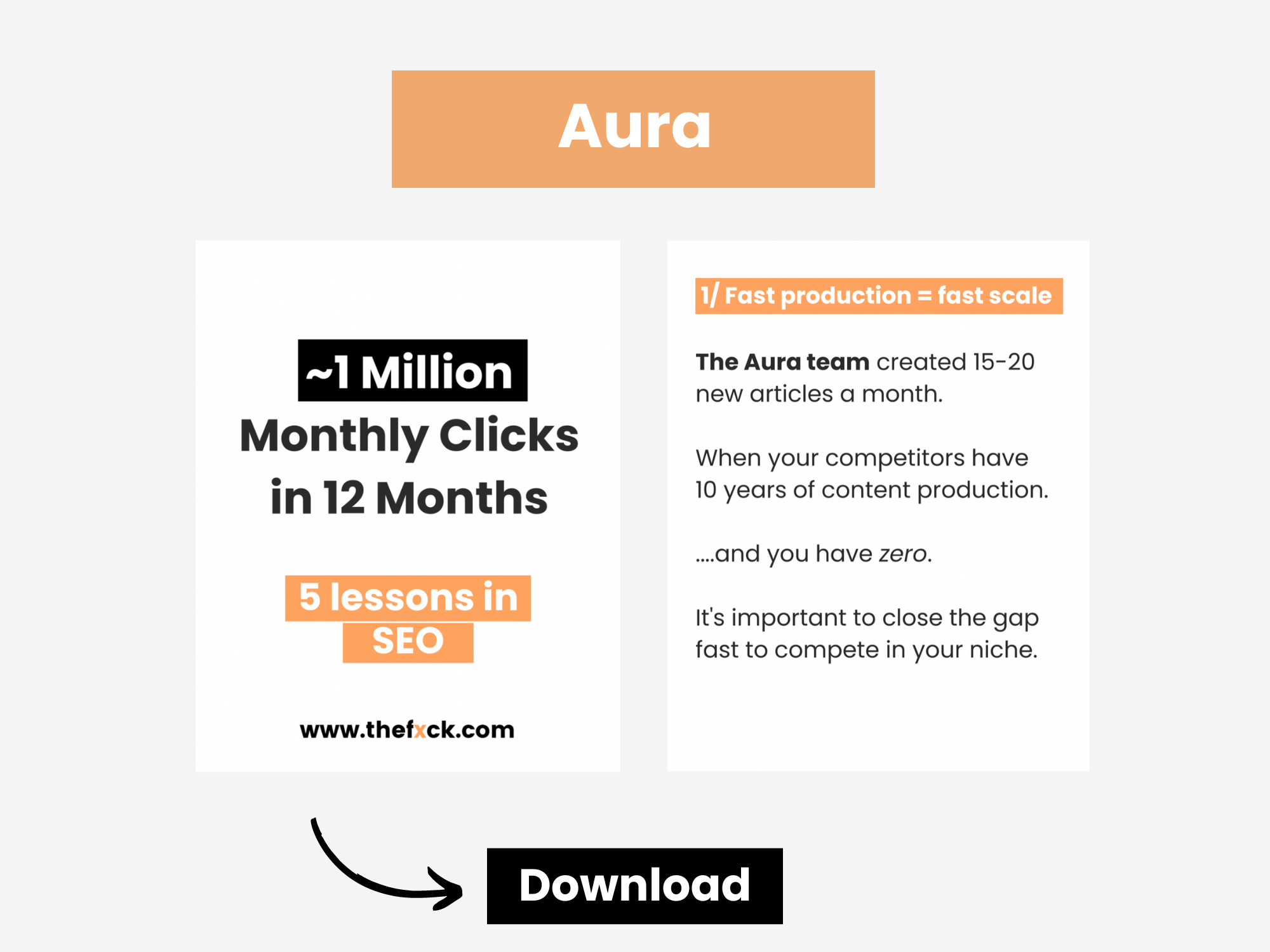 Aura's growth sounds too good to be true - in just 12 months, the website went from 0 to over 1M organic monthly visitors! 🤯
In many ways, Aura's full-funnel content strategy was similar to Scribe's.
They leveraged customer calls and customer research to learn what their users really wanted to know and read about.
They created content on 'buzzy topics' - content that had a high potential of generating a ton of backlinks.
They connected the backlink-strong buzzy topic pages with pages talking about core problems their customers had and how to solve them, effectively sharing that sweet link juice between them.
"We basically just used [buzzy topics] as portal pages to get links and massive traffic and then funnel internal link juice to pages we wanted to rank for." - Gaetano DiNardi
An example of Aura's page covering a 'buzzy topic' and the number of its referring domains.
They matched their content strategy with a video marketing strategy to build a multi-channel growth engine.
🔥
Hot tip from the case study: One unique feature of Aura's content is that it is mostly introductionless. Think about it - your readers have an incredibly short attention span. They just want to get answers to their questions as fast as possible. Most content doesn't need any kind of introduction, much less one full of generic information the reader will just skip anyway.
7. How Webflow Does User-Generated Programmatic SEO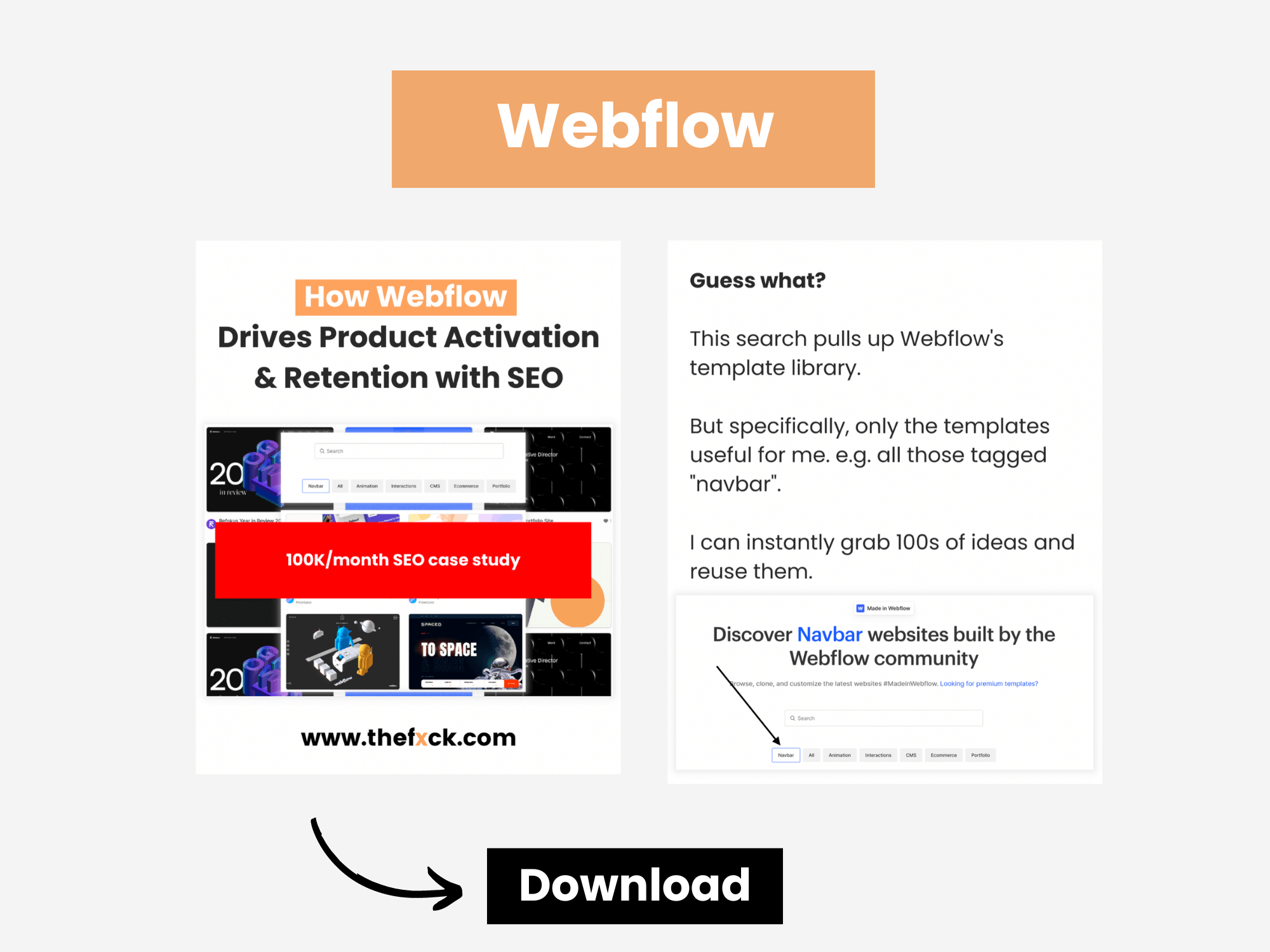 Webflow, a no-code website builder, averages around 100K organic visitors a month through user-generated programmatic SEO.
What does this mean?
Webflow has a template library created by its users. This library is technically a database for programmatic SEO. Each template in the library is rated by the community for its quality, and it is also tagged to be easier to find.
This template library and all the templates within it are indexable. Just look what comes up first when I google 'webflow navbar ideas':
This link doesn't lead to the generic page of Webflow's template library - it leads directly to the templates tagged 'navbar' to speed up my search.
Such a seemingly simple yet highly effective content strategy:
Improves customer activation and retention.
Drives new customer acquisition.
Easily covers all branded keywords for Webflow, meaning that competitors can't even come close to them.
🔥
Hot tip from the case study: While customer acquisition is important, SEO and content can play a huge role in customer retention as well. How can you leverage customer-focused SEO for your product to help those who are already using it?
8. How Peanut Grew from 0 to 2.3M Monthly Traffic in 12 Months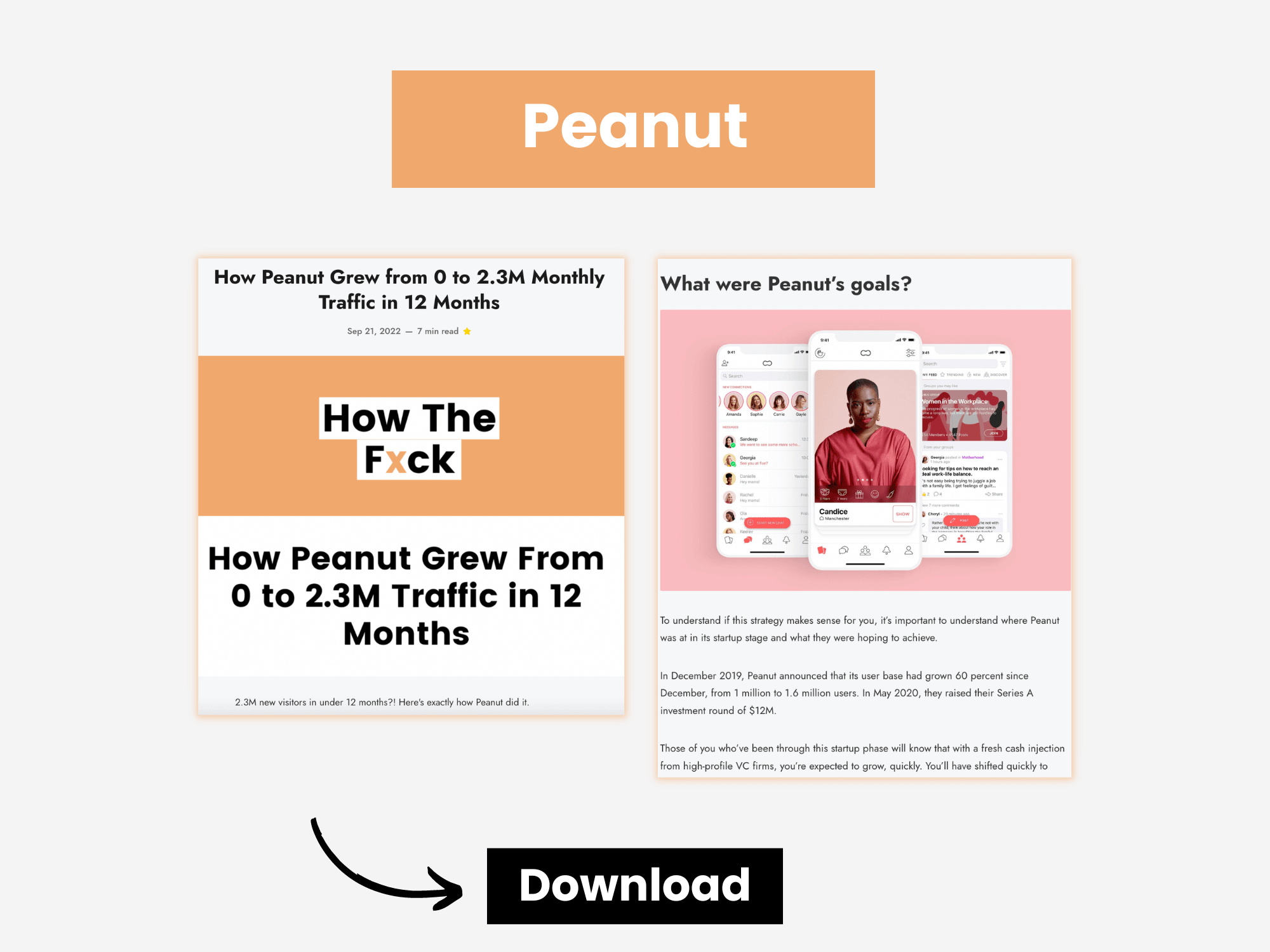 Okay, so going from 0 to 1M monthly traffic like Aura did was impressive.
But the Peanut App went above and beyond - in just 12 months, they grew their organic visits from 0 to 2.3M!
To succeed, it took Peanut's team hundreds of blog posts - up to 100 new posts per month - and a focus on these three elements:
Low-hanging fruit: Keywords with a difficulty of < 25 and a monthly search volume of at least 2-300.
Topic clusters: To build topical authority and enhance the user experience on the website, Peanut's team created topic clusters such as this one.
Branded keywords: Branded keywords are typically easy to win and they belong in the BOFU keyword category, meaning they have high conversion rates.
🔥
Hot tip from the case study: When creating a content strategy, don't forget to check for keyword cannibalization. If two keywords have nearly identical SERPs, that means they can be covered by one article instead of two.
Not Exhausted Your Appetite For SaaS SEO Strategies?
These eight SaaS SEO case studies should be more than enough to tickle your curiosity and get your SEO gears turning.
But there's more where that came from: here are our niche website examples and how they made use of SEO.
Or, get instant access to our complete library of SEO case studies at the click of a button!